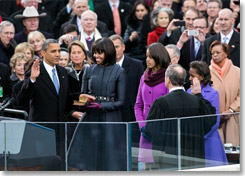 The fiscal cliff and beyond:
President Obama's second term
edited by Denis Lacorne
Tocqueville situates the point of departure of the American democracy in New England, with the arrival of the Pilgrims. Because the first settlers were "at once ardent sectarians and impassioned innovators", they "marvelously managed to combine" two distinct elements: "the spirit of religion and the spirit of liberty". This providential narrative, invented by New England historians and developed in a more elaborate form by major 19th century historians such as George Bancroft, remains valid for contemporary American conservatives who, from Reagan to the Bushes – father and son – continuously refer to the biblical Jerusalem, the "City upon a hill" so much celebrated by the Puritans, starting with their most famous representative, the Governor of the Massachusetts Bay colony, John Winthrop.
Caption photo : Barack Hussein Obama takes the Oath of Office to « preserve, protect and defend » the Constitution of the United States. He lays his right hand on two closed Bibles: the one used by Abraham Lincoln during his inauguration in 1861; the other owned by Martin Luther King.