The right education for the right profile
Students, professionals and the general public: according to your academic and professional experience, find how to take courses at Sciences Po.
Admissions at a glance
Students gain admission to Sciences Po after passing the Baccalauréat (or a foreign equivalent) or having completed an undergraduate or graduate programme. We also welcome students with one or more years of professional experience, as well as those preparing for competitive examinations. In addition, Sciences Po runs a popular Summer School and a variety of MOOCs, providing study opportunities for a wide range of students who attend summer courses or benefit from online learning.
Students: Undergraduate and Graduate programmes
SCHOOL OF RESEARCH
on the Paris campus
PhD

5 PROGRAMMES
LAW
ECONOMICS
HISTORY
POLITICAL SCIENCE
SOCIOLOGY

PhD
GRADUATE SCHOOLS AND MASTER'S PROGRAMMES
on the Paris campus
MASTER'S
DEGREE
MASTER'S
DEGREE
SCIENCES PO COLLEGE
on one of Sciences Po's seven campuses
BACHELOR'S
DEGREE
INTERNATIONAL INTERNSHIP OR STUDY ABROAD
BACHELOR'S
DEGREE
DIJON
CAMPUS
LE HAVRE
CAMPUS
MENTON
CAMPUS
NANCY
CAMPUS
PARIS
CAMPUS
POITIERS
CAMPUS
REIMS
CAMPUS
​Following the Baccalauréat (or a foreign equivalent) : the Sciences Po Undergraduate College offers a three-year curriculum grounded in the social sciences and leading to a Bachelor's degree.

Sciences Po's Graduate schools offer two-year curricula leading to a Master's degree in a number of professional specialisations. Sciences Po also offers one-year Master's programmes designed for young professionals seeking to take their career to the next level.

Students looking to prepare a PhD may study in one of Sciences Po's five Doctoral programmes in law, economics, history, political science and sociology.
Sciences Po also offers dual Bachelor's, Master's and Doctoral degrees.
Professionals: Sciences Po Executive Education programmes
Sciences Po Executive Education programmes draw from the university's educational model to meet the specific needs of public and private actors. Whether the focus is on management, organisation, a development model or a contemporary issue, Sciences Po Executive Education offers ongoing cutting-edge support programmes that facilitate professional development in a wide range of careers.
Open to all: the Summer School
Available to any and all, the Summer School lets you take social sciences and French language classes at Sciences Po while spending the summer discovering Paris.
Open to all: MOOCs
Sciences Po offers online courses for all on the FUN (France Université Numérique) and Coursera platforms.
Admissions interviews in more than 70 cities worldwide
14,000 students
49% international students coming from 150 countries
478 partner universities
43 dual degree programmes
Crédits
International admissions procedures
The international admissions procedures allow Sciences Po to recruit students from all over the world and to provide students with a truly international environment. Learn more about the international admissions procedures
LEARN MORE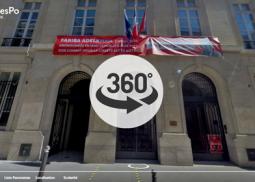 Virtual tour of the campuses
Delve into the interactive campus map. Visit classes, libraries, and other campus facilities online.
Visit our campuses

The Emile Boutmy Scholarship
The Emile Boutmy scholarship is awarded to the best international students from outside of the European Union.
The Emile Boutmy Scholarship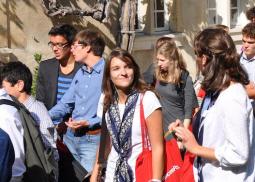 Why choose Sciences Po?
International education, excellent academics, vibrant student life… Discover ten of the many reasons why students from all over the world choose a Sciences Po education.
Learn more