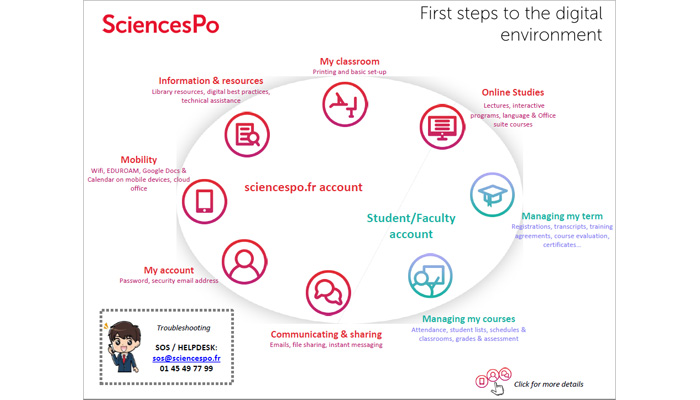 Get a general overview of Sciences Po's digital ecosystem and learn how to master all digital resources and tools.
Your Sciences Po user ID
In order to connect to Sciences Po's online resources (email, wifi, open-access computer at the library, etc.), you must log in using your Sciences Po user ID.
Creation of your account
Your Sciences Po user ID is created automatically once your relationship with Sciences Po is officially established.
The standard format for a user ID is as follows: firstname.lastname @ sciencespo.fr . In the event that members of the Sciences Po community share the same name, a digit is added to the end of the username: firstname.lastname1 @ sciencespo.fr.
When your account is created, an activation link will by send by email to your personal recovery email address. At this time, you will be able to modify your password.
If you do not receive the email, please contact the Helpdesk.