In support of Fariba Adelkhah
Media coverage available here
To support the campaign, follow @FaribaRoland on Twitter

#FreeFariba
March 2021: Critique Internationale dedicated a special issue to the work of Fariba Adelkhah. Read the introduction and the editorial, online:
- Editorial: Freedom for Fariba Adelkhah, by the Editorial Committee
- Introduction: "Fariba Adelkhah, or the One Thousand and One Borders of Anthropological Fieldwork", by Béatrice Hibou
December 2020: Fariba has been awarded the Irène Joliot-Curie "female scientist of the year award"! More info here.
November 2020: Arrested in Tehran in June 2019, and then sentenced to 5 years in prison on the basis of false accusations, our colleague, Fariba Adelkhah has long studied a wide range of travels. In this introductory article – "Rereading Fariba Adelkhah: on the road from Teheran to Damascus" – we present one of her works, in which she reveals the unexpected dimensions of a pilgrimage of Iranian women to Damascus. Her anthropological perspective uncovers the social significance of the details of daily life
15 October 2020: Sciences Po continues to mobilise all its communities on behalf of our colleague and friend, Fariba Adelkhah, who is still incarcerated in Iran. We will not abandon our calls for her unconditional release.
A socially distant and masked human chain took place over the lunch break on 15 October. Starting at 1:30pm, the chain ran from 27 rue St Guillaume to 56 rue Jacob.
Sciences Po strongly supports Fariba and renews once again our calls for her unconditional release.
9 October 2020 : During the Dies Academicus 2020, the University of Geneva awarded Fariba Adelkhah the title of Honoris Causa, in support of her fight for academic freedom and as an acknowledgment of her great work as an anthropologist.
3 October 2020: Iran grants Fariba temporary release! She is currently in Tehran with her family with an electronic bracelet
30 June 2020: Iran's Appeal Court has confirmed the five-year prison sentence for Fariba.
5 June 2020: Fariba Adelkhah, researcher at the CERI Sciences Po, has now been in prison in Iran for one year.
Frederic Mion's letter of support can be accessed here
On 16 May 2020, Fariba Adelkhah was sentenced to six years in prison by the 15th Chamber of the Tehran Court.
Read the letter sent by Olivier Duhamel, President of the FNSP, and Frédéric Mion, President of Sciences Po, to Sciences Po communities on 16 May 2020.
25 April 2020: Frédéric Mion, Olivier Duhamel, Roland Ries, Anne Hidalgo and Jean-Yves Le Drian send Fariba their wishes for her birthday. See the card here.
We have been in lockdown for more than a month. Fariba Adelkhah, a researcher at the International Research Centre of Sciences Po Paris, has been in prison for more than 300 days in Iran. By posting her face on the websites of academic institutions and research teams in Europe and elsewhere, we want to show the support of the scientific community and urge the French government to do everything possible to secure her release.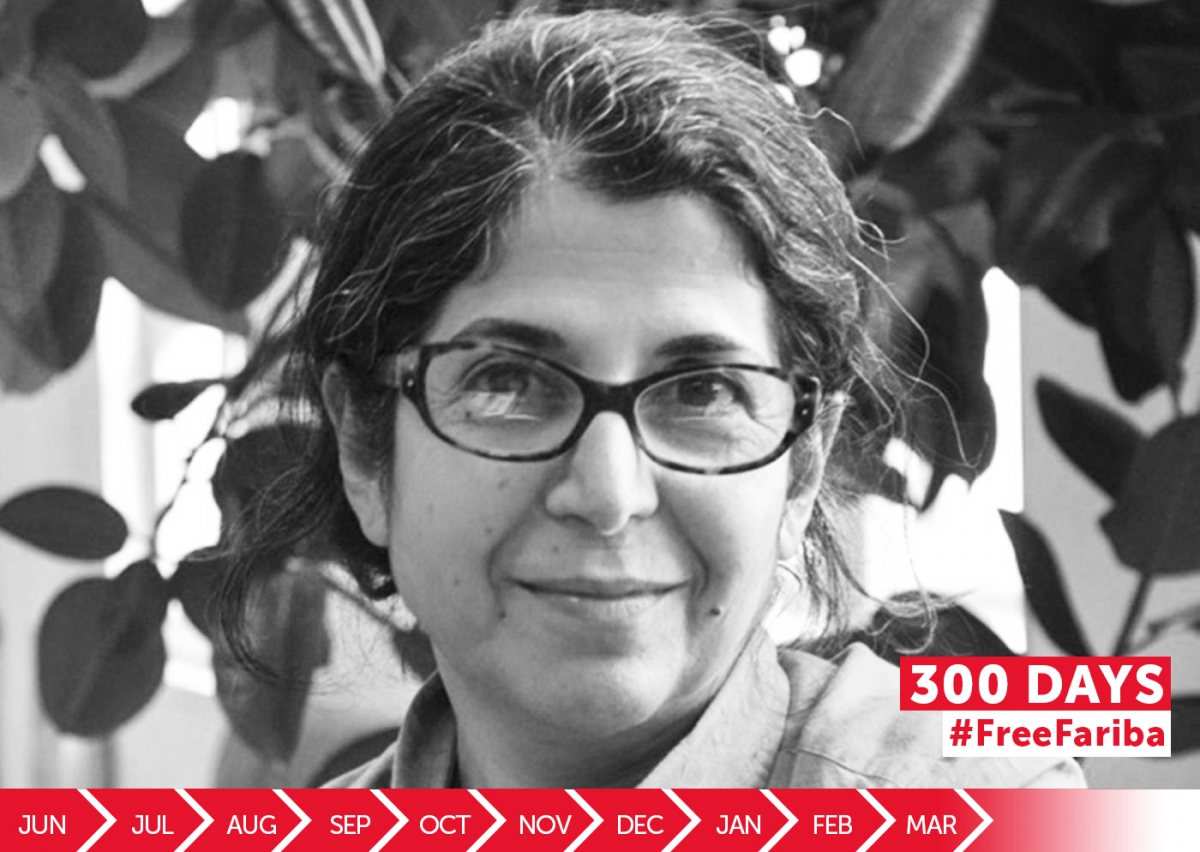 Copyright: Stéphanie Samper
Fariba Fariba is in danger. We must act urgently for her.
20 March 2020: Roland Marchal has been released after nine long months (290 days) of detention in Iran.
Read the text by Alain Dieckhoff, director of CERI.

Read the text by Olivier Duhamel (President of the FNSP) and Frédéric Mion (Director of SciencesPo).

3 March 2020: Official date of the trial. Silent gatherings at Sciences Po, Paris, in Strasbourg and in Geneva, in support of Fariba Adelkhah and Roland Marchal.
2 March 2020: Fariba Adelkhah awarded an Honorary Doctorate by the University of Geneva.
20 February 2020: Fariba Adelkhah and Roland Marchal, former students of the city of Strasbourg, awarded the city's medal of honour, in absencia.
17 February 2020: 
Meeting of support for Fariba Adelkhah, Roland Marchal, Kylie Moore-Gilbert and other detainees
 "Unjustified Captives: Knowledge under Attack" King's College London.
16 February 2020: Read the tribute published on Democracy in Africa.

11 February: Silent gathering at the Parvis des Droits de l'Homme, Trocadero, Paris, in support of Fariba Adelkhah and Roland Marchal, with dancer Alioune Diagne. Watch the video of the event.

5 February 2020: CNRS Section 40 asks for immediate end of academic cooperation with Iran. Read the communiqué (French only)

31 January 2020: Access the full podcast of the conference Captifs sans Motifs, 31 January 2020, Sciences Po, and a short video with some of the participants.
16 January 2020: The CNRS demands the immediate release of the researchers detained in Iran. Read the press release
Fariba Adelkhah and Kylie Moore-Gilbert, an Australian academic also detained at Evin prison, began a hunger strike on 24 December 2019 to demand their release but also that of other academic prisoners in Iran and the Middle East. In the name of academic freedom, both are entering a new phase of struggle and are calling for our support.They issued an open letter available here.
In the European Parliament resolution of 19 December 2019 on the violent crackdown on the recent protests in Iran (2019/2993(RSP)), the European Parliament "urges the Iranian authorities to immediately release Roland Marchal and Fariba Adelkhah, as well as all the human rights defenders who have been imprisoned and sentenced for simply exercising their rights of freedom of expression, freedom of association and peaceful assembly".
WHO IS FARIBA ADELKHAH, SCIENTIFIC RESEARCHER DETAINED IN IRAN?
By Jean-François Bayart, Professor at IHEID (Geneva). Incarcerated in Iran since the beginning of June, Fariba Adelkhah, a specialist in social anthropology and political anthropology of post-revolutionary Iran, has been a researcher at the Centre for International Studies (CERI) since 1993. Her initial work focused on women and the Islamic Revolution. Her current research focuses on the circulation of Shiite clerics between Afghanistan, Iran, and Iraq. Internationally recognised and respected by her peers, Fariba Adelkhah is today an academic prisoner... Read more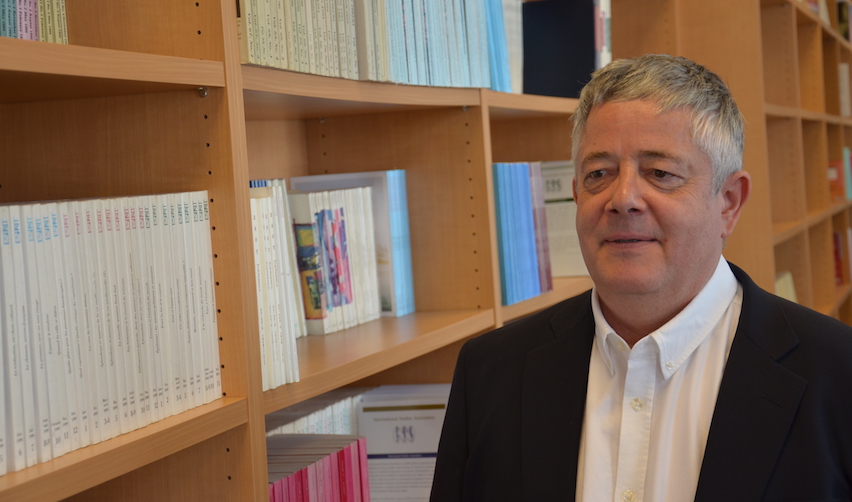 WHO IS ROLAND MARCHAL, SCIENTIFIC RESEARCHER DETAINED IN IRAN?
Biography written by Didier Péclard, University of Geneva, and Sandrine Perrot (CERI Sciences Po). Roland Marchal is a sociologist with the French Centre National de la Recherche Scientifique (CNRS) and he has worked as a researcher at the Centre for International Studies of Sciences Po (CERI) since 1997. Today, he is an academic prisoner. Much of Roland Marchal's research has focused on analyzing civil wars in sub-Saharan Africa, particularly in their relation to state formation. Roland is a tireless and energetic fieldworker, meticulous and zealous in his research. He has always pushed himself to the limits in a quest to bring out innovations and nuances throughout his research interests... Read more
---
FARIBA ADELKHAH AND ROLAND MARCHAL INTERNATIONAL SUPPORT COMMITTEE
The international support committee was officialised in October 2019. Its aim is to mobilize the academic community for the release of Fariba Adelkhah and Roland Marchal, and to defend the independence and freedom of research in regions of the world where it is increasingly threatened and politically exploited.
About the International Suppport Committee
The detention in Iran of our colleague Roland Marchal was revealed to the public in October. Fariba Adelkhah's incarceration was made known in July.
Two prominent French academics, both internationally renowned researchers, are in prison in Teheran today.
Fariba, an anthropologist, joined CERI in 1993. Roland, a sociologist with the French National Centre for Scientific Research (CNRS), has been part of CERI since 1997.
Twice now our centre has been affected by this incomprehensible and unprecedented attack on French citizens.
All members of CERI assure Fariba and Roland of their unwavering support and friendship during this terrible ordeal and share their families' anxiety.
The CERI in its entirety vigorously condemns this blatant and unacceptable violation of the freedom of research by the Iranian authorities, in the case of Fariba and Roland, as well as that of all the other researchers detained in Iran, whatever their nationality.
They urge the French, European and international academic community of every discipline to suspend all current cooperation with Iran as a sign of solidarity and protest.
CERI, 16 October 2019
May 2017, n°230
Elections et notabilité en Iran. Une analyse du scrutin législatif de 2016 dans quatre circonscriptions
Fariba Adelkhah
March 2016, n°221
Guerre, reconstruction de l'Etat et invention de la tradition en Afghanistan
Fariba Adelkhah
January 2011, n°173
Les madrasas chiites afghanes à l'aune iranienne : anthropologie d'une dépendance religieuse
Fariba Adelkhah and Keiko Sakurai
March 2009, n°153-154
Aux marges du monde, en Afrique centrale...
Roland Marchal
June 2006, n°135
Somalie : un nouveau front antiterroriste ?
Roland Marchal
April 2006, n°125
Les Afghans iraniens
Fariba Adelkhah and Zuzanna Olszewska
September 2004, n°107-108
Le Soudan d'un conflit à l'autre
Roland Marchal
May 2001, n°75
Les Iraniens de Californie : si la République islamique n'existait pas...
Fariba Adelkhah
October 2000, n°69
Mogadiscio dans la guerre civile : rêves d'Etat
Roland Marchal
May 1999, n°53
Le retour de Sindbad : l'Iran dans le Golfe
Fariba Adelkhah
June 1997, n°28
Doubaï : le développement d'une cité-entrepôt dans le Golfe
Roland Marchal
June 1997, n°27
Iran: vers un espace public confessionnel ?
Fariba Adelkhah
July 1996, n°18
Les élections législatives en Iran: la somme des parti(e)s n'est pas égale au tout...
Fariba Adelkhah
September 1995, n°5
Eléments d'une sociologie du Front national islamique soudanais
Roland Marchal