Sociology and Social Anthropology of Politics - Fariba: Thinking when Thinking of Her
About
CERI organizes, under the label Sociology and Social Anthropology of Politics - Fariba: Thinking when Thinking of Her, regular conferences inspired by the work of Fariba Adelkhah.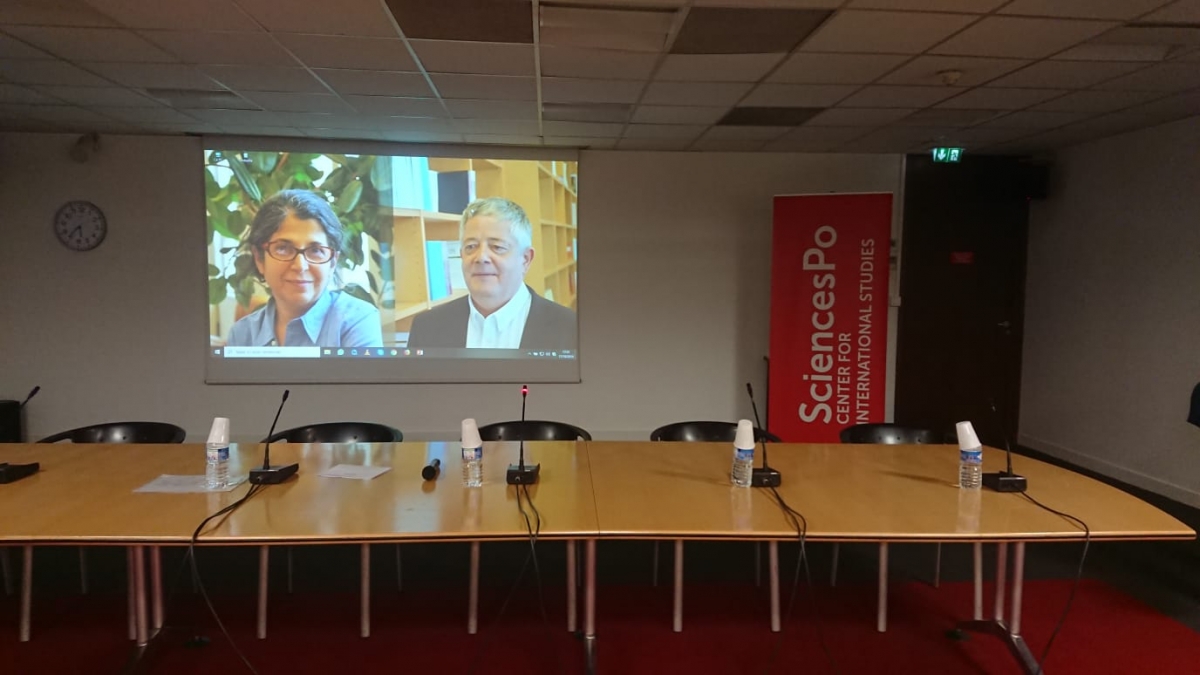 Agenda
23 et 24 septembre 2021
Liberté scientifique et risques du métier : la recherche comme profession
Rencontre organisée en collaboration avec le FASOPO et le comité de soutien à Fariba Adelkhah.


Avec le soutien de Sciences Po, de la Mairie de Paris et de l'AFD.
23 septembre
14h30-20h
Auditorium de l'Hôtel de ville de Paris
5 Rue de Lobau, 75004 Paris
14h30-15h15
Conférence introductive : Peter Geschiere (Université d'Amsterdam)
15h15-18h15
Qui définit le risque et sur qui repose-t-il ?
Présidence : Sten Hagberg (Université d'Uppsala)
Alessandra Dino (Université de Palerme) ; Roland Marchal (Sciences Po-CERI / CNRS) ; Daniela Melfa (Université de Catane) ; Mathilde Tarif (Université Paris 1 Panthéon Sorbonne) ; Aysen Uysal (Sciences Po-CERI)
18h30-20h30
Présidence : Irene Bono (Université de Turin)
Projection de Casablanca, film d'Ali Essafi sur les années de plomb dans le milieu intellectuel marocain
Débat avec Mohamed Tozy (Sciences Po Aix-en-Provence)
24 septembre
CERI
56 rue Jacob, 75006 Paris
9h30-11h30
Le chercheur à la croisée des légitimités : l'irruption des médias et du politique dans la science
Présidence : Michal Kozłowski (université de Varsovie)
Anne-Laure Amilhat Szary (IEP de Grenoble) ; Antonela Capelle-Pogacean (Sciences Po-CERI) ; Alfio Mastropaolo (Université de Turin) ; Françoise Mengin (Sciences Po-CERI) ; Sylvie Thénaut (CNRS, CHS/Université Paris 1)
11h45-13h45
La science au péril des critères d'évaluation scientifiques et de la normocratie éthique
Présidence : Boris Samuel (IRD, CESSMA/Paris 7)
Bruno Andreotti (Paris 7) ; Roberto Beneduce (Université de Turin) ; Yvan Droz (IHEID de Genève) ; Ramon Sarro (Université d'Oxford) ; Emmanuelle Veuillet (Paris 1 Panthéon Sorbonne)
Works
15 octobre 2020
Reprise du séminaire "Sociologie et anthropologie sociale du politique- Fariba Adelkhah : penser en pensant à elle".
Quatrième séance
Affaires de style

Nous aborderons la question du "style" que Fariba Adelkhah a souvent traitée dans ses travaux, notamment à travers son analyse de la bienfaisance et de ce personnage qu'est le janvânmard, dont l'ethos économique est indissociable d'un style d'action et de domination.

Intervenants : Jean-François Bayart, IHEID, Genève. La domination, une affaire de style. Clin d'œil et hommage à Fariba Adelkhah, javânmard de l'anthropologie et Mohamed Tozy, Sciences Po Aix-en-Provence. Entre agilité et frugalité. Fariba Adelkhah et l'ascétisme joyeux. Commentaire : Jean Leca, Sciences Po.

Ecoutez le PODCAST
6 mars 2020
Troisième séance du séminaire consacrée à l'un des terrains de Fariba Adelkhah, ces dernières années, à savoir l'Afghanistan
En écho à la recherche de Fariba Adelkhah sur la guerre et la (re)construction de l'Etat dans ce pays et à celle de Roland Marchal sur la formation de l'Etat dans des situations conflictuelles, la séance met l'accent sur les modalités d'intervention internationale et la place du droit dans les conflits armés à partir de la mise en place de tribunaux par les Taliban.

- Gilles Dorronsoro, Université Paris I - Les figures de la gouvernance internationale en Afghanistan


- Adam Baczko, Sciences Po-CERI / CNRS - La régulation des conflits fonciers par les tribunaux Taliban

Ecoutez le PODCAST
------------------------

4 février 2020
Deuxième séance du séminaire consacrée à l'un des thèmes majeurs des recherches de Fariba Adelkhah : Religion et politique, en mettant l'accent sur la question des mobilités.
- Antonela Capelle-Pogăcean, Possession, politique et société globalisée : le combat du Bien et du Mal aux mille et une frontières de la nation en Roumanie
- Ruth Marshall (Université de Toronto), Modes de subjectivation politico-religieuse: entre guerre et société civile des bus
- Kathy Rousselet, Religion et espace public : dans les pas des pèlerins
Ecoutez le PODCAST
------------------------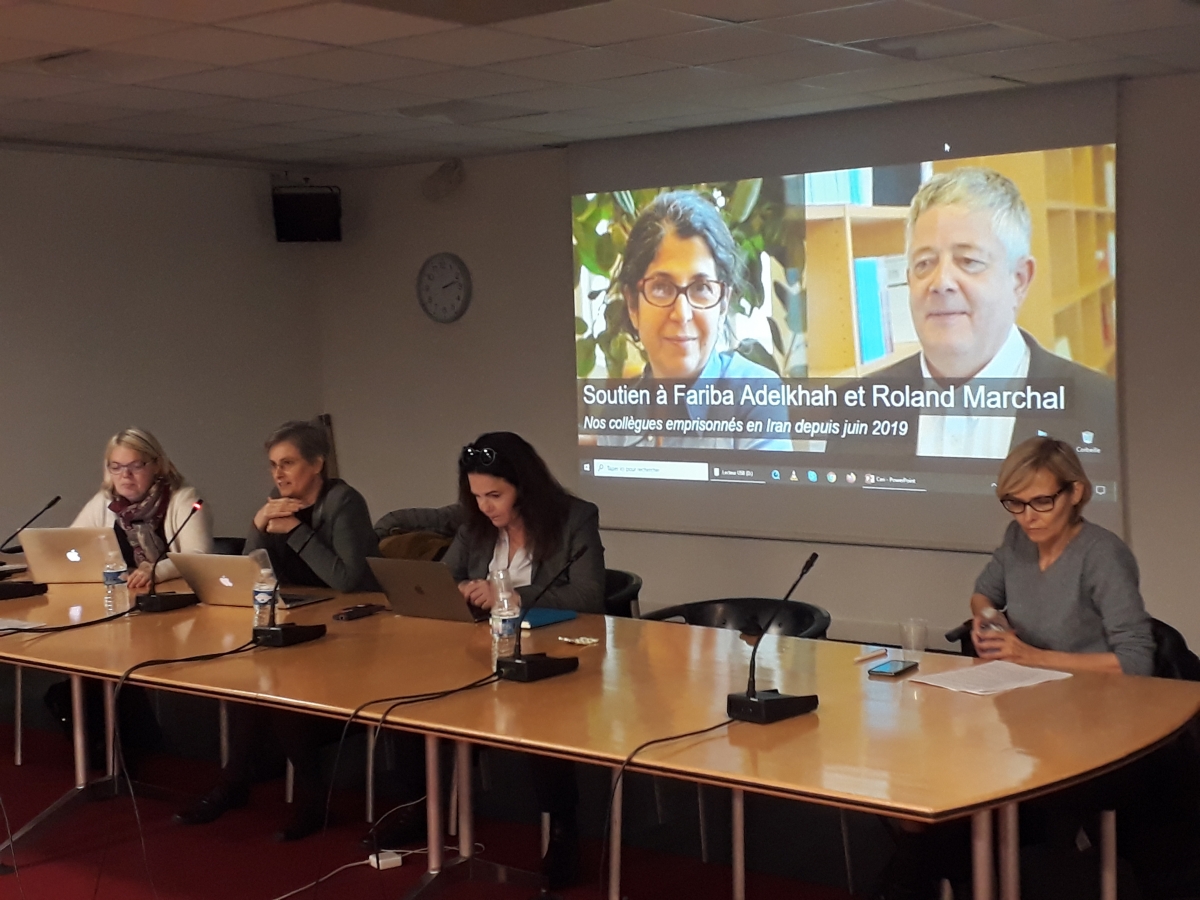 ------------------------

7 janvier 2020
Séance inaugurale du séminaire

- Marielle Debos, université de Paris Nanterre, Gouverner l'Etat entre guerre et paix au Tchad
- Jacobo Grajales, université de Lille, Capitalisme agraire, guerre et paix en Colombie
- Didier Péclard, université de Genève, Gagner la paix. Oubli, croissance et gouvernement post-guerre en Angola et en Côte d'Ivoire
Ecoutez le PODCAST