Undergraduate studies: How to apply
Undergraduate students enter Sciences Po after having completed their secondary studies. We welcome all applicant profiles regardless of background and country of origin. What matters most to us is your talent and your desire to pursue a Sciences Po education.
Several admissions procedures for a greater diversity of profiles
Sciences Po brings together a student community unique in its academic excellence, social diversity and multiculturalism. To ensure the recruitment of outstanding students from all backgrounds, Sciences Po offers different types of admissions procedures: examination-based admission, international admission, dual-degree admission and admission through the Equal Opportunity and Diversity Programme.
FOCUS
As of 2021, all candidates, whether French or international, will follow the same procedure when applying to the Sciences Po undergraduate college, and will be evaluated on the same criteria. (Leading up to 2021 admissions, there are separate procedures for French students and international students).
The selection criteria can be divided into four dimensions:
Continuous assessment over the 3 final years of high school
The average grade on written exams of the Baccalaureat
The candidate's profile and motivations
An oral interview
Which procedure is right for me?
How can I apply through the international admissions procedure?
The international admissions procedure is a two-step process. First, applicants must submit an application online which undergoes an initial pre-selection process. Next, the selected candidates are invited to take part in an individual interview, either in France or in one of a number of cities abroad. For more information, refer to our international admissions procedure.
When can I submit an application?
The international admissions procedure for the following year intake opens mid-October every year. International admissions are conducted on a rolling basis from mid-October until early May of the following year. Please refer to the international admissions calendar and the interview calendar.
What kinds of qualities does Sciences Po look for in an international applicant?
Applications must demonstrate the candidate's academic excellence, desire to study at Sciences Po, a clear and purposeful set of personal goals, and involvement in extra-curricular activities. The application and interviews give each candidate the opportunity to present his or her qualities and potential.
Admissions interviews in more than 70 cities worldwide
14,000 students
49% international students coming from 150 countries
478 partner universities
43 dual degree programmes
CLOSE UP
Crédits
Bachelor Open House Day 14 november 2020
Discover Sciences Po and our Bachelor's degree in the Humanities & Social Sciences! Get to know the programme, courses and all the benefits of studying at one of France's leading universities.
LEARN MORE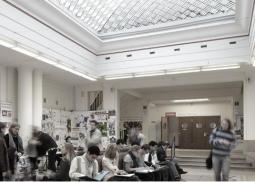 Fees & financial aid
Sciences Po is committed to offering affordable university education to all eligible students through a unique tuition fee and financial aid policy.
Tuition fees & financial aid

Why did they choose Sciences Po?
The 2016 first-year student cohort represents 94 nationalities and over half the students come from outside France. They all have their own story to tell about their journey to Sciences Po.
Watch the video

Sciences Po At a Glance
Consult our brochure that gives a brief presentation of Sciences Po and its key figures
Consult the brochure (pdf)