The Survival of the Jews in France, 1940-1944.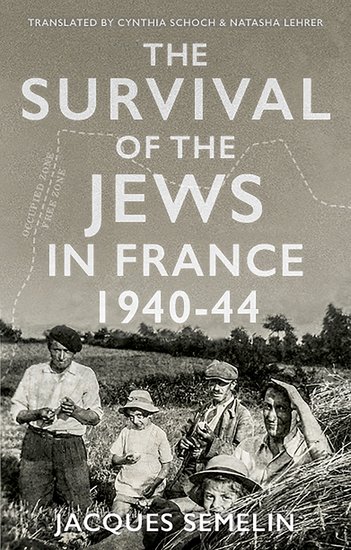 Interview with Jacques Semelin, author of The Survival of the Jews in France, 1940-1944 (translated by Cynthia Schoch and Nathasha Lehrer, London, Hurst, and New York, Oxford University Press).


When did the idea for this book come to you?


It was very precisely in 2006, during an international conference on the rescue practices during a genocide ("Les pratiques de sauvetage en situation génocidaire", organized by CERI and Sciences Po's Center for History), which was followed by the publication of a volume coedited with Claire Andrieu and Sarah Gensburger (Resisting Genocide: The Multiple Forms of Rescue, Hurst and Oxford University Press, 2011). I had already learned from Serge Klarsfeld that 75% of Jews in France had escaped the Holocaust, but this rate remained abstract in my mind. During the conference, I realized that there had been no thorough scientific research on this historical fact. What explains that a large majority of the Jewish population survived in France despite the Nazis' plan to exterminate them and the Vichy regime's collaboration? This seemed all the more surprising as, in the Netherlands, only 25 % Jews survived and in Belgium, 45% survived. 


After having conducted comparative studies on mass violence, I was encouraged by Simone Veil to try and understand this French enigma. There was no question of forgetting all those who had perished in Auschwitz, but I also wanted to know why and how so many had survived in France.


How did you work?


First, I gathered quantitative and qualitative data. I transformed these abstract 75% into figures: it is estimated that at least 200,000 Jews were still alive at the end of the Occupation. Many were scattered through the countryside, mainly in the south and centre of the country, in the former Free Zone. On the basis of Vichy government archives, I thus compiled two original maps on the dispersal of Jews in France, in 1941 and early 1943. It is noteworthy that at least 40,000 Jews stayed in Paris: a minority chose to hide, while the others lived legally or semi-legally. This is an almost unique case in all Nazi Europe.
Jewish and non-Jewish rescue channels helped to save many lives (10,000 maximum), in particular those of children, but the admirable commitment of these resistance organizations cannot account for the survival of at least 200,000 people. Other explanations had to be found. The most obvious is that the persecuted Jews tried to manage on their own and most of the time they did. This was my main research hypothesis. 


I then asked myself very specific questions: If the Jews lost their jobs, what did they do to survive? Where did they live? Did they move around a lot or very little? Did they send the children away in order to protect them? How did they manage to escape arrest? Did French and foreign Jews behave differently?

I started collecting stories from that period, and post-war testimonies. Some are famous, as those by Hélène Berr, Jacques Biélinky, Saul Friedländer, Annie Kriegel, Jean-Jacques Becker and Stanley Hoffman; others not at all. I deliberately decided to study and compare testimonies, using my training as a psychologist to explore this material, stemming from each and everyone's memory, something that we know is fragile. In the end, the trajectories are very diverse but recurrences could nevertheless be identified. The analysis highlights a repertoire of avoidance tactics and ruse to escape persecution, which lends the account a universal character. 

This research led to the publication in French of a book entitled Persécutions et Entraides dans la France occupée (Le Seuil/les Arènes published in 2013) a few years ago. Can you tell us why you decided to return to this book and transform it into something new?


This new book includes and takes into account the reactions, comments and criticisms prompted by the first version. I hear some people say that this new book is only an abridged version of the same work, which implies that it contains nothing new. It's quite the opposite! Of course the text has been updated and enriched with new sources, but it has also been rewritten thanks, among other, to the wise advice of my two editors, Grégoire Kauffman and Laurent Joly, both major specialists of anti-Semitism. In this regard, I entirely rewrote the introduction and the conclusion. The precise and well-argued preface by Serge Klarsfeld surprised me by its enthusiasm. And the book is now available in three languages: French (CNRS Editions), English (Hurst and Oxford University Press ), and German (Wallstein).


Let's return to the heart of your research: How do you deal with anti-Semitism?


Antisemitism has been present in France since the nineteenth century at least. It is difficult, however, to differentiate it from xenophobia, in particular during the 1930s. After the 1940 military defeat, Vichy's regime promoted a form of state anti-Semitism quickly materialised through legal measures of discrimination and exclusion toward those who were "regarded as Jews" (3 October 1940 statute). The question is: was this official ideology shared by the population? That is doubtful. Authors like Marrus and Paxton are convinced by this thesis, but they have been opposed by other historians, like Pierre Laborie, who is a great specialist of public opinion under the Vichy rule.
Notwithstanding the weight of anti-Semitism, the main issue is that of chronology. Since autumn 1940, legal anti-Semitic discriminatory measures had caused relative indifference among the population. But when policemen arrested women and children during the summer of 1942, the population was shocked. The shift toward physical persecution caused reactions of disapproval and mutual assistance.


There are two aspects to this evolution. Some members of the Catholic Church openly denounced mass arrests. Jules Saliège, archbishop of Toulouse, declared on 23 August 1942: "These Jews are men, these Jewesses are women; these aliens are men and women. All is not permissible against them." This letter of protest was circulated extensively by the Resistance. It was broadcast by the BBC on 30 August and printed in the New York Times on 9 September 1942.

In parallel, anonymous individuals helped the persecuted: policemen, housekeepers, teachers, passers-by… This was a solidarity of small gestures that aimed to protect the Jews from an arrest that would prove deadly.


Complicity was both active and passive (non denunciation). During my research, I have heard many times "They knew we were Jewish but said nothing". This burst of solidarity in a country on its knees finds its origins in France's Christian roots, its republican heritage, and patriotic spirit. 
Yet while some tried to help Jews, others denounced them (even if anti-Semitic denunciation was less frequent than what was previously believed), remained indifferent, or took advantage of their vulnerability. Jews continued to be deported from France to the Reich until the last days of Occupation.
In what way is the political and international sphere taken into account in your work?
To understand how Jews survived in France, it is necessary to consider Realpolitik and the evolution of the war. In July 1940, Hitler agreed to the formation of a French government that would exert its full authority in one third of the French territory – the poorest part of the country, soon to be called the Free Zone.

The existence of the Free Zone enabled the survival of the Jews who found shelter there to flee the Nazis. This is what I call a structural factor with indirect effects.
Vichy also promulgated anti-Semitic laws in this zone, but according to many testimonies, life was less hard for Jews there than in the north of the country (except for in camps like Gurs and Rivesaltes), even after the invasion of the Free Zone in 1942.

And thanks to this national government, Vichy leaders had some leeway, in particular on the "Jewish question". This is interesting in a comparative approach, which highlights two very different political configurations in Europe.

First, in countries where the state had been entirely destroyed (Poland and Ukraine) or in those where the national administrations were placed under direct control of the occupier (the Netherlands and Belgium), the extermination rate was generally very high.

Second, for countries where the government was maintained, be they allied to the Reich, like Italy, Bulgaria, Slovakia, Romania until 1942, Hungary until 1944, or engaged in a state collaboration (Denmark, France), Berlin pressurised local leaders and police forces to solve the "Jewish question". Some of these governments proved very "cooperative", while others much less. This is why fewer Jews from these countries were exterminated. 



This analysis shows Vichy's leeway. During the two first years of Occupation, the government proved cooperative with Germans and even organized the arrest and "delivery" of foreign Jews from both two zones. Following the bishops' protest, French leaders were more reluctant to carry out mass arrests. 

Things changed on the military front as well. Germany dominated Europe both politically and militarily in 1942: it is the year during which Vichy-assisted deportations were the most numerous. A year later, Italy had lost the war and Vichy refused to enact a denaturalization law for Jews in France. Had it been enforced, this law would have allowed for the immediate deportation of Jews who had obtained the French citizenship mainly in the 1930s.
Why did you decide to focus on the notion of survival? 

The use of this notion marks the evolution of my work since the 2006 conference. Survival includes acts of rescue by Jews themselves but also by non-Jewish French, through the active but also passive complicity of the population. Survival also depends on general factors, of a structural or contextual nature, depending on the Nazis' political and strategic objectives in Europe, the existence of a Free Zone in France, the evolution of public opinion during roundups, the protest of eminent Catholic clergy, the creation of a so-called Italian zone, the development of resistance, the failures and limits of repression, and the evolution of the military front. 

The book's title sums up its intentions. The aim is not to claim that the three-quarters of Jews living in France were "rescued", rather, that they survived. The two things are very different.


Interview by Miriam Périer, CERI