Justice in Civil War Contexts. Interview with Adam Baczko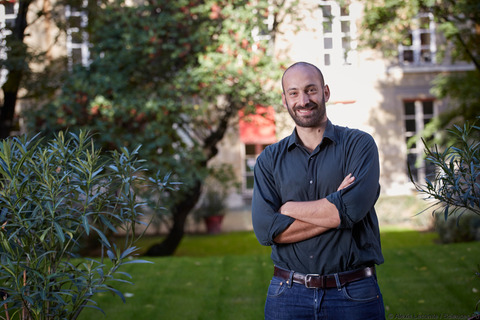 Adam Baczko conducts research on the formation of legal institutions by armed movements and international actors in contexts of armed conflict, with a particular focus on Afghanistan and Syria. Adam joined CERI as CNRS researcher in September 2019. He has agreed to answer our questions.
You joined CERI in September 2019. What is your academic background?
After a double BA in War Studies and History at King's College London, I did my Master's and my PhD in social sciences (with a major in Political Science) at the EHESS (Ecole des Hautes études en Sciences Sociales) in Paris. My PhD was entitled Laws at War: Justice, Domination and Violence in Afghanistan (2001-2018) and was co-supervised by Stéphane Audoin-Rouzeau and Gilles Dorronsoro. In September 2014, I was invited to join a programme called Order, Conflict and Violence, directed by Stathis Kalyvas at Yale University. In 2015 I stayed one semester at the Institut für die Wissenschaften vom Menschen (IWM), Vienna. The next year I received the Trajectories of Change Fellowship from the Zeit-Stiftung Ebelin und Gerd Bucerius, a German foundation funding a programme on the transformations of states and contemporary societies. Until I arrived at CERI this autumn, I was also a member of the research team of the ERC called "Social Dynamics of Civil Wars" directed by Gilles Dorronsoro at Pantheon-Sorbonne University.
What are your current research themes? 


I work on justice in civil war contexts, in particular in Afghanistan, Syria, and, in my forthcoming research, Mali. I question the sociological approaches to the state and to law by conceptualizing civil wars not as lawless situations but as a struggle between competing legal systems. I examine how the different parties at war work at having the decisions of their judges recognized as judicial documents in a context in which doing justice is inseparably a political act, a tool for social control, and an issue at stake in the war.
I am currently finishing a book drawing from my PhD. Based on twelve months of fieldwork in Afghanistan stretched between 2010 and 2016, I analyse the social and political implications of the formation of a juridical system by the Taliban insurgency. I show that the Taliban have established their own courts in a context of radical juridical uncertainty caused by decades of civil war and nourished by the western military intervention launched in 2001. In order to ensure their judges' impartiality, the insurgency integrates them in an institutional system and tries to frame their practices in rudimentary procedures of objectivization. While being caught in war, this juridical system allows the armed movement to solve certain private disputes and thereby to legitimate its territorial grip and apply its political programme.
I have also analysed the trajectory of the Syrian civil war, with a specific focus and interest on the formation of legal institutions by various belligerents between 2011 and 2015-16. This research, which I did with Gilles Dorronsoro and Arthur Quesnay produced the book entitled, Syrie. Anatomie d'une guerre civile (CNRS Éditions, 2016).
I am currently starting new research on the legal production of foreign actors during international interventions, through the case of Mali in particular. I am interested in studying how expertise circulates and how programmes are applied, in terms both of the official legal system and of more informal projects of dispute settlement. The case of Mali is of particular interest because the programmes linked to law and justice share many features with those I have observed in Afghanistan in the 2010s. The differences I have observed between the two countries are equally interesting because they determine what is at stake during the various western military interventions since the end of the Cold War.
Why have you chosen to work on justice and armed groups? Where does your interest for such themes come from?
I started being interested in armed groups during my BA in War Studies. In the context of post-9/11 military interventions in Iraq and Afghanistan I wanted to better understand the social rooting of insurgencies resisting the American army. I felt that the usual European and American descriptions of these armed groups were too simplistic and that they did not allow a good understanding of these movements' growing settlement in these two countries, despite the technological superiority of the American military. I started traveling to Iraq in 2009, and then to Afghanistan in order to better understand the social and political dynamics underlying these armed conflicts.
My interest for legal issues comes from my first conversations with Afghans living in the countryside and whose daily lives were marked by war. While I was asking questions about the insurgency, they were way more talkative on private disputes they were part of, in particular those related to land, and which role seemed crucial in the population's assessment of the different parties at war. During one of my fieldwork visits in 2011, two opponents to the Taliban explained to me that they preferred to make use of the insurgency's judges rather than the regime's. Then they started to praise the insurgency's judicial institutions yet they had started the conversation by fiercely criticizing the armed movement. I understood that something major was going on and I decided to examine the Taliban courts.
And when I started wanting to explain why such an armed movement invested in law, in a comparative perspective, I realized that was the case everywhere, with the LTTE in Sri Lanka, FARC in Columbia, post-2011 insurgency and PYD in Syria. These legal systems are generally mentioned too succinctly and their social effects are underestimated. In each conflict I have observed, behind the military confrontation there is a juridical struggle for recognition as the legal, official authority, the one capable to state the law and therefore to define which social practices are authorized and which ones are forbidden.
In what collective projects do you contribute here at CERI and elsewhere?
I am not yet part of a collective project here at CERI but I would very much like to contribute to organize one around the legal issues in relation to armed conflicts, terrorism, all the issues that deal with the interweaving of national and international jurisdictions. Additionally, I have recently become part of the editorial board of Critique internationale , a journal that defends the comparative approach to social sciences, something I consider crucial today.
As I mentioned earlier, I am a member of the ERC "Social Dynamics of Civil Wars", a project coordinated by Gilles Dorronsoro from University Paris 1 Panthéon Sorbonne until the end of the project, next year. The project gathers about fifteen researchers specializing in civil wars in Afghanistan, Iraq, Syria, Turkey, Mali, South Sudan, Ivory Coast, and Ukraine. This research group analyses comparatively contemporary civil wars in a sociological perspective, which constitutes a rupture from the mainstream approach that examines armed conflict from an ad hoc perspective, as if the central concepts of social sciences, socialization, institutionalization, or domination were no longer relevant as soon as men take up arms. On the contrary, we consider that the social sciences theoretical tools help us better understand the underlying social dynamics of conflict, which an exclusive focalization on armed violence hides. In return, this perspective helps us to rethink some of our concepts that are too often characterized by biases caused by the concentration of most sociological and political work on European and North American societies.
Interview by Corinne Deloy
English version by Miriam Perier & Caitlin Gordon Walker