Sciences Po
Regaining Confidence
Discovering their host country, setting out on a new professional or academic project: Sciences Po has made assisting asylum-seekers and refugees its priority
Our programmes for student refugees
Over the course of a term, Wintegreat's "Tremplin" programme offers weekly courses and personalised guidance. The objective: a seamless introduction to the French language and the country more widely. The programme is open to any refugee or asylum-seeker having completed their secondary education with certification in an equivalent to the French Baccalauréat.
Programme
Orientation courses
French course: 12 hours weekly in order to reach B2 level and pass the DELF or TCF exams
English course: essential improvement in English
"Living in France" course: to help students acclimatise, debate, understand the workings of a previously unknown country, as well as finding their own place within it.
A three-pronged method of assistance
The buddy: the one to confide in and practice French with
The coach: the provider of indispensable skills to help make your project a reality
The mentor: the person who will inspire and motivate you, define your project, and provide your link to the world of work
Applying
To begin the application process, all candidates must pre-register by submitting a form (FR). Those who fit within the criteria below will then be invited to interview for the establishment or programme most appropriate for them (determined by linguistic level and geographic area).
Criteria
Must have refugee or asylum-seeker status in France
Must have passed, at minimum, an equivalent to the French Baccalauréat in the country of origin and be under 18 years old (no maximum age)
Must be able to prove a strong motivation and ambition to pursue their studies and/or career in France
Must be available for the entirety of the programme period
Admissions timeline for Autumn Semester 2018 programmes
Between 15 July and 15 August 2018 (dependent on the programme): according to the criteria outlined above, Wintegreat will get back to you by email to propose a date for an individual interview and the conditions of that, according to the criteria listed above.
Between the 1 September and the 1 October 2018 (dependent on the programme): Wintegreat will organise individual interviews to discuss your professional plans and the programme more generally.
Between the 15 September and the 15 October 2018 (dependent on the programme): registration and beginning of the 12 week Wintegreat programme.
The process is entirely managed by our partner Wintegreat. Please address any further enquiries to apply@wintegreat.org.
Awarded at the end of two years of full-time study, the Professional Certificate for Young Refugees is a diploma designed for young people under 26 who have already completed a language programme and/or a full secondary education in their country of origin. It aims to improve students' employability by teaching them skills tailored to the professional world and is targeted towards young people hoping to make a speedy entry into the job market.
Programme
Social Sciences
Exploratory seminars
Creative arts workshops to encourage oral expression
Public speaking workshops
Maths applied to the Social Sciences - introduction
Office skills
Political humanities
French as a foreign language
Wellbeing or sports workshops
Professional workshops
Another foreign language in partnership with l'INALCO (National Institute of Oriental Languages and Civilisations)(FR), or English if already skilled
Applying
Students eligible for this programme:
Hold a degree or a diploma level equivalent to the end of studies in their country of origin.
Have already completed a linguistic programme and attained a minimum of B1 level in French
Must be under 26 years of age
Have refugee status in France
Admissions for this programme are managed by our partner Wintegreat. Please address any further enquiries to apply@wintegreat.org.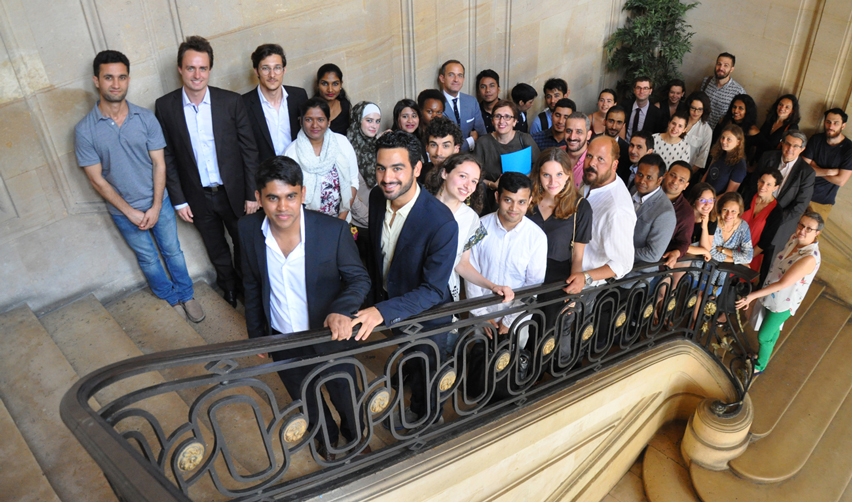 Sciences Po
Welcome Refugees: a student initiative
In November 2015, Sciences Po students launched an initiative aimed at enabling refugees to recommence their studies at Sciences Po. Created from scratch by students involved in associations and NGOs, the Welcome Refugees programme welcomed its first cohort of students in March 2016. Since then the programme has continued to develop thanks to energetic support from students, the NGO Wintegreat, teachers, the Sciences Po administration, and donations from partner firms. The programme has assisted 80 migrants since its creation.