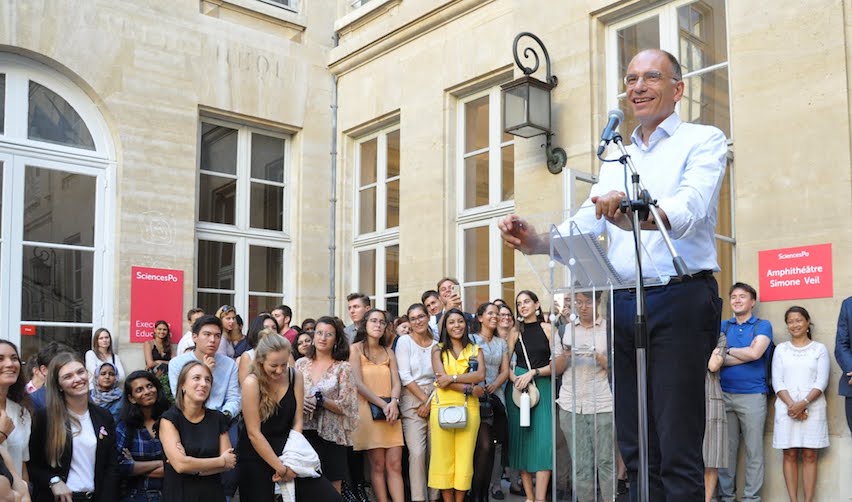 Enrico Letta: "Sciences Po was one of the smartest choices in my life"
As politics calls him back to lead the Italian Democratic Party, Enrico Letta is leaving Sciences Po and his position as Dean of the Paris School of International Affairs (PSIA), which he directed for six years. A final interview to celebrate his exceptional track record, and tell him ... arrivederci!
When you took the lead of the Paris School of International Affairs (PSIA) in September 2015, you said that its future would be in line with the work of Ghassan Salamé, who had directed it since its creation in 2010. After these six years as Dean, how would you qualify your work at the head of the School?
Enrico Letta: I think that we worked in great continuity with the initial intuition and it makes me very happy. This intuition was developed thanks to the work shared with Vanessa Scherrer who founded the school with Ghassan Salamé, then with Mark Maloney who came from the London School of Economics, with whom the collaboration has been amazing.
How did we contribute over the past 6 years? First of all, we have worked a lot on the annual Youth&Leaders Summit which, over the years, has become the perfect embodiment of this initial intuition, in gathering the best students with the best teachers in an environment which attracts the world's greatest leaders. With this Summit, students are no longer a simple audience: they have become the protagonists, and that is what I am most proud of.
For me, "learning by doing" is just as important as "learning by studying". The 100 students who organise the Youth&Leaders Summit every year experience this first hand. This year, the Summit was entirely organised on Zoom, gathering 57 speakers from all over the world and 3000 students, it was amazing! We also increased partnerships with international organisations that give us the opportunity to send our students all over the world to enjoy amazing experiences.
How have the teaching methods evolved over the past six years?
E. L.: They evolved a lot, and this is also something to be proud of! We consulted with professors, students and compared our programs internationally, and decided to revise the curriculum to further intensify the educational experience at PSIA. Since September 2020, we have strengthened the cohesion of the education programme and given more time to students to carry out in-depth work. Over the past five years, PSIA has also kept pace with the changing world by addressing new themes.
Among others, we notably developed a major project with Economic Diplomacy, a course between universities around the world, which was made possible by technology - and which ultimately, with the pandemic, has become the norm. With Science Diplomacy, we worked on the bridges between so-called "hard" sciences and social sciences. I believe that is the future.
Sustainable development is also another major area of development. Along with the School of Public Affairs, we co-created the new European Chair for Sustainable Development and Climate Transition, and I am very happy with the work accomplished together. Another chair that we created, this time entirely based at PSIA, focuses on Sovereign Debt, another central theme in the post-Covid world. I have been lucky to work with Deans in a very positive and constructive manner. Sciences Po is a place of excellence where people work with mutual respect, attention to others and a diversity of views.
In the current pandemic context, PSIA has been at the forefront of the switch to distance learning, due to the great geographical diversity of its students. What is your analysis, a full year after the start of the crisis?
E.L.: I think it is too early to fully evaluate it, but I cannot imagine that once this pandemic crisis is over, we will return to life as it was back in 2019, as if nothing had ever happened. I think it would be a mistake: this period showed us that distance learning cannot replace face-to-face, but that it can still bring opportunities. The teacher in the classroom is sort of an actor. The teacher who organises a distance learning class has become a movie director. In the future, education will have to mix these two aspects. I would like to point out the incredible work of the Sciences Po teams who have brilliantly orchestrated all these changes. And of course, my unfailing gratitude goes to the marvellous team at PSIA.
You are leaving PSIA and Sciences Po to return to politics in Italy: what are your expectations for the School in the coming years?
E.L.: The dream for PSIA, by 2025, is to balance its position worldwide by strengthening its presence in Africa and Latin America, but also to keep opening up to all social backgrounds in France, in Europe, and in the whole world. The other major challenge is about opening up to the so-called "hard" sciences. We have learnt a lot from the three crises we have gone through - the pandemic crisis, the climate crisis and the imbalances due to technological progress. In all these areas, whether it is data protection, management of health stocks or ecology, the topic goes beyond expertise in governance or in law. For me, the future lies in working on multidisciplinarity, while avoiding the risk of superficiality.
Can you define in three words what we learn at PSIA?
E. L.: Diversity, multidisciplinarity, and ... the world! The School is located in Paris but when I walked into a class, I felt like I was entering a youth session at the United Nations. And honestly, it is pure delight! It is the same with our teachers. This is the amazing strength of PSIA. The class I gave to PSIA students was the most challenging part of my day, but also the most satisfying.
After six years as Dean of PSIA, you are going back to politics in Italy as head of the Democratic Party. What bridges can you observe between the academic and the political world?
E. L.: Both worlds have similarities. In politics, you have to decide, look for consensus, solve issues, and know how to manage crises. This is exactly what I have done for the past six years at PSIA! When I left politics in 2014, several opportunities appeared. Sciences Po was one of the smartest choices of my life: I believe it now and always will, because it was a choice of the heart. I did not choose politics, it chose me: we chose each other. It is a passion that grew with me and will always be with me. Returning to the Italian political scene is also my duty and I will honor the confidence placed in me again to serve my country's interests . But these six years at PSIA have been very rich, and changed me deeply. My gratitude to Sciences Po will be eternal.
Interview by the Sciences Po Editorial Team
Read more: