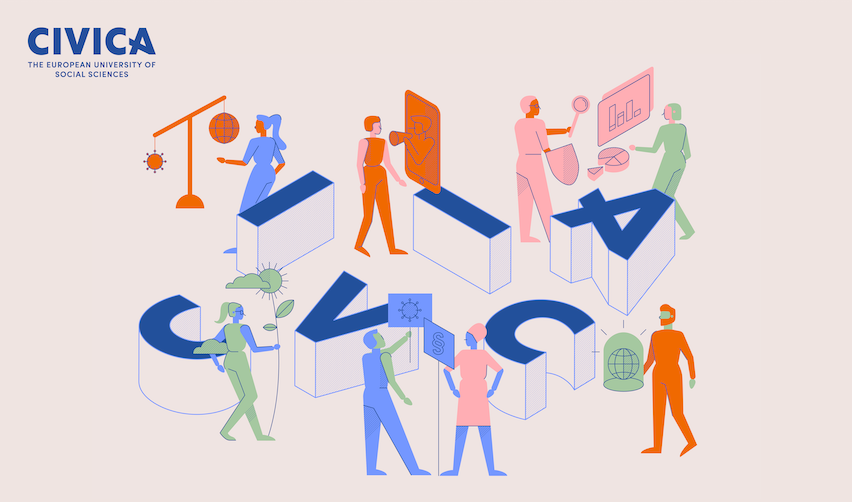 "Tours d'Europe": CIVICA lecture series launches with "Democracy in the Time of Pandemic"
On 15 February, Central European University (CEU) hosted the first event of the CIVICA Public Lecture Series Tours d'Europe – a new series committed to communicating social science research and knowledge from the eight partner universities into the public realm. The CIVICA Public Lecture Series convenes experts from CIVICA universities to present their research on topics currently in the news. The aim is to facilitate a direct dialogue between social science researchers and broader society and, in doing so, strengthen the public knowledge base.
The inaugural event, Democracy in the Time of Pandemic, featured presentations from CEU Rector and President Michael Ignatieff, Bocconi University Professor Catherine E. De Vries, Sciences Po Professor Martial Foucault and London School of Economics Professor and Dean of the School of Public Policy Andrés Velasco. The digital roundtable was moderated by broadcast journalist Krisztina Bombera.
"The CIVICA Public Lecture Series Tours d'Europe is an indication of our commitment to engaging with the public," said CEU Dean of Students Chrysovalantis Margaritidis during his opening remarks. Margaritidis, leading CIVICA's civic engagement efforts, added: "At CIVICA we embody the European idea in its purest form: united in diversity and what it is to build the European University of the future, to provide learning and teaching, to offer mobility among our universities, promote an interdisciplinary approach and bridge education across Europe…A very important aspect of our endeavour is reaching out to people outside the university."
This first lecture explored the subject of democracy in the context of the Covid-19 pandemic. The participants discussed observations and learnings from this sanitary crisis: citizens' attitudes towards the pandemic, the role of regime types and trust in governments in adapting to the crisis, and the possible consequences on democracies across the world.
Watch the replay here:
Read more about this first event of the Public Lecture Series Tours d'Europe on the CIVICA website.
This piece was originally published on the website of CIVICA – The European University of Social Sciences.
About CIVICA: CIVICA brings together eight leading European higher education institutions in the social sciences, humanities, business management and public policy, with a total of 50,000 students and 10,000 faculty members. Together, they build on an ever-stronger combination of teaching, research and innovation to mobilize and share knowledge as a public good and to facilitate civic responsibility in Europe and beyond.