Degrees, community, network
Sciences Po's international dimension was established in its founding documents. Driven forward by this vocation for more than 150 years, today Sciences Po stands out as a world-class university.
A World-Class University
Internationally recognised degrees
The education and degrees offered at Sciences Po meet international standards and are recognised by the most renowned universities. Some of these universities have developed dual-degree programmes with Sciences Po at the Bachelor, Master and PhD levels.

Our degrees are also prized by recruiters, and the ease with which our students incorporate the international labour market illustrates the value of our education.
A student body unique in terms of excellence and multiculturalism
Sciences Po recruits students from among the finest candidates in France and abroad. Each year, Sciences Po hosts 14,000 students, with 49% of its student body made up of international students representing 150 nationalities. The multiculturalism and academic excellence of our student community contribute greatly to enhancing Sciences Po's attractiveness on the world stage.
A powerful network
Sciences Po is a member of several university consortia (APSIA, College Board, GPPN, etc.) and has developed partnerships with over 470 universities. The institution also relies on an influential community of alumni, as well as an extensive network of major companies, international organisations, governments, foundations and media outlets. Find out more about Sciences Po's international partnerships and activities.
Sciences Po is also a founding member of CIVICA - the European University of Social Sciences, created in March 2019 with seven other world-class universities of the Social Sciences, Humanities and Management, united around a common mission: "to train the new generation of professionals who will serve society in all sectors, whose minds will be focused on overcoming the world's major challenges, and who will be driven by the values of democracy, respect and civic resilience ".
Beyond the academic field, Sciences Po relies on an influential community of 90,000 alumni worldwide, and a network made up of large companies, international organisations, governments, foundations and media relations.
Cutting-edge research
Sciences Po's research programmes are endorsed by international public agencies. They regularly receive support from major funding agencies such as the European Research Council Grants and the French National Research Agency.
478 partner universities
Sciences Po has within its network over 478 partner universities. This network is unique for its dynamism and academic excellence. Our partner universities include:
Cambridge (England), Columbia University (USA), Freie Universität Berlin (Germany), Fudan (China), Keio University (Japan), the London School of Economics (England), MGIMO (Russia), UC Berkeley (USA), University of British Columbia (Canada), University of Cape Town (South Africa), University of São Paulo (Brazil), etc. See all our partner universities.
Prestigious dual-degree programmes
Sciences Po and several universities within its network have developed 42 dual-degree programmes at the Bachelor, Master and PhD levels. These programmes allow students to earn degrees from both Sciences Po and partner universities, including Columbia University in the City of New York (USA), the London School of Economics (England) and Peking University (China).
A proactive student mobility policy
This network provides significant benefits for undergraduate Sciences Po students during their mandatory third year abroad, for graduate students taking advantage of a semester outside of Sciences Po, and for PhD candidates who participate in doctoral exchange programmes.
Sciences Po also welcomes students from partner universities as part of exchange programmes.
This student mobility contributes to the international and multicultural experience available at Sciences Po while enhancing the university's educational offering.
Shared education and research initiatives
Finally, this network serves as a venue for excellence-based cooperation in the fields of education and research, as exemplified in programmes such as Alliance, GPPN, as well as Oxpo and Maxpo, developed with Oxford University and the Max Planck institute.
49% international students
150 nationalities represented
478 partner universities
43 dual degree programmes
7 multicultural campuses
25 foreign languages taught
CLOSE UP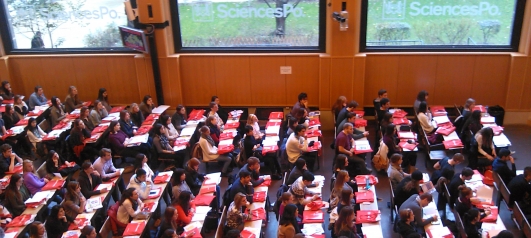 Exchange programme
Students from partner universities can study at one of Sciences Po's seven campuses as part of an exchange programme. They are fully integrated into the student body. Learn more about exchange programmes at Sciences Po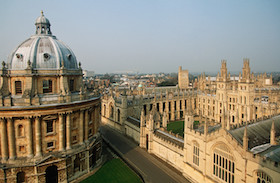 Crédits
Academic collaborations
CIVICA - The European University of Social Sciences brings together seven world-class institutions (including Sciences Po) around a common mission: to train a generation of professionals who aim to serve society and are driven by the values of democracy, respect and civic resilience.
OXPO is a collaborative social sciences structure established between Oxford University and Sciences Po. OXPO aims to stimulate comparative research into political and social phenomena, particularly in European countries with an emphasis on France and the United Kingdom.
Alliance is a partnership programme bringing together Columbia University, the French Ecole Polytechnique, Université Paris 1-Panthéon Sorbonne and Sciences Po. A laboratory of educational and scientific innovation, the Alliance programme is also a pre-eminent platform for transatlantic cooperation in the fields of education and research.
The Cambridge - Sciences Po Research Cooperation Agreement aims to develop research links between both universities in disciplines including Politics, History and Public Policy, and other areas of mutual interest.
LEARN MORE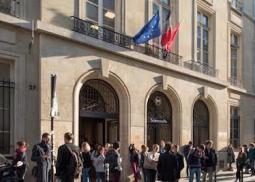 What is Sciences Po?
What do students learn at Sciences Po? Where do they come from? What do they do after graduation? Learn all about Sciences Po with the following video.
Watch the video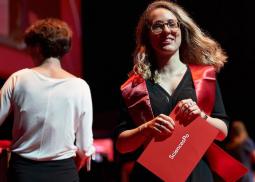 Graduate Employability Survey
The 2021 survey on the employability of our graduates (Class of 2019) confirms the Sciences Po degree as a major asset on the job market.
Read the survey results

Why did they choose Sciences Po?
The 2016 first-year student cohort represents 94 nationalities and over half the students come from outside France. They all have their own story to tell about their journey to Sciences Po.
Watch the video

FOR MORE INFORMATION