Several research units – and especially Sciences Po's Centre for socio-political data – have embraced digital platforms to make a wealth of electoral materials such as results and surveys available. These are classified and sometimes complemented by studies posted online. Meanwhile, CEVIPOF has digitized close to 40,000 electoral documents, including mission statements, ballots, leaflets and posters.
Making electoral data available online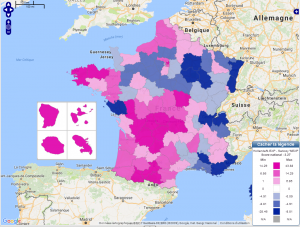 The Centre for socio-political data has posted all the results of French elections from 1958 to 2012. Complete (legislative, presidential, regional, European, municipal and cantonal) and detailed (district, municipality, department, region and all of France), they can also be exploited and compared through a mapping application – Vizlab – that enables compositions of an infinite number of variables.
Moreover, in 2015 the CDSP put part of its electoral database online at data.gouv.fr, the Open data website created by the Ministry of Interior: learn more.
To complete is electoral database, the CDSP also provides a series of French pre- and post-electoral surveys (1958, 1962, 1978, 1988, 1995, 1997, 2002, 2007*, 2012) and French data from the Comparative Study of Electoral Systems program (2007, 2012).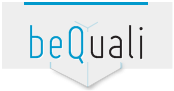 beQuali: processing and posting of qualitative surveys
Another tool that the CDSP has developed, beQuali, makes archives of qualitative surveys available along with contextual support enabling their reuse. This includes two surveys on electoral trends conducted by Sciences Po researchers.
What is beQuali?
Produced by the CDSP,
beQuali
is a system that publishes survey archives paired with documents that help contextualize the raw "data" to enable accurate reuse. Specifically, the documents cover research processes, fieldwork preparations, and the analytical phase. To this end, studies on the studies are produced to provide information on their execution and research context. The documents are posted online and individually described. Finally, several tools enable their exploration: sorting by criteria (research phase, typology, themes); visualization via interactive maps and timelines; dynamic posting of interview transcripts. Following the declaration and validation of a project to reuse the data for research or pedagogic ends, these studies can be downloaded from the
Quetelet
portal.
Two surveys processed by BeQuali
The survey on "Representations of the social field, political attitudes and socioeconomic changes" conducted by Jean-Marie Donégani, Guy Michelat and Michel Simon in 1978 shed light on the attitudes and symbolic systems underlying political behavior. It notably resulted in the development of cultural models (political attitudes are symbolically organized in relation to religion or social class, for example) that were subsequently adopted by electoral sociology.
The 1983 survey on "The French and politics" by Étienne Schweisguth analyzed political attitudes on the basis of the left-right divide as well as a sociological and symbolic approach to ideology. It revealed new dimensions of political orientation and proposed ideological types that were then incorporated into a many electoral studies. 64 interviews conducted in several departments with anonymous citizens were digitized and put online.
Online surveys
Thanks to an innovative and unique system in France – ELIPSS – created by the CDSP, researchers can now easily conduct long-term Internet surveys. The ELIPSS panel includes 3,100 participants who are representative of the metropolitan population. Respondents are equipped with a connected tablet and are asked to respond to monthly surveys. Using this tool, political scientists, including a Sciences Po team, have been conducting a survey since 2013 that will continue through the end of 2017 – Dynamob – asking panel members about their political preferences, both during and outside of election periods. See the results of the first wave of the Dynamob survey, conducted in September 2013.
Archelec: 40,000 archival documents online

Since 1960, CEVIPOF has been collecting materials daily related to elections held from 1936 to 2017: flyers, mission statements, ballots, posters, speeches, candidate files, periodical issues, objects and working notes produced by CEVIPOF researchers. To date, this collection includes 40,000 documents that are accessible to all.