Using history and comparative studies, several research projects shed light on the state of elections beyond our borders.
United States of America: when the electorate is not complete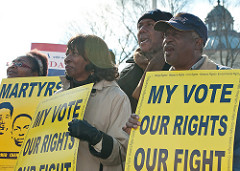 An expert in the social history of the United States, Pap Ndiaye focuses on minorities and has devoted one of his research projects to their right to vote and its implementation. Indeed, while minorities' access to voting has been enshrined since the 1965 Voting Rights Act, which prohibits any discrimination in the voting process, it remains a problem today. It turns out that in some states (voting procedures are defined at the state level) the right to vote has been eviscerated by provisions governing its implementation. This evisceration occurred in the aftermath of a 2013 Supreme Court ruling to eliminate the Federal Election Commission's oversight of the application of the Voting Rights Act. Since then, several states controlled by the Republican Party have established procedures aiming to limit access to voting that primarily affect minorities: in the name of fighting fraud, polling stations were eliminated in some neighborhoods (mostly in predominantly minority areas), voters had to present driver's licenses (national ID cards do not exit in the US), which not everyone has, etc. A second restriction on access to voting consisted of depriving some citizens of their civic rights. This is the case for felons and former felons, who are disproportionately Afro-American and Hispanic. A total of 6 million citizens are currently deprived of their civic rights. Thus, in the USA access to voting for all has not yet been achieved.
The new demagogues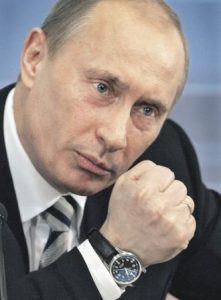 Vladimir Putin in Russia, Recep Erdogan in Turkey, Narendra Modi in India, Mahinda Rajapakshe in Sri Lanka, Benjamin Netanyahu in Israel, Shenzo Abe in Japon, Shinawatra Thakshin in Thailand, and Anwar Ibrahim in Malaysia are all leaders who, among others, were elected, and even reelected, despite their disregard for checks and balances and pluralism. Yet these leaders, who might be called demagogues, have not contested the electoral process, and they win elections by significant margins. How can these phenomena be explained? This is the key question guiding a study by several CERI researchers in a group led by Christophe Jaffrelot and Elise Massicard. Their goal is to examine the factors and the strategy that enabled these heads of state to seize power: the role of the organizations of which they were members before their rise (the KGB for Putin, the Islamist movement for Erdogan, the nationalist Hindu movement for Modi), their mastery of communication techniques, the form of their populism, the nationalist tone of their discourse, and their relations with the business world. They have also examined the role that middle classes, who are more concerned about their wellbeing than democracy and other societal issues, played in the election of these demagogues.
Latin America: democracy on the razor's edge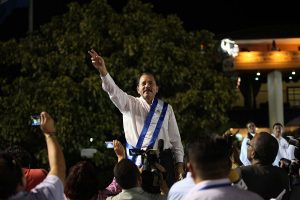 CERI researcher Olivier Dabène provides a pretty bleak assessment of the state of democracy in several Latin American countries.
First, Colombia: in the autumn of 2016 the country succeeded in signing a peace agreement to end a multi-decade civil war, but its adoption was fraught. After a small majority rejected it in a referendum held on October 2 (with a particularly low turnout – 37.4% – for such a high-stake issue), the new agreement was not submitted to a referendum but ratified by the Parliament.
He further notes that democracy has retreated in several other countries: in Venezuela, where the regime has endeavored to marginalize the National Assembly; in Brazil, where the legality of the impeachment process has been contested; in Nicaragua, where the president Daniel Ortega has benefited from the lifting of constitutional term limits, and where despite his authoritarianism over 70% of voters reelected him for the third time in 2016. Finally, he points to very weak participation in Chile's municipal elections and the 2015 cancellation of Haiti's presidential elections, which had already been pushed back several times.
---
More