by Marta Dominguez Folgueras, OSC*
The World Health Organization (WHO) defines breastfeeding as "the best source of nourishment for infants and young children." The organization recommends breastfeeding for at least the first six months of an infant's life. Many countries have adapted the WHO's discourse on breastfeeding for their own national health programs. What are the bases of these recommendations and what are their effects? How do these recommendations take into account women's bodily autonomy? Social sciences, although rarely used, can provide illuminating responses.
The "scientific" discourse around breastfeeding
Pro-breastfeeding campaigns conducted by the WHO and other organizations underline the positive effect it has on a child's health. Breastfeeding is considered helpful in increasing a child's immunity as well as reducing risks for various health conditions, including obesity. Potential benefits for the mother's health are sometimes invoked, but are often relegated to the background. There are of course many reasons why a woman might choose to breastfeed — for her own pleasure, for example — but these arguments are rarely taken into account in medical discourse. Although research has shown that in poorer countries, the adverse effects of formula feeding is directly linked to a lack of potable water and insufficient access to appropriate quantities of high-quality formula, the recommendations for breastfeeding remain the same regardless of country.
These recommendations are part of a broader public health discourse that focuses on individual choices to prevent health hazardsSarah Nettleton, "Women and the new paradigm of health and medicine". Critical Social Policy, 1996 . This approach puts the onus solely on mothers to ensure their children's health. These recommendations, aside from questions of health, are in part dictated by social norms around motherhood, the role of women, and the belief that a child's well-being should supersede a mother's.
Controversial empirical evidence
In industrialized countries, researchers have highlighted considerable methodological biases regarding the scientific evidence that these recommendations are based uponEmily Ostner – « Expecting better : Why the conventional pregnancy wisdom is wrong and what you need to know about it". Penguin Books, 2016 – Joan Wolff – "Is Breast Best?: Taking on the Breastfeeding Experts and the New High Stakes of Motherhood". 2010, New York University Press. So-called epidemiological studies that back-up breastfeeding's effectiveness compare the health of children who were breastfed versus those who were given formula. However, as breastfeeding is a choice made by individual mothers, the decision and desire to breastfeed are often socially determined. Mothers from affluent backgrounds are more likely to breastfeed. Many different factors should be taken into account when comparing the health of children from different socio-economic backgrounds, environmental ones for example, and not simply a diet of breast milk versus formula. In order to determine the benefits of breastfeeding, the children studied should be assigned either a breastmilk or formula regimen at random.
However this sort of evaluation cannot be conducted because mothers' feeding preferences would not be honored. Consequently, the evidence that bolsters a pro-breast milk stance is not scientifically reliable. The relationship between health and breastfeeding is influenced by a multitude of characteristics of the mothers, including their socio-economic background and material wealth. Most of these studies do not include this data. We can imagine that breastfeeding would be an easier undertaking for more affluent mothers, who have more autonomy over their schedules and more resources for support than their less affluent counterparts. Breastfeeding is more difficult when a woman has greater pressure from her family to keep the household running, and may have a work schedule that won't allow for it. What's more, local cultures and family structures add an element that is not taken into consideration. This discourse largely ignores various cultural specificities women can experience.
What's more, certain studies conducted by the WHOFernando Horta, Victora.Cesar G. "Long-term effects of breastfeeding. A systematic review", World Health Organisation, 2013 have called into question the effect that breastfeeding has on developing diabetes, cholesterol or arterial pressure in the years after infancy. However, these methodological problems have not influenced medical authorities in modifying their recommendations concerning children's health and their future.
Pro-breastfeeding initiatives
Many initiatives have been developed in Europe to support breastfeeding. The WHO's recommendations are communicated to pregnant women, in publications targeted to parents, and within the medical community. This scientific discourse, backed up with medical arguments, minimizes the difficulties that women can encounter Séverine Gojard – "Le métier de mère", 2010, La Dispute. Many maternity wards follow the "Baby Friendly Hospital" guidelines supported by the WHO. The program aims to diminish the medicalization of childbirth and it includes a series of initiatives dedicated to breastfeeding. Mothers who do not wish to breastfeed are nonetheless strongly encouraged to participate in information sessions on breastfeeding. For mothers who have expressed the desire to use formula, hospital staff are discouraged from offering any baby formula — even though it is available for free in maternity wards– unless the mothers explicitly ask for it. This strategy discourages the "mix" method of feeding. These measures are the hospitals responsibilities and are not always communicated fully to the mothers.
A complimentary measure to promote breastfeeding concerns the commercialization of baby formula for newborns aged 0 to 4 months. Applying the recommendations of the WHO, France's consumer protection code (Article L122-12 to 16) forbids advertising and promoting newborn formula, as well as all sampling initiatives. The objective of this is to promote breastfeeding. Newborn baby formula has similar regulation as products that are considered to be health hazards.
A satisfactory policy?
It is difficult to challenge pro-breastfeeding arguments, because they are based on the idea of protecting children's health. However these recommendations place the responsibility of a child's health – and their future- on young mothers and their bodies. Cloaked in scientific rhetoric, these recommendations can take on a moralizing tone, so much so that some researchers describe breastfeeding as a "moral imperative" Ellie Lee – "Feeding babies and the problems of policy", Center for Parenting Culture Studies Briefings, 2011. This discourse can stigmatize mothers who do not breastfeed, painting them as bad parents.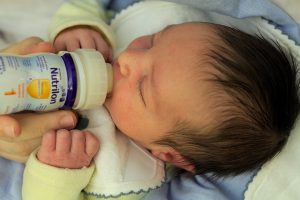 Breastfeeding is often depicted as easy and enjoyable. Young mothers who encounter difficulties breastfeeding can internalize guilt and feelings of inadequacy during an already difficult, pivotal time in a woman's life. These feelings can degrade the relationship women might have with health professionalsEllie Lee –" Feeding babies and the problems of policy", Center for Parenting Culture Studies Briefings, 2011, as certain women feel judged. Women who resist feeling stigmatized must practice active resilience. This can explain why in France, the promotion of breastfeeding is judged as inefficient by the WHO. The recommendations for the promotion of breastfeeding are founded on a discourse that can negatively impact a mother's well-being and her bodily autonomy as well as her relationship towards medical professionals. Research on this topic shows that pro-breastfeeding policy has two major drawbacks: a moralizing discourse that can lead to feelings of guilt and shame; and empirical evidence that should be relativized for populations who have ample access to quality formula and potable water.
Marta Dominguez Folgueras is an Associate Professor at Sciences Po Observatoire sociologique des changements. Her work focuses on family sociology, schedules, and gender. Her current research is on how couples are formed, and family behavior, with an emphasis on the division of domestic labor, and childrearing- taking gender inequalities into account.
Translation from French by Samantha Fields