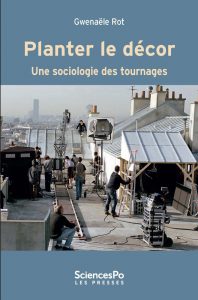 What is film doing to cities, and what are cities doing to film? From Paris to Marseille, through Los Angeles, Gwenaële Rot, a professor of sociology at Sciences Po and a member of the Center for the Sociology of Organizations, led a major study that goes behind the scenes of filming. Her objective was to study the transition from a film set, a public policy subject of territorial value, to a film space that film teams use to build a movie. Published in "Planting the decor. A sociology of filming" (Presses de Sciences Po), the results of this research reveal the many facets of the link between film spaces and the creation of a film.
Public policies and territorial rivalries
Like other productive sectors, film is subject to international competition in the dissemination of works, as well as in the hosting of filming. Public policies to support production help structure this rivalry in their quest to attract films. A historical seventy-year perspective (1946-2016) shows that the modalities of cinematographic governance have transformed. Direct public support (via regional and state support funds) and indirect support (via tax advantages such as national and international tax credits) guide the selection of filming locations and shape the cinematographic territorial offering.
The casting of decors
Places that are likely to be suitable for a film project are not easy to identify, if only because their aesthetic, practical, legal, and economic properties change over time and because filmmakers' needs also evolve. Between studios and natural decors, the availability of spaces open to filming is never obvious. A space must include a considerable bundle of qualities to meet all the needs: not only must it correspond to the filmmaker's aesthetic ambitions, but also to the many technical and economic expectations of a film's various stakeholders. These qualities include the ease of circulation and parking, good acoustics, safe spaces, a good orientation, and proximity to other filming locations. The selection of a place thus becomes a collective and sometimes controversial affair.
The city as a working material and working space
This book considers the film space as a means to analyze new city rivalries, as well as the activity of creative workers. Territories, and especially cities, must be considered both as significant materials in cinematographic creation, and as ephemeral workspaces where filming occurs. Filming is a field activity that moves from one decor to the next in an unstable environment Despite all the preparatory work, film breaks into the spaces it invests, shakes up organizations and lifestyles, and creates discomfort. The organization of filming draws on a combination of the activities performed by city workers and film workers.
By opening the doors of film sets, Gwenaële Rot shows how locations are selected on the basis of a script, and how they are patiently transformed into decors, becoming the workspace of a team, and of a story brought to the big screen.
Sciences Po sociology professor Gwenaële Rot is a researcher at the Center for the Sociology of Organizations. She focuses on the sociology of work, of companies, and of organizations through concrete forms of production, as well as the history of sociology. Her research especially focuses on the modalities and effects of work on the rationalization of economic activity.