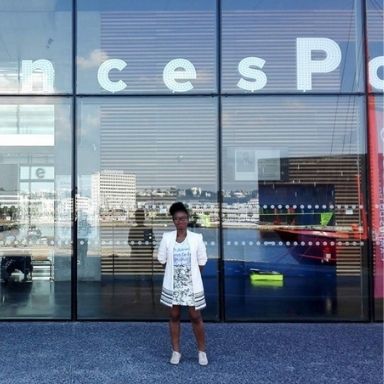 "I AM A BLACK WOMAN FROM HAITI. I DON'T WANT ANY BARRIERS TO LIMIT MY CAREER OPTIONS"
Why did you choose to study on the Sciences Po campus in Le Havre?
I'm fascinated by Asia. Since I left Haiti, my birthplace, and came to France, I've watched a lot of K-drama—the popular TV series that are very characteristic of Korean culture. What I love about them is getting to discover a new world, the language and the values they convey, about family for example. It's very different from what I know and from my home country. The Le Havre campus and the Europe-Asia programme meets these same aspirations.
What are you expecting to get out of the programme?
I love languages and I'm really pleased that most courses are in English, so I can become completely fluent. I want to discover new subjects, particularly law, and further my knowledge of history. More specifically, I'd like to understand the development of European and Asian countries, see their differences, their similarities. All that is completely new to me.
What is your goal?
To build my future as I see fit and to lead a meaningful career. My goal is this: to manage to do exactly what I want, while remaining as curious as I can about the fields of possibility open to me. I don't want to restrict myself with barriers.
Where does this goal come from?
I see so many people around me who set barriers for themselves. Just think: I'm black, I'm a woman and I come from a modest background. I don't correspond to the statistics of those who are supposed to succeed. And yet no one should determine my future for me, not even the teacher who once, when I had handed in a good paper, told me, "don't worry, it won't last." Well it did. After that, I just kept on improving.