How did cooperation between the British army and Allied forces work? How were the "free French" in particular integrated into the British armed forces and society? These are two questions to which historical scholarship has given little consideration to date. Steven O'Connor, a young researcher hosted by the History Centre as part of a EU Marie Skłodowska-Curie grant, seeks to tackle and answer them.
With the goal of enhancing understanding of the Allied war effort's transnational nature, Steven O'Connor explores two of its dimensions in detail: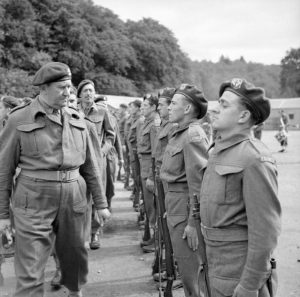 One is to assess Great Britain's methods of organizing the multinational forces through the case of the Free French Forces (FFF). Beginning in August 1940, the FFF became the largest foreign contingent after the one formed by the Poles. The FFF's army, navy and air force served alongside the British forces and under the British Command in Great Britain, the Atlantic Ocean, North Africa, the Middle East and the Far East. The study's second dimension focuses on how the free French responded to the efforts that their host made to integrate them both militarily and in terms of their relations with British civilians.
Convinced that national perspectives on war are limited, Steven O'Connor thinks he can correct approaches to the history of war that are deliberately deformed and used by certain political parties – especially the far right – for political ends.
Steven O'Connor will pursue his research at thirteen archive centers, from London to Canberra and Washington DC, and will examine records that have rarely, if at all, been consulted, such as records on the training and morale of the free French.
About Steven
Steven O'Connor holds a PhD from University College Dublin, and did a postdoctoral fellowship at Trinity College Dublin. In 2014 Palgrave Macmillan published his monograph on Irish Officers in the British Forces.1922-45. He has also served as editor-in-chief of The Revolution Papers, a journal focusing on the Irish revolution from 1916 to 1923.