Latest placements
Congratulations to S. Delpeuch, G. Kenedi, M. Palladino, and P. Villedieu!
Champagne flutes on background of golden bubbles

Congratulations to Samuel DELPEUCH, Gustave KENEDI, Marco PALLADINO, and Pierre VILLEDIEU!
Young doctors tend to consider careers in academia as a 'natural' job market but this is too narrow a viewpoint of what career opportunities a PhD in Economics has to offer.
Yes, our PhD programme does train top economists who seek to pursue university and academic careers in France or abroad - check out how are international job market candidates fared this year - but it also prepares them for careers requiring high-level doctoral training: in international organisations, think tanks, research institutions, government agencies, banks, and insurance companies.
The four graduates we are highlighting here chose not to head onto the international job market (or at least not yet). We are proud to announce that they have all secured fantastic, relevant positions in prestigious institutions.
Samuel DELPEUCH
Samuel DELPEUCH is working as an Economist at the Organisation for Economic Cooperation and Development (OECD). He is working in the team in charge of the implementation and of the impact assement of the "2-Pillar Solution" aimed at reducing base erosing and profit shifting by multinational firms at the OECD's Centre for Tax Policy and Administration.
He will soon defend his PhD thesis entitled Globalization's New Faces, under the supervision of Thierry Mayer.
To learn more about Samuel DELPEUCH and his research, consult his website
Gustave KENEDI
Gustave KENEDI will be joining the Centre for Economic Performance (CEP), a research centre of the London School of Economics (LSE), as a Postdoctoral Research Economist this Fall. Gustave is part of the Education and Skills team, and will be contributing to the CEP's work on educational inequalities and social mobility.
Gustave will soon be defending his doctoral dissertation entitled Intergenerational Social Mobility : Measurement, Mechanisms and Policy, PhD thesis supervised by Pierre-Philippe Combes.
To learn more about Gustave KENEDI and his research, consult his website
Marco PALLADINO
Marco PALLADINO will be working as a Research Economist at the Banque de France coming this Fall. He will be studying the causes and consequences of structural changes impacting the labour market, with a specific emphasis on two primary research areas: firstly, he will assess the effects of policies that regulate employment contracts (fixed-term contracts vs. open-ended) and secondly, he will investigate the dynamics of wage inequalities in France.
Marco is completing his doctoral thesis entitled Essays on Labor Market Dynamics, under the supervision of Pierre Cahuc.
To learn more about Marco PALLODINO and his research, consult his website
Pierre VILLEDIEU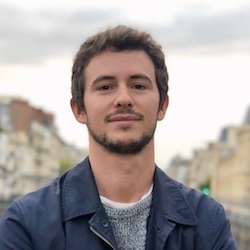 Pierre VILLEDIEU is working at the Statistical Service of the French Ministry of Labour (the Direction de l'animation de la recherche, des études et des statistiques - Dares) as Deputy Head of the department in charge of the occupational analysis of the labor market and the employment of disabled workers. His role is to supervise studies conducted within the department, including those related to labour market tensions, job attractiveness and its evolution, as well as public policies related to the employment of disabled persons.
Pierre is completing a doctoral dissertation entitled Discrimination on the Labour Market, under the supervision of Pierre Cahuc.
To learn more about Pierre VILLEDIEU and his research, consult his website