Ghazala AZMAT
ERC Project UNEQUALED, Chair of EEA Women in Economics, Junior Member of the IUF, IZA Research Fellow, CEPR Research Fellow, Council Member, European Society of Population Economics, Centre for Economic Performance (LSE) Research Associate, CESifo Research Fellow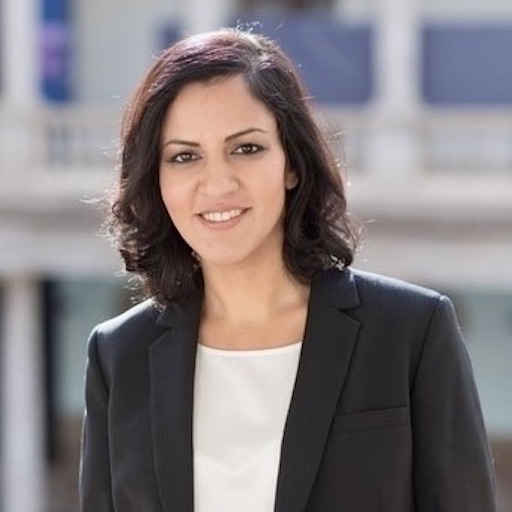 Ghazala Azmat joined the Department in 2017 as Professor of Economics, after spending a year visiting us. She is a Research Associate at Laboratoire interdisciplinaire d'évaluation des politiques publiques (LIEPP), Research Associate at the Centre for Economic Performance (LSE), Research Fellow at IZA, Research Fellow at CEPR, and Research Fellow at CESifo.
Her main research interests are in applied and empirical microeconomics, focusing on labor, education, managerial and gender economics. She has published in several international journals such as Journal of Political Economy, Management Science, RAND Journal of Economics, Journal of European Economic Association, Quantitative Economics, the Journal of Labor Economics, and the Journal of Public Economics. Her editorial roles include Managing Editor of Economic Policy, Co-Editor of Labour Economics, and Associate Editor of SERIEs.
Prior to moving to Sciences Po, she was a Professor at Queen Mary University of London and Universitat Pompeu Fabra (Barcelona). She holds a PhD in Economics from London School of Economics and Political Science (LSE).
To learn more about Ghazala AZMAT, consult her website
featured publications
"Gender Gaps in Unemployment Rates in OECD Countries" (with M. Güell and A. Manning), The Journal of Labor Economics, 2006, vol. 24(1), pp1-37
"Competition amongst Contests" (with M. Möller), RAND Journal of Economics, 2009, vol. 40 (4), pp. 743-768
"The Importance of Relative Performance Feedback Information: Evidence from a Natural Experiment using High School Students" (with N. Iriberri), The Journal of Public Economics, 2010, vol. 94 (7-8), pp. 435-452.
"The Impact of Gender Composition on Team Performance and Decision-Making: Evidence from the Field" (with J. Apesteguia and N. Iriberri), Management Science, 2012, vol. 58(1) January 2012, pp. 78–93.
"Gender Differences in Response to Big Stakes" (with C. Calsamiglia and N. Iriberri), Journal of the European Economic Association, 2016, vol. 14(6), pp. 1372-1400.
"Gender Gaps in Performance: Evidence from Young Lawyers" (with R. Ferrer), Journal of Political Economy, 2017, vol. 125(5), pp. 1306-1355.

"The Distribution of Talent across Contests" (with M. Möller),

The Economic Journal

, 2018, vol. 128, pp. 471-509

"Incidence, Salience and Spillovers: The Direct and Indirect Effects of Tax Credits on Wages," Quantitative Economics, 2019, vol. 10(1), pp. 239–273
"What You Don't Know…Can't Hurt You? A Field Experiment on Relative Performance Feedback in Higher Education" (with M. Bagues, A. Cabrales and N. Iriberri), Management Science, 2019, vol 65(8), pp. 3714–3736.
"Gender Diversity in Firms" (with A. Boring), Oxford Review of Economic Policy, Volume 36, Issue 4, Winter 2020, Pages 760–782
Research Areas
Labour Economics, Economics of Education, Gender Economics
Contact
+33 (0)1 45 49 76 39
J 401 bis