Energy and Cohesion: Governance, Regulations and Negotiations
About
The first research focus of this research group concerns the strategy used to reduce carbon emissions by redirecting production towards renewable energies. The transition to a "carbon-free" economy raises the question of the role of the European Union, in particular its cohesion policy, and the ability of regional and local actors to mobilise their resources. This is the issue of incentives and conditionality.
The second field refers to the ability of actors at different levels of intervention to ensure the link between the objectives of the Green Agenda and those of the Social Agenda. It aims to explore how European, national, regional and local actors mobilise their resources to ensure clean and affordable energy for all citizens. This is the issue of social, economic and territorial cohesion. In addition, the issue of fuel poverty and of the access to energy analysed within and outside the EU is also at stake.
The research group's third focus is the geopolitical aspect of energy. How can security be guaranteed for energy supply within the E.U. and beyond, in Asia, in the Gulf, Maghreb, South America…? Our research is interested in the EU's capacity to promote an external energy governance through the ENP (European Neighbourhood Policy). This means that we are interested in the issue of negotiations within a context of unstable rules and institutions and where common European mechanisms have little weight faced to opportunistic behavior of their partners. The comparative study of other regional areas focuses on the different regional groups' capacity to trigger a renewable energy mix that could help reduce dependency of the different states and guarantee their development. The group benefits from the support of several private and public institutions : DATAR, Caisse des dépôts et consignations, Institut d'excellence (IDEX), EDF
François Bafoil and Rachel Guyet are members of the EU Energy Observatory and of the COST Action 16232 (European Energy Poverty: Agenda Co-Creation and Knowledge Innovation, ENGAGER 2017-2021).
François Bafoil is currently working with Gilles Lepesant on a project for the French Caisse des dépôts et consignations (CDC) entitled "Structuration des filières de la transition énergétique à l'échelle nationale et territoriale".
Agenda
Cycle de séminaires organisés en partenariat avec EDF/RD
Séminaire du 9 novembre 2018
Régimes "populistes" et politiques énergétiques. Quels liens ? Quelles conséquences ?
Yves Surel, Laurence Nardon, Jean-François Di Meglio et Marc-Antoine Eyl-Mazzega
Lire le compte rendu
Séminaire du 26 mai 2018
The Brexit and its implications on the energy
Steve Pye (UCL Energy Institute), Carole Mathieu (IFRI)
Lire le compte rendu
Séminaire du 6 novembre 2017
Fuel Poverty – Some British Insights into Practical Policy? The Brexit Implications
Brenda Boardman, Emeritus Fellow, Environmental Change Institute, Oxford University
Lire le compte rendu
Voir la présentation de Brenda Boardman
Séminaire du 31 mars 2017
La rente pétrolière et le développement économique des pays producteurs de pétrole
Marie-Claire Aoun, directrice du Centre Energie, IFRI
Lire le compte rendu
Voir la présentation de Marie-Claire Aoun
Séminaire du 25 janvier 2017
World Energy Outlook 2016: The Challenges and Opportunities facing the Global Energy System
Tim Gould, head of Energy Supply Division, World Energy Outlook, International Energy Agency
Lire le compte rendu
Voir la présentation de Tim Gould
Séminaire du 10 juin 2016
L'émergence des "villes intelligentes" au Japon : vers des reconfigurations de l'action publique ? Voir le compte rendu
Séminaire du 9 mai 2016
Au-delà de la crise électrique en Afrique du Sud : Eskom et le pouvoir d'Etat
Voir la présentation de Sylvy Jaglin
Séminaire du 11 mars 2016
The Greek Crisis and its Impacts on Energy Poverty
Voir la présentation de S.Petrova
Séminaire du 14 janvier 2016
COP 21 : quel bilan un mois après l'accord ?
Voir le compte rendu
Contact : Rachel Guyet
Works
PUBLICATIONS
Rapport Structuration des filières de la transition énergétique à l'échelle nationale et territoriale : Union européenne, France, Danemark, Allemagne
François Bafoil, Rachel Guyet, Gilles Lepesant, 2019.
Lire la Synthèse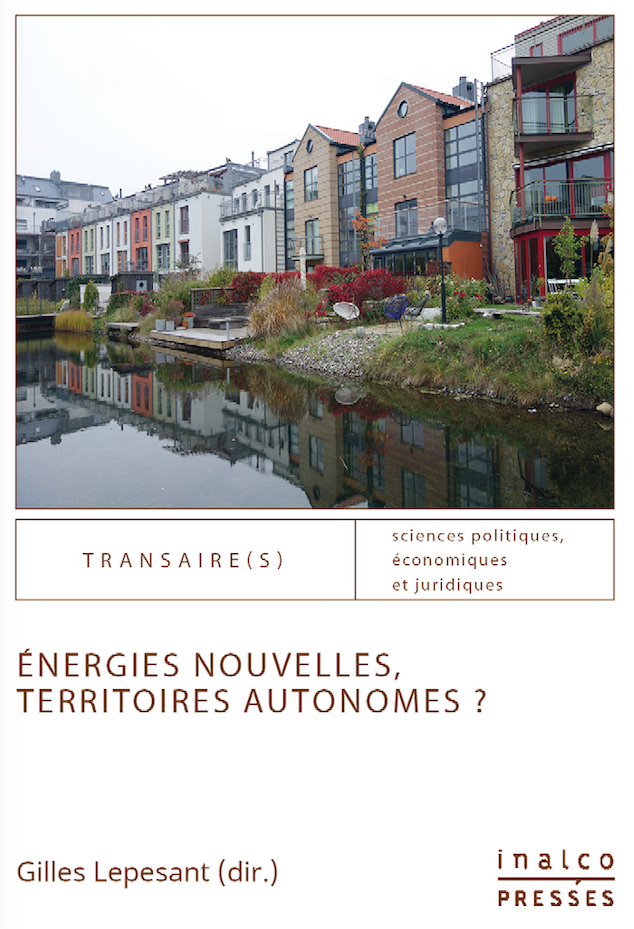 Novembre 2018 : Parution de Energies nouvelles, territoires autonomes ?, ouvrage de Gilles Lepesant aux Presses de l'Inalco
Une présentation du livre aura lieu le 4 décembre 2018 à 18h à lINALCo (65 rue des Grands Moulins, Paris 13e) avec Gilles Lepesant, Anaïs Guerry, Magali Dreyfus et Xavier Lagurgue.
En juillet 2017, François Bafoil et Rachel Guyet ont publié avec la collaboration de Lise Desvallées (LATTS) le rapport Executive Summary, Logement social, gestion de l'énergie et lutte contre la précarité énergétique en France (Paris, Hauts-de-France, Nancy) et en Europe (Grande-Bretagne, Allemagne, Espagne) rédigé à l'attention de la Fédération des entreprises sociales pour l'habitat.

Lire l'entretien avec Rachel Guyet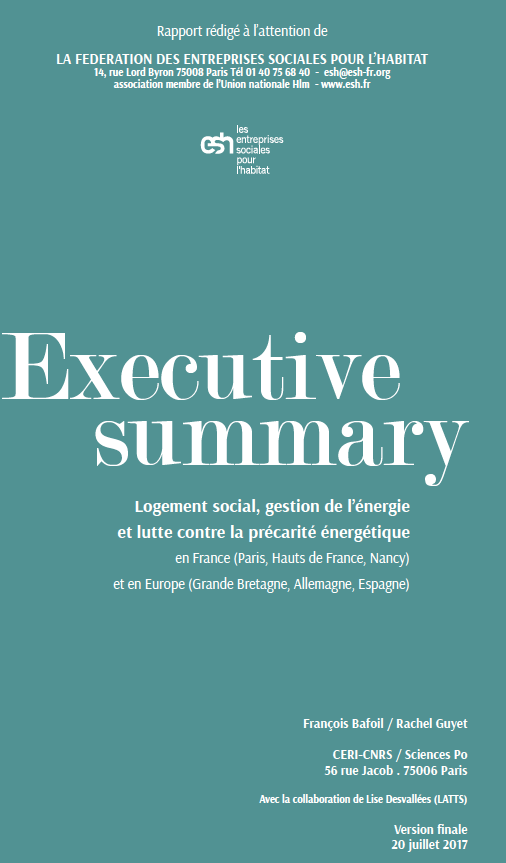 Ce rapport est à lire en français ci-dessous (cliquer sur la photo)
et en anglais ici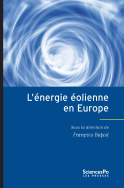 En coopération avec Paris 13 et Paris Diderot, le groupe Energie a développé un projet de recherche dans le cadre de l'IdEX SPC qui a cherché à analyser l'acceptabilité sociale de projets éolien dans cinq territoires en Europe (France, Allemagne, Grande-Bretagne, Pays Bas et Pologne). Ce projet a donné lieu à un ouvrage collectif dirigé par François Bafoil et publié en 2016 aux Presses de Sciences Po : L'énergie éolienne en Europe
Rapport Décentralisation énergétique et innovations territoriales. Une comparaison européenne dans les secteurs de l'éolien, de la biomasse et du photovoltaïque. Volume 1. Synthèse, 2016.
Décentralisation énergétique et innovations territoriales. Une comparaison européenne dans les secteurs de l'éolien, de la biomasse et du photovoltaïque. Volume 2. Monographies régionales, 2016.
Lire la Synthèse

Rapport Énergies renouvelables : la biomasse, l'éolien, le solaire. Stratégies nationales, structuration des réseaux et innovations en Grande-Bretagne, France, Allemagne, Pologne, 2013.
Lire la Synthèse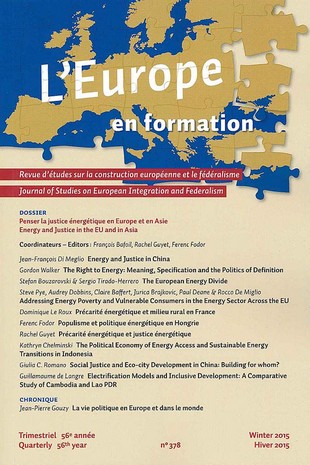 N° spécial d'Europe en formation Energy and Justice in the EU and in Asia
Vidéos
Interview de deux des auteurs de l'ouvrage Accès à l'énergie en Europe avec Thibault Lieurade de Xerfi
Dans le cadre du printemps de l'énergie, François Bafoil a été interviewé par Xerfi Canal sur les enjeux d'investissements de la transition énergétique : voir la vidéo
VOIR LES ARCHIVES DU GROUPE DE RECHERCHE