Services for researchers
The library offers many dedicated services to research staff, doctoral students and post-docs.
The library will support you at every stage of the research process and with related tasks such as bibliographic reference management, preparing data management plans, disseminating research outputs, etc.
Below you will find the main services on offer and the people to contact for further information.
Assign a persistent identifier (DOI) to your publications / Understand your rights as an author / Create and manage your digital identity with ORCID / Deposit on the Spire institutional repository / Manage your bibliography and your PDF / Disseminate or publish your thesis / Open access publishing / Using images
Depositing data in a repository / Disseminate and protect your data / Publish a data paper /
Write a data management plan (DMP)
Research support / Support for archiving your documents
Publication support
Assign a persistent identifier (DOI) to your publications
A DOI, or Digital Object Identifier, is a unique, persistent identifier that is used to identify, reference and cite an electronic source (data, publications, reports, working papers, maps, images, etc.) by means of a stable, clickable link. It is a key element in referencing publications, as it provides a reliable, permanent reference even if the resource is renamed or moved.
At Sciences Po, DOI assignment is administered by the registration agency DataCite, represented in France by Inist-CNRS. We handle applications concerning publications deposited in SPIRE (declaration to Inist-CNRS, generation of DOIs, persistence checks, application follow-up, metadata updates). This service is free for the Sciences Po community.
Applications concerning datasets are managed by the CDSP.
Understand your rights as an author
Publishing your research (in a journal or book, on a website, on social networks, etc.) raises questions of copyright, whether to protect your work or to respect the rights of co-authors.
Throughout the publishing process, we can give you advice and tips on reading publishing contracts, negotiating addenda with your publisher to publish your article on a website, choosing a license to disseminate your work online, reusing content created by third parties, etc.
Please feel free to contact us for help on any of these issues.
Create and manage your digital identity with ORCID
ORCID stands for Open Researcher and Contributor ID. It is a permanent international identifier that uniquely and unambiguously identifies researchers and facilitates the attribution of publications. ORCID is now recognised and used by many organisations in the research sphere (publishers, funders, institutions, etc.) and information systems (bibliographic databases, content repository platforms, open archives, etc.). It is a key element in building a researcher's digital identity and visibility.
Are you yet to obtain an ORCID and want to register for one? Do you already have an ORCID but don't know how to use it? Do you have several ORCIDs and want to deduplicate them? Do you use other identifiers (Publons ex ResearcherID, Scopus Author ID, IdHAL, etc.) and want to link them to your ORCID account? Our publication specialist is here to help you with every step of creating and managing your ORCID profile.
Deposit on the Spire institutional repository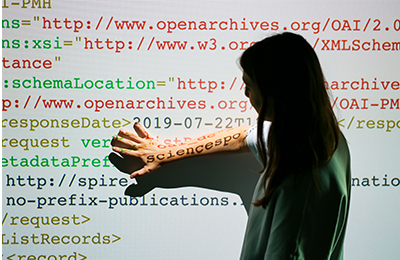 Spire is Sciences Po's open access institutional repository. It brings together all publications stemming from research conducted at Sciences Po. As part of the open science movement, Spire aims to make this research as widely available as possible.
What is open access? How do I find my way around open access repositories and academic social networks? Do I have the right to disseminate my publications? Between the pre-print, post-print, and publisher's version, which version am I allowed to post online? How do I deposit research on Spire?
The Sciences Po library, with help from correspondents in the research centres, will guide you in depositing your publications.
Manage your bibliography and your PDF
The Library supports you with the presentation of your bibliographic references and organizing your sources. In order to facilitate your research, we strongly recommend you to use bibliographic management tools, such as Zotero, a free and open software.
The citation styles developed by the School of Research can be used with Zotero but also Mendely or LaTex.
We organize group or individual trainings throughout the year, according to your needs.
Disseminate or publish your thesis
A thesis is the outcome of a major piece of research that should be promoted, disseminated and protected. Dissemination can take several forms, including digital dissemination, publication in the form of a book or as the basis for an article, etc. At Sciences Po, theses are referenced and archived on Spire, the institutional repository, according to the terms of distribution set by the author (open access, embargoed, or confidential).
What are the advantages of online publication? Which dissemination agreement should I choose? Is there a risk of plagiarism? What images can I publish in my thesis? Can I disseminate my thesis and publish it with a publisher?
Open access publishing
Publishing in open access means making the results of one's research freely available and ensuring greater visibility and citability. Open access publishing uses a number of funding models that vary from publisher to publisher, with or without publication fees.
Today, open access publishing is widely encouraged and may even be required by research funding bodies (ANR, European Commission, European Research Council, etc).
But how to choose a journal or publisher to publish in open access? What are the current debates? How do I find out about a publisher's open access policy? What are the publication fees (article processing charges or APCs) charged by a journal? Which model will my funder accept? Can my laboratory finance the APCs charged by a journal? Does the journal I want to publish in has an agreement?
If you want to know more, contact us!
Using images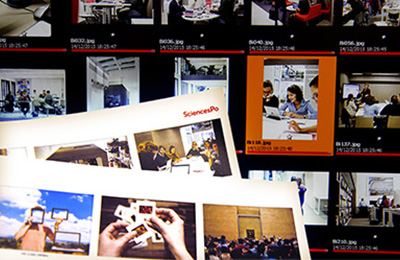 Reusing images from your sources (books, articles, websites, etc.) or visuals that you may or may not have produced yourself raises a number of issues, both in terms of copyright and image rights, and of citation standards and technical constraints.
The library can support you by answering specific questions or providing tailored tutoring sessions on your use of images and other visuals (tables, graphs, maps, etc.) in your publications.
If you wish, the subject librarian can also give you some ideas on how to properly reference your visuals as you go along, and the standards for citing them.
Digital archiving of your documents
Digital archiving consists in storing, preserving and ensuring access to digitised and natively digital documents (texts, images, videos, etc.) over the very long term, i.e., more than 30 years, regardless of technological developments (obsolescence of hardware, software, or file formats, etc.).
In partnership with the CINES (Centre Informatique National de l'Enseignement Supérieur), the library can help you with the digital preservation of your data and research materials by providing expertise and advice (assessment of the types of data to be archived, choice of file formats and metadata, structuring formats, etc.).
The library also offers technical support for the preparation of corpora for deposit in a digital archive. It performs all automatic file checks and conversion of data to file formats for preservation using the NumaHOP platform.
The costs of archiving are not covered by the library, but pooling reduces costs. Finally, temporary hosting (one month) can be arranged on the library's server.
Research library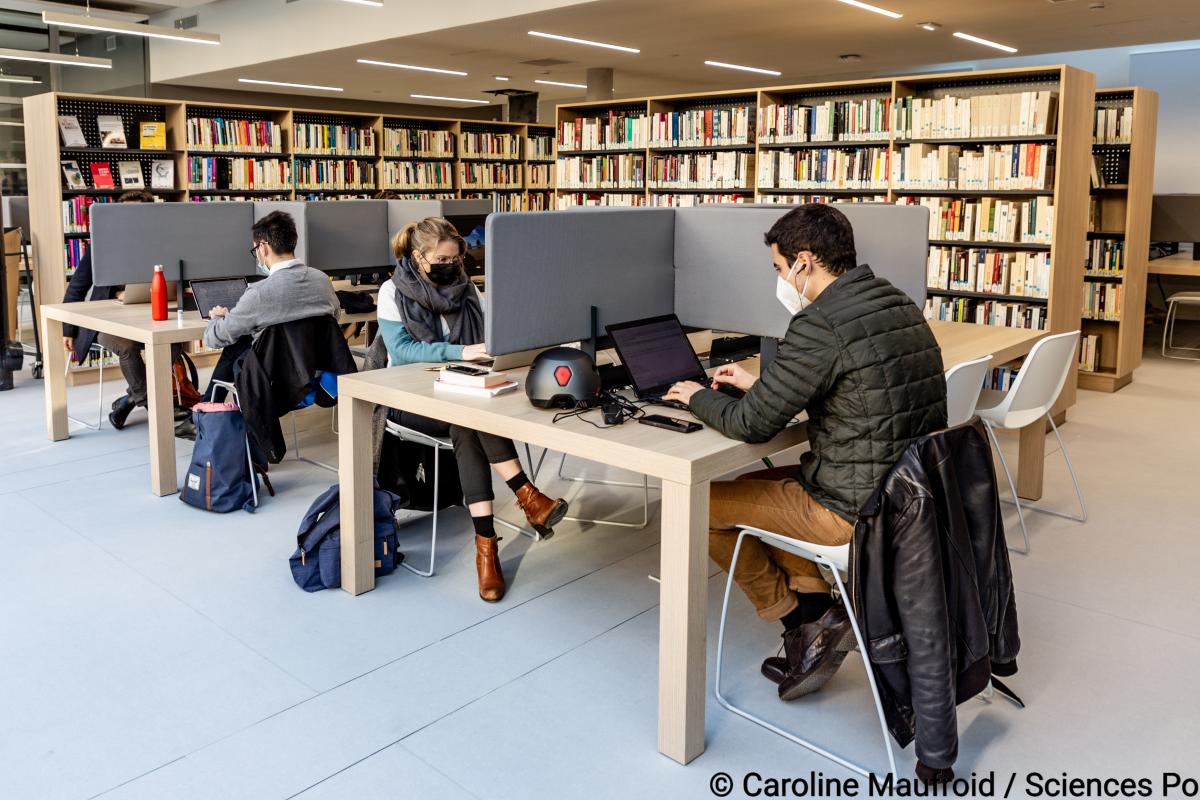 In addition to the general library, research students and faculty have access to a research library offering 50 seats.
Located at 1 Saint-Thomas, next to the general library, it provides direct access to more than 9,000 books mainly in political science.
There is a photocopying room and a reception desk that is constantly staffed during opening hours (Monday to Friday 8:00 am to 11:00 pm, Saturday 9:30 am to 9:30 pm) and offers specialized as well as personalised support.
For access requests and visits, contact Marie-Laure Claudon.
Research data management
How do I manage the data produced and collected in the course of a research project? Which license should I disseminate my data under? What impact does the GDPR have on my data? How do I link my data to my publications? The library offers a range of services to help you manage your data.
Depositing data in a repository
Depositing research data in a repository (e.g., data.sciencespo) means they can be accessed, used, shared and preserved.
We can help you to give access, identify, select, prepare, organise, adapt, and contextualise your datasets, explain their relevance, promote your research, and link your publications and supporting data so that readers can delve deeper into the subject.
This service is also available retroactively.
Disseminate and protect your data
Collecting, reusing, processing, analysing, preserving, storing, archiving, protecting and disseminating data in a FAIR (findable, accessible, interoperable and reusable) way is great. But how?
In constant contact with Sciences Po experts and in the form of a one-stop shop, we can answer your legal questions (copyright, distribution licenses, personal data, academic integrity, digital and database law, etc.) and technical questions (metadata, formats, naming, tree structure, infrastructure, long-term digital archiving, cross-referencing, data mining, and data visualisation).
We can assist you in French or English, observe and participate in your projects, and train you in collaboration with your laboratory staff on these issues.
Publish a data paper
A data paper is a peer-reviewed scholarly article whose primary purpose is to describe a dataset. This publication format serves to increase the value and impact of datasets while making them citable, and facilitates their reuse. It contributes to research reproducibility.
Where do I publish a data paper? Which journals allow the publication of this type of article? How do I publish a data paper? What style, structure, and models should I follow?
We offer advice and support on these questions.
Write a data management plan (DMP)
A Data Management Plan (DMP), is a formalised document that helps to organise and anticipate all the tasks involved in managing the data produced in the course of a research project.
We offer a full range of services to suit your needs: writing and editorial assistance, tips, data interviews, support for your laboratory staff, etc.
A DMP is more than just a funder requirement. There are many benefits to effectively anticipating and managing the resources and risks related to research data, and we can help you get the most out of this planning tool.
Delivery service
The library offers a delivery service to faculty and PhD students in the Sciences Po community.
When requesting items through the online catalogue, eligible users can choose to collect them from the library's loan desk or to have them delivered to their research centre. The same applies to returning items, which can be left at an agreed location at the research centre. They are picked up with each delivery.
The loan periods and conditions are the same as for on-site pick-up.
Digitisation on demand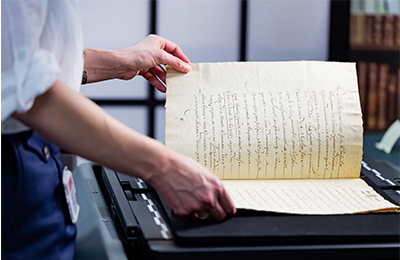 Digitisation on demand consists in having a digital image produced from a physical item (books, periodicals, photos, archives). It also includes the post-capture processing (adding or retrieving metadata, indexing, access, archiving, etc) that comes with the creation of this file.
For heritage material, the Sciences Po digital library offers a solution for dissemination.
Requests for digitisation must be made using the submission form (FR), and will be approved (or not) by the digitisation service.
This service can also offer solutions or processing techniques specially tailored to your projects.
Inter-library loans (ILL)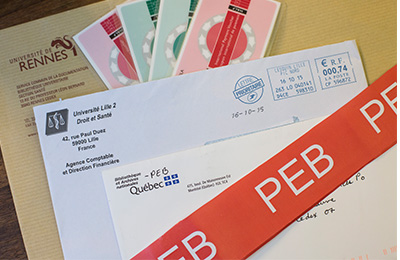 Do you need an article, book or other item that is not in our collections?
Our inter-library loan service can locate it in other libraries (French or foreign), borrow it, and allow you to consult it on our premises.
To make a request, simply fill in the online form (FR). We will let you know as soon as the item is available.
Presentations, training and personalised tours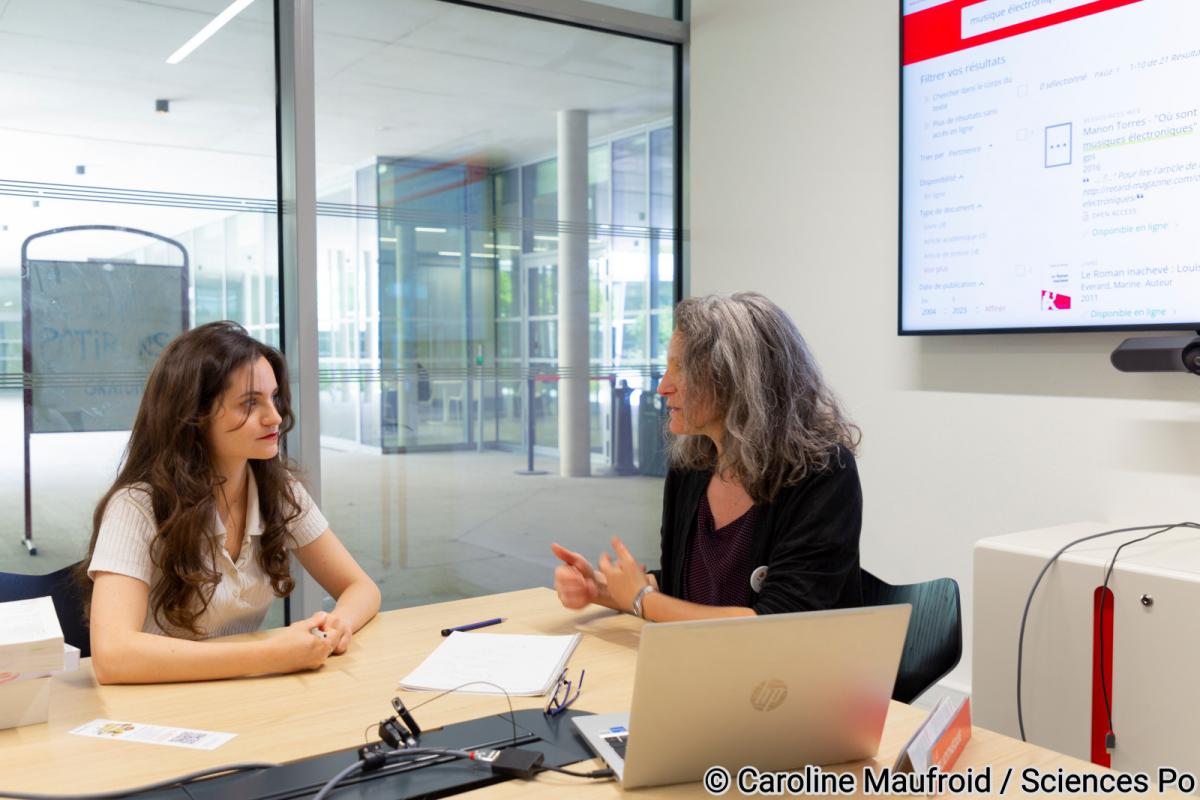 The library is keen to assist researchers and doctoral students in mastering the tools of documentary research.
We offer a presentation of the library's print and electronic resources, the tools available to access them, and the best methods for effective research according to your research topics. We will also provide an overview of the library services available to you.
In addition to this individual personalised presentation, we offer themed training courses on a yearly or ad hoc basis for PhD and research Master's students (building a bibliography with Zotero, image rights and sources (FR), research ethics and research data management).
Sciences Po archives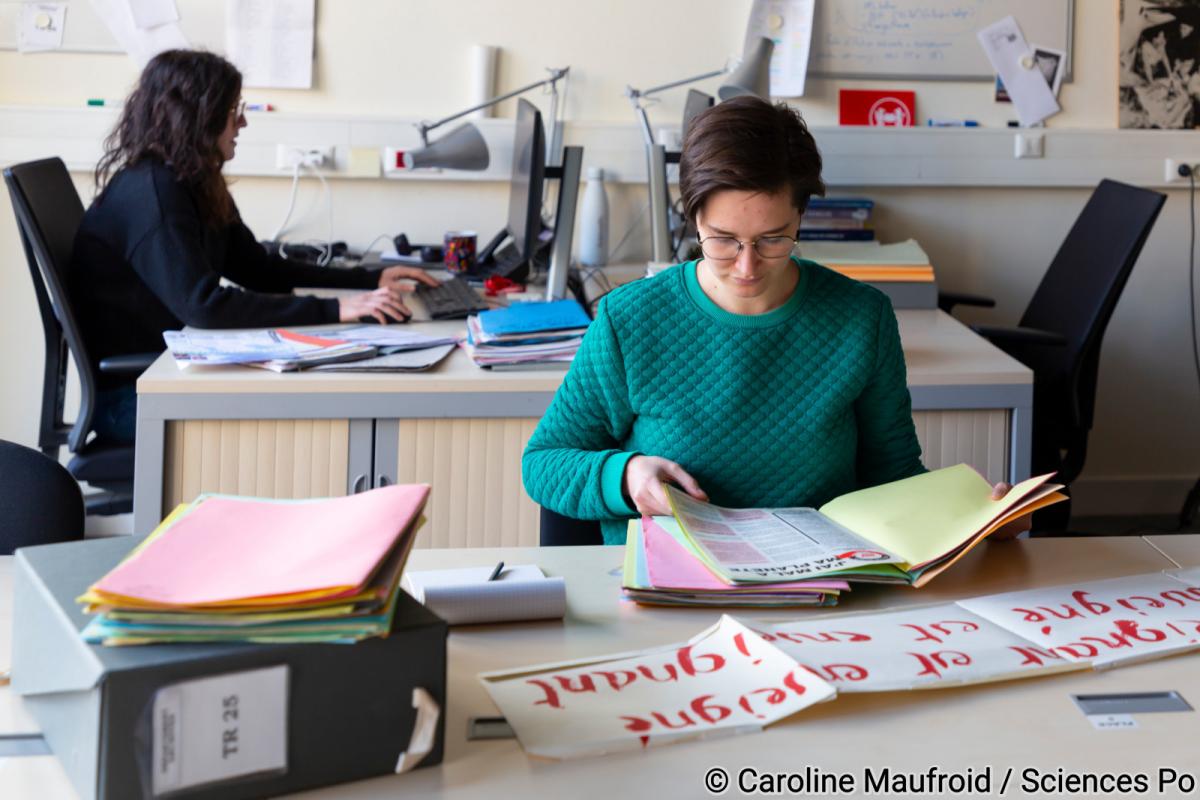 Research Support
The Archives Department (FR) offers personalised services for researchers.
An interview can be arranged upon request to discuss research avenues based on your bibliography, list of sources, and summary of the research topic.
Contact us by e-mail so that we can point you towards the appropriate archive collections at Sciences Po and other institutions.
Support for archiving your documents
The Archives Department (FR) can help you archive your documents and, under certain conditions, preserve your research archives (quantitative and qualitative studies, methodology, etc.) to make them available for future research.
Contact us by email to make an appointment.
We can assist you throughout the process by appraising your archives, helping you sort them, explaining how to entrust your archives to us, and making them accessible.
Subject librarians
Our subject librarians are here to help you. You are welcome to contact them by email but you can also read their guides. These subject guides provide the librarians' insights into a discipline or a central theme at Sciences Po and are regularly updated with a wealth of information (news, new releases, essential resources, methodology, etc.).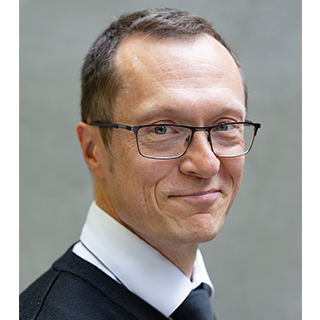 Law librarian

***
Economics librarian
***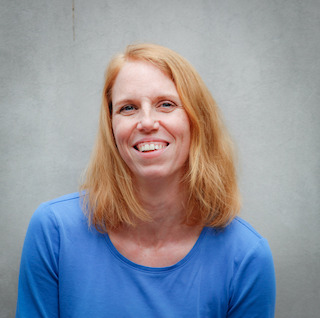 History librarian
***
Humanities librarian
***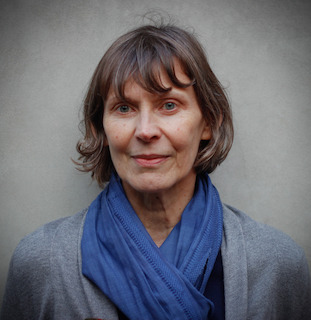 Isabelle Blanchemaison-Karanov
United Nations librarian
***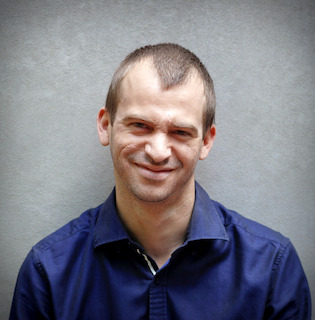 Political science librarian
***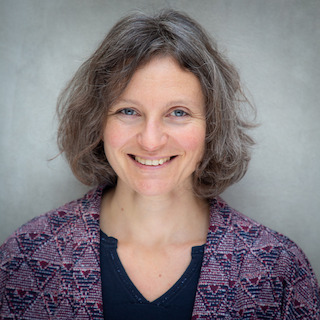 Sociology librarian
Open science
Open Science is a movement that promotes unrestricted access to scientific knowledge, and more specifically to research outputs, to the widest possible audience, within an appropriate academic, legal, ethical, and technical framework.
Throughout the lifecycle of your research projects, you can act to make your findings more visible, accessible, and even reusable: you can write a data management plan (DMP), describe the data to make it easier to find, choose controlled vocabularies to improve sharing, make the data visible on dedicated platforms, write data papers, and make your data and publications accessible.
Would you like to better understand and plan for these processes from the very beginning of your research project? Do you need to provide for open access to your findings in a funded project?
Purchase Requests
Do you need a book or a subscription to a periodical or a database for your research and the item is not in our collections? The Suggestions Service is here to help!
You should make your request when logged in to the library catalogue using the "purchase request form".
Requests are considered promptly on the basis of relevance, teaching requirements, enhancement of our collections, and price. If the suggestion is accepted, the item will be acquired and automatically reserved for you.
For required reading list for courses, please send your bibliography to bibliographies.bib@sciencespo.fr
Updated on 26/06/2023