Entrez les crédits ici
Several admissions procedures
Prepare yourself for a rewarding career with a graduate education programme from Sciences Po. There are several admissions procedures to choose from and one key condition: you must be ready to commit yourself to a challenging academic endeavour.
Graduate studies: How to apply?
Several admissions procedures for a greater diversity of profiles
Sciences Po offers different types of admission in order to build a community of students from all horizons. This multicultural experience is highly sought after by recruiters.
Which procedure is right for me?
When can I submit an application?
Admissions for the 2017 intake are open. Applicants are selected for admission following the evaluation of their online application. Admissions decisions are taken throughout the year. As a result, the earlier the application is submitted, the sooner the decision will be reached.
Be aware that dual-degree programmes and grant applications have their own calendars! Make sure to check the dates. Learn more about the dual-degree calendar and the grant calendar.
What kinds of qualities does Sciences Po look for in an international applicant?
Sciences Po recruits applicants who excel academically and beyond. We want our Master's degree students to share our educational vision, and our commitment to scholarship and research. We therefore seek out curious and open-minded individuals, committed and responsible students. An enthusiasm for Sciences Po's intellectual project, and the ability to present clear and relevant academic and professional goals, are essential. For more information, refer to our international admissions procedure.
Do you have a vocation in teaching and research? Discover the procedure for enrolling in doctoral studies.
Profiles
PhD Admissions decisions are based primarily on evaluation of the applicant's academic profile and on his or her ability to conduct research, as demonstrated by a Master's level research dissertation that has received a grade of "Very good" or equivalent. In addition, there must be a logical connection between the candidate's previous university studies and the discipline of the doctoral programme requested.
How to apply
Step one: complete your application online, providing all necessary documents and recommendations. Two admissions sessions take place every year:
FOCUS
61% of Sciences Po PhDs pursue teaching and research positions: 32% as university professors, 22% in research, and 7% in secondary education and university preparatory classes. 39% work in other sectors: consulting, international organisations, businesses, etc.
​From October to February, with admissions decisions in early April;
From February to April, with admissions decisions in early July.
PhD applications are reviewed by the doctoral thesis committee, which makes recommendations to the executive committee of the Doctoral School. The President of Sciences Po, as advised by the executive committee, grants final admission to candidates put forward by the Dean of the Doctoral School. Admission decisions are communicated by mail.
39% of Sciences Po graduates are recruited prior to graduation
80% find a job within six months following graduation
39% of alumni start their career outside France
Sciences Po Graduates in the Job Market
A large portion of Sciences Po graduates (39%) begin their career abroad. Of these graduates, 44% choose a European country, 20% Asia or Oceania, 13% Africa, 13% North America and 10% Latin America.
LEARN MORE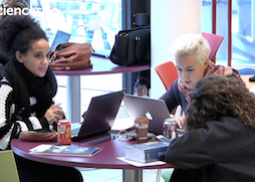 Discover our seven schools
After completing their degree, 80 % of Sciences Po graduates find work within 6 months. Discover our schools and the countless career paths our graduates can pursue.
Watch the video
What they learned at Sciences Po
At the graduation ceremony, Master's graduates from the class of 2014 look back on their years at Sciences Po before setting out in the professional world.
Watch the video (English subtitles available)
Graduate Employment Survey
More international and higher salaries: these are the main findings of the 2014 survey of young Sciences Po' graduates' professional lives.
Read the survey