Team
Anne Boring
Anne Boring is the Head of Sciences Po's Women in Business Chair. She is an Assistant Professor of Economics at the Erasmus School of Economics of Erasmus University Rotterdam, and a research associate at Sciences Po's Laboratory for Interdisciplinary Evaluation of Public Policies (LIEPP), in its Discriminations and Social Inequalities Research Group. She also belongs to Sciences Po's PRESAGE network of researchers.
Her research focuses on issues related to gender equality in higher education and the labour market. She studies more specifically gender biases in performance evaluations, gender differences in students' higher educational choices, and gender differences in students' access to the labour market following graduation. In her current work, she is interested in testing and measuring the impact of interventions designed to improve gender equality in leadership positions and in entrepreneurship. She holds a PhD in economics (2012) from the University Paris Dauphine.
Maxime Marzin
After a first professional career abroad as a biomedical engineer for a listed SME, Maxime Marzin joined Sciences Po's management team in 2008 to create the startup incubator. In 10 years, the incubator has accompanied a hundred startups created at Sciences Po. To date, the total valuation of startups helped by the incubator is close to half a billion dollars (current valuations + disposals). In 2017, he created, on the model of Anglo-Saxon universities, the Centre for Entrepreneurship (FR) of Sciences Po with the aim of developing research, training and support of the entrepreneurial movement. Maxime Marzin is also co-founder of the Ed-Tech platform: SAM-Network.org.
María José González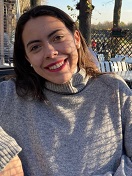 María José González is a research assistant for the Women in Business Chair at Sciences Po. She holds a Master's degree in Economic Analysis and Policy from the Paris School of Economics and a degree in Economics from the University of Paris 1 Panthéon Sorbonne. She became interested in gender issues during her studies, particularly in labour market participation and family policies. As part of her Master's thesis, she studied the effect of time distribution on subjective well-being from a gender perspective. She also worked for the World Bank as a research assistant on a project focusing on the effect of a divorce law on women's participation in the labour market in Chile.