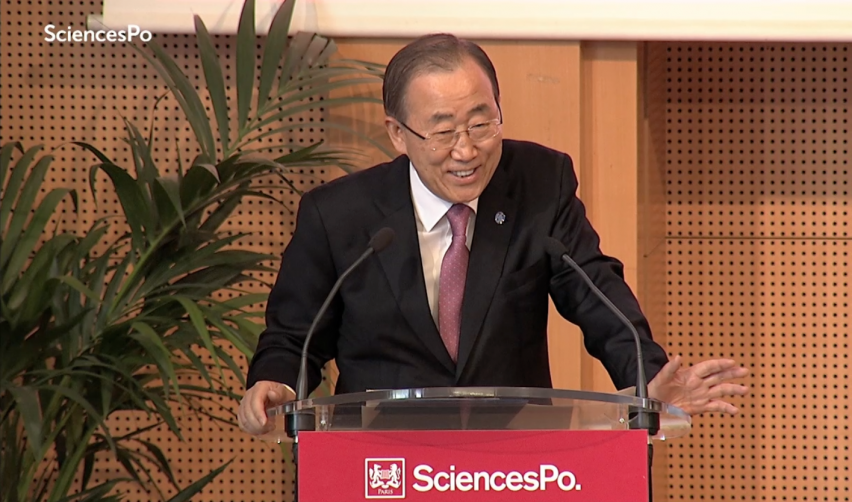 "I am asking you to become global citizens"
Highlights of the conference with Ban Ki-moon
Watch the video
An interview with Mathieu Roquigny (photo), who won the Audience Award in the sixth annual Sciences Po Prize for Contemporary Art on Tuesday 22 April 2015. Each year the competition honours young artists living and working in France. It is a highlight in Sciences Po's cultural year.
…
Watch the interview
Professor Fernández Arroyo, a professor at the Sciences Po Law School since 2010, is currently a visiting scholar at New York University. On the occasion of a presentation he gave to Sciences Po Alumni and friends in New York entitled "Transparency in International Arbitration", Professor Arroyo tells us more about the way he teaches law in France and in the United States.
…
Like all undergraduate Sciences Po students, Augustin is currently spending his third year abroad. He is taking advantage of this experience to complete an internship at the French Embassy. He tells us about his missions there, the Master's degree programme he would like to enrol in next, and what he was able to do thanks to the Marion Bruley scholarship.
…
Sciences Po hosts 13,000 students -half are international, coming from 150 countries. In order to recruit the best students from all around the world, Sciences Po offers programmes fully taught in English at the undergraduate and graduate levels.
…
«

Action for climate change is action against poverty

»
---
Ban Ki-moon, 29 April 2015, Sciences Po