Sciences Po Careers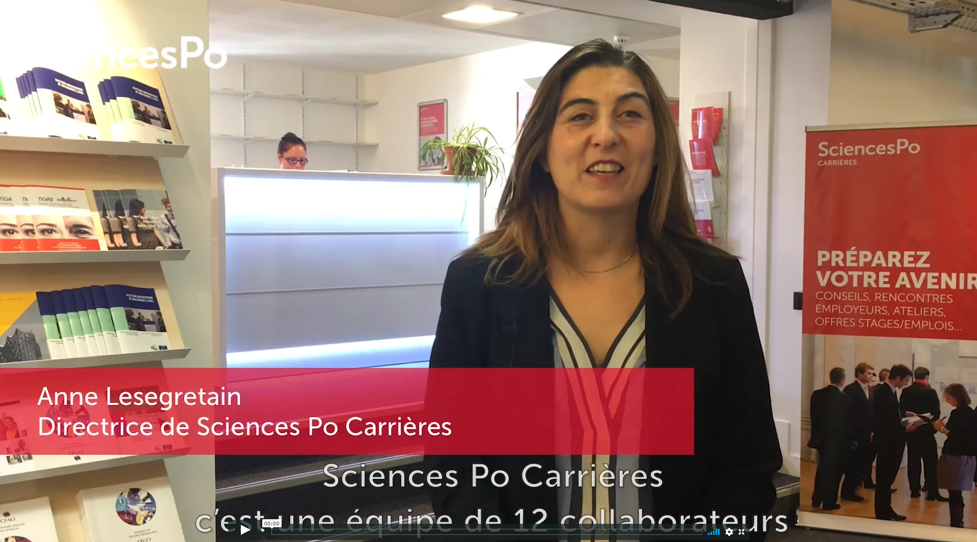 Tailor-made group and individual guidance:
Management and monitoring of your internship placements and professional experiences > Read our internship FAQs and find out how to obtain your internship agreement
Career preparation workshops led by professional coaches (including advice on CV and cover letter writing, LinkedIn profiles, salary negotiation, team leadership, confidence building) > Register to attend our online careers workshops
Networking with employers at numerous events available via your careers agenda (online careers fairs, company presentations on zoom, employment round tables) > Browse upcoming events
One-on-one advice and guidance (meetings with our careers advisers) > Make an appointment for a one-on-one remote meeting.
Publication of internship, apprenticeship, volunteering and job opportunities > Browse current opportunities and set your reminders
Tips and advice through numerous articles, portraits and videos of our recent graduates > Browse careers news and watch videos
Connecting Sciences Po Careers
You can get in touch with the careers team at any time by emailing scpo.carrieres@sciencespo.fr or by calling 01 45 49 50 50 (Choice N°4) any day (except Monday morning) 9am to 12:30pm or from 2pm to 5pm.
CAREERS WORKSHOPS
Don't wait for graduation to gain the tools you need to successfully launch your professional career! Do you need to review your CV, learn how to write a cover letter or train yourself for job interviews...?
Participate in our careers workshops throughout the year, taught by human resources professionals, HR consultants and coaches, both in French and English.
Careers workshops conditions :
groups of 15 students
duration : 2 hours
registration is mandatory in your Espace Etudiant. No shows are penalized.
Find out more about careers workshops and register!
Workshops in September:
15/9 14h45-16h45 - Rédiger lettre de motivation par Martine Beaulieu (FR)
15/9 10h15-12h15 - Réussir son entretien d'embauche par Fanny Laudicina (FR)
17/9 14h45-16h45 - Rédiger un CV par Fanny Laudicina (FR)
17/9 17h00-19h00 - Job interviews par Maureen Rabotin (EN)
22/9 12h30-14h30 - Differentiate your candidacy by focusing on the strategic stakes of the company/institution by Miguel Margarido (EN)
23/9 17h00-19h00 - Drafting a resume by Maureen Rabotin (EN)
25/9 08h15-10h15 - Réussir un entretien à distance par Martin Chevillard (FR)
28/9 12h30-14h30 - Rédiger un CV par Martin Chevillard (FR)
30/9 14h45-16h45 - MBTI par Isabelle Hua (FR)
30/9 10h15-12h15 - MBTI by Isabelle Hua (EN)
ONLINE CAREERS FAIR 14-16 OCTOBER
Sciences Po Careers Fair will be held from 14 to 16 October online through the Seekube platform.
The careers fair, a unique opportunity to:
Get information on a wide range of companies, their values, the opportunities they offer, and their recruitment process for jobs and internships
Find an internship, a first job, a graduate programme...
Develop your career project
Network
Practice job interviews
Find out more about online Careers Fair