Worldwide Teach-in on Climate & Justice. A successful collaboration between PSIA students and CERI scholar Carola Klöck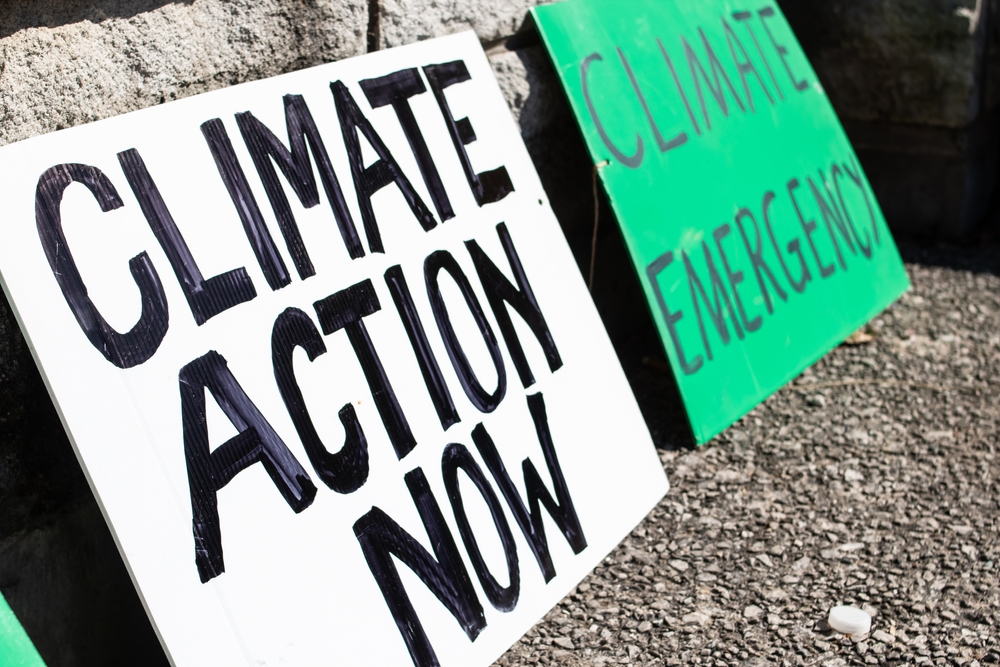 Worldwide Teach-in on Climate and Justice: A successful collaboration between PSIA students and CERI scholar Carola Klöck!
Climate change threatens us all, undermining progress made in international development, and exacerbating challenges like poverty, inequality, displacement, and conflict. But while stories about the destructive effects of wildfires, floods, droughts, hurricanes or sea-level rise abound, it's all too easy to forget about the solutions that already exist, from renewable energy and public transportation to youth activism and climate finance. How do we scale up these solutions, get beyond the gloom-and-doom of climate change and equitably transform to a low-carbon society?
We wanted to discuss these questions with a focus on solutions as part of the worldwide teach-in for climate justice. This initiative by Bard College in the United States wanted to mobilize 1000 communities across the globe to "focus the world on what we can all do to lead the change for our shared future".
Following the model provided by Bard College, a group of enthusiastic students, mostly from PSIA, together with Carola Klöck (assistant professor at the CERI) and Miriam Périer (environment focal point at CERI) organised a set of roundtable discussions. We brought together very diverse and high-level speakers from all sorts of backgrounds: academics (from Sciences Po and beyond), policy makers and diplomats, activists and private sector actors. The five student-moderated panels highlighted just how omnipresent the climate crisis is, but also how diverse the solutions are.

Worldwide Teach-in on Climate and Justice, panel. Sciences Po, 30 March 2022. Photo by Miriam Périer.
The panel Shaping narratives around climate change brought together experts in the field of climate communications to discuss what drives people across cultures and value systems and how to tap into those drivers to create momentum for climate action. The panellists shed light on concepts ranging from climate anxiety, dealing with climate scepticism and inspiring sustainable behaviour change in social circles, and breaking down echo chambers to spread the message further. A key takeaway from this panel was that there is no one-size-fits-all strategy for climate communications—knowing the audience and adapting to individual or local contexts makes all the difference.
The panel From Commitment to Action: Exploring Ocean-Linked Political and Finance Solutions to Climate Change discussed how the ocean lies at the heart of solving the climate crisis, touching upon progress made in regulation and finance solutions to mainstream ocean issues into climate action. Financial institutions together with the corporate sector are key enablers of this transition and innovative finance mechanisms exist, such as debt-to-climate/nature swaps, blue bonds and blended finance schemes. However, public support through public-private partnerships is essential to enable sustainable use of ocean resources, successful climate change adaptation and decarbonization of ocean-based industries. In this regard, disinvestment from marine offshore oil and gas energy activities and extractive industries will be necessary to avoid locked-in path dependencies and truly achieve the deep economic transformation needed. Closing the knowledge gap, increasing ocean literacy and adopting a systems lens also remain crucial factors to encourage private investment.
The session Understanding and achieving climate justice: from inter-country to intergenerational frames focused on the different frames that can be applied to climate justice. The speakers and student participants helped to illustrate the need to not only reflect on the injustices between countries—ranging from differentiated responsibilities and impacts to the continued absence of substantial adaptation funding for the most impacted, like SIDS—but to go beyond this to consider solutions at multiple levels. This included meaningful youth participation in climate governance, valorisation of existing local adaptation capacities, democratisation of approaches through climate litigation and civil society movements, protection of environmental activists in situations of precarity and danger, and recognition of the interlinkages between climate and social justices.
The panel titled Cities: At the Front Lines of Climate Action focused on the role of cities, which concentrate assets and populations, and face a particular set of climate-related risks, but also have a relatively large potential for action. The panellists initially spread light on what makes cities particularly vulnerable, drawing out specific factors related to urban planning, governance, and the current state of local climate action. Solutions were subsequently discussed, relating each of the vulnerabilities to levers for action, stressing on the importance of inclusive policies, data analytics, finances, and participative governance—whilst ensuring representation of all populations—and highlighting case studies of successful cities. The discussion highlighted how there is a need for both "hard" and "soft" solutions to adapt to climate change, the former in terms of infrastructure, and the latter in terms of organisational measures, solidarity networks, and so on.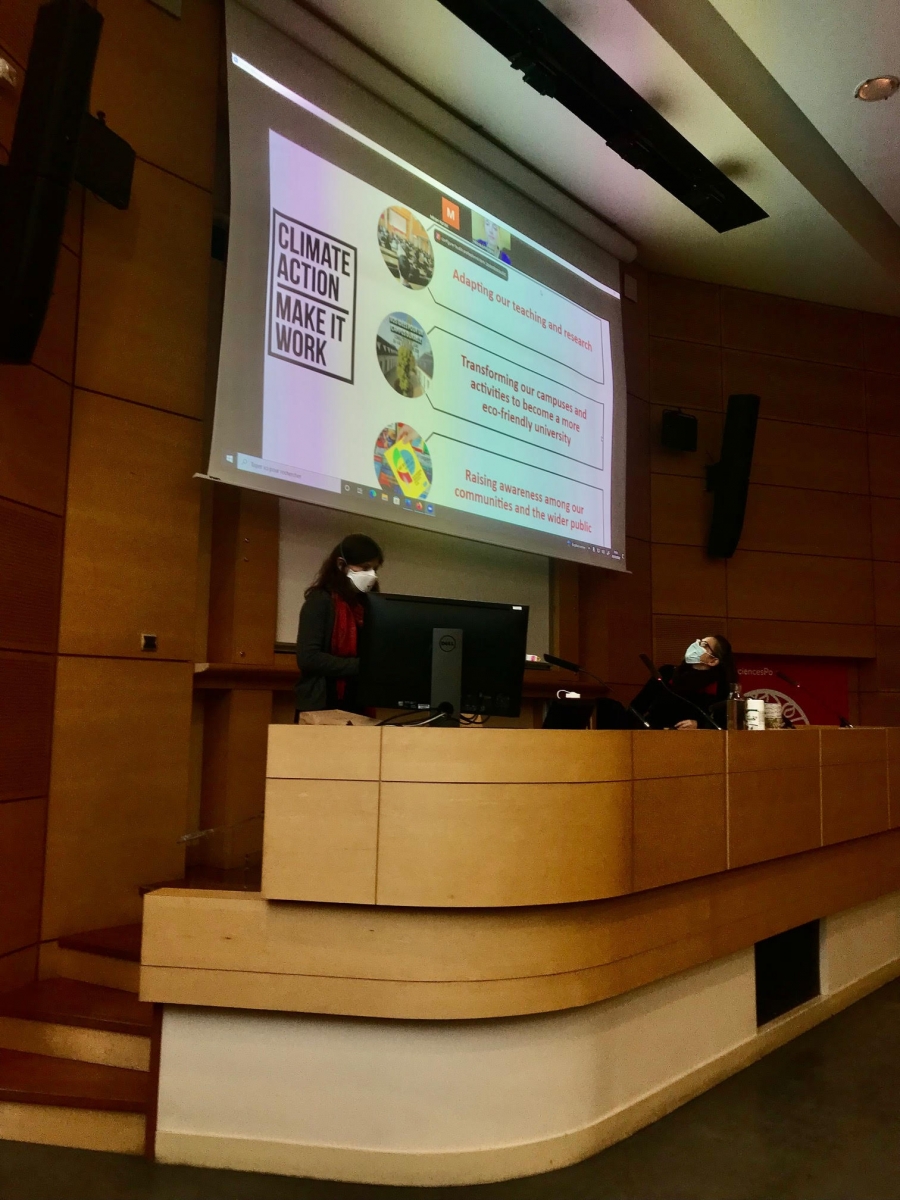 Finally, a concluding panel focused on what Sciences Po as a social science university is, can, and should be doing. Héloïse Lammens, the university's environment focal point, shared some of the achievements in Sciences Po's operations—for example banning plastic bottles from its events, which means 80,000 fewer plastic bottles per year. Charlotte Halpern, Associate Professor at Sciences Po's Centre for European Studies, and co-author of an internal report on environment and teaching, explained some recent achievements in teaching on the environment, including a new mandatory course on environmental literacy offered at the Collège universitaire in the first year.

These are only some examples of what is being done. Clearly, much more needs to be done. We are still far from the emissions trajectories needed to keep global warming to below 1.5°C or even the less ambitious 2°C objective. Despite the pandemic and worldwide lockdown, emissions keep rising. But there are reasons for hope; indeed, we cannot afford to lose hope. As one of the participants aptly summarised, we need to "be angry but stay hopeful". Addressing pressing environmental issues (not limited to climate change) is a huge challenge – but it also means addressing many other issues at the same time, including poverty and inequality.
Another participant's key take-away message was, "solutions are out there"—we need to see them, join them, scale them up and find more solutions. Hopefully, the discussions we had on 30 March helps to do so, and empowered participants to be part of the global transition to a low-carbon, greener and more equitable future.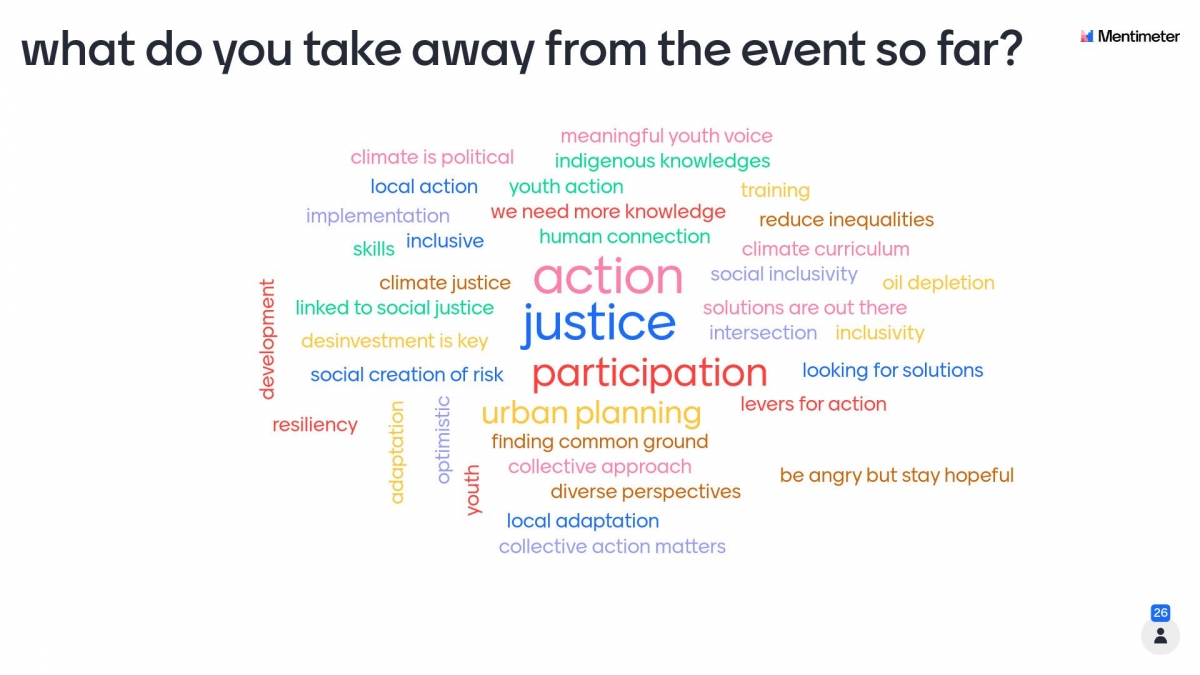 Programme
17:00-17:10 Introduction & Welcome
In presentia. Room: Chapsal, 2nd floor

17:15-18:15 Panels Session I
Panel One - Climate, Conflict & Migration
In English, online & screening in Room 34, 3rd floor - Cancelled
This panel is moderated by Maile McFarland

Climate conflict and migration are becoming increasingly pertinent and interconnected issues. Climate conflict is a widely debated field of study. However, there is increasing evidence that climate change can act as a conflict multiplier, especially in the developing world. This has been observed in clashes over water and resource rights, the impacts of extreme rainfall, drought, and temperature rise. Climate migration occurs when refugees are forced to flee their homelands due to alterations in the natural environment related to sea-level rise, extreme weather events, drought and water scarcity. This panel will seek to determine the drivers of climate conflict and migration and highlight the groups of people who are most likely to experience these issues, dissect the patterns of migration that have been observed today in relation to climate change and predict the patterns of migration that will be expected in the future as climate change advances, and finally, look into what is being done and what needs to be done to combat climate conflict and migration.
Speakers
Yara Asi, Researcher at the University of Central Florida, interests in Global Health, Conflict, Health Information Technology and Development
Ilan Kelman, Professor of Disasters and Health, University College London
Paula San Pedro de Urquiza, Chair of the Social Impact Think Tank, expert on international development
Panel Two - Shaping Narratives Around Climate Change
English, in presentia. Room: Eugène d'Eichtal, 3rd Floor
This panel is moderated by Chetna Hareesh Kumar, PSIA student, Master in International Economic Policy

The fight against climate change is not just about technology and markets - it is also about communications. How we communicate, both with ourselves and with one another, will have an immense impact on how quickly and effectively we as a society can mobilize for a better future. How can we overcome climate anxiety, break down echo chambers and build consensus for urgent climate action?
Speakers
Mélissa Godin, Independent Journalist, The New York Times, Time Magazine, National Geographic, The Guardian
Sophie Guibert, Communications Specialist for Energy and Climate Change, UNDP
Tammy Mayer, Adjunct Professor, Sciences Po; Former Strategic Communications Manager, REN21
Santa Meyer-Nandi,

Co-Director, FindingSustainia; Motivational Speaker, Trainer & Writer on Sustainability, Mindset & Chang

e
Panel Three - Understanding and Achieving Climate Justice: From Inter-Country to Inter-Generational Frames
English, in presentia. Room: Chapsal, 2nd Floor
This panel is moderated by Ellen Ledger, PSIA student, Master in International Development

Climate change is often framed as a collective problem requiring collective solutions - yet it is driven by unequal forces and characterised by unequal impacts. In such a context, climate justice presents a useful framework through which to seek solutions. But what is climate justice? What are its major barriers and enablers? And how can we take proactive steps to achieve it?
Speakers
Brendan Coolsaet, Associate Professor of Environmental Politics at the European School of Political and Social Sciences (ESPOL); Member of the Global Environmental Justice research group at University of East Anglia (UK)
Manon Frezouls,

« Challenge-based learning » Coordinator at

E

uropean university

N

etwork to promote equitable quality of

L

ife, susta

I

nability and

G

lobal engagement through

H

igher education

T

ransformation

; Former

Youth UNESCO Climate Action Network Coordinator and Youth Engagement Consultant at UNESCO; Regional Coordinator for Central Europe for the 16th UN Climate Change Conference of Youth (COY16)
Carola Klöck, Assistant Professor and Researcher, Centre for International Studies (CERI Sciences Po/CNRS), focusing on climate finance and small island developing states
Sébastien Treyer, Executive Director of IDDRI; Chairman of the Scientific and Technical Committee of the French Global Environment Facility (FFEM) and member of the Lead Faculty of the Earth System Governance Network
18:20-19:20 Panels Session II
Panel Four - From Commitment to Action: Exploring Ocean-Linked Political and Finance Solutions to Climate Change
English, in presentia. Room: Chapsal, 3rd Floor
This panel is moderated by Ana Lucía Londoño Ramirez, PSIA student, Master in Environmental Policy

To reach the ambition crystallized at COP26 of net zero emissions by 2050 and keeping a 1.5ºC future alive, we need to pass from commitment to implementation. How can finance and policy frameworks enable the transition? What are the links between climate and ocean governance? This panel will explore how ocean-climate issues are intrinsically linked and how investing in ocean health is key to achieve the climate agenda.
Speakers
Ralph Agrippine,

Principal Counsellor, Embassy of the Seychelles in France

Kachenoura Djedjiga,

Agence Française de Développement

Dennis Fritsch,

Senior Project Coordinator, Sustainable Blue Finance, United Nations Environment Program Finance Initiative

Glen Wright,

Senior Researcher, International Ocean Governance, IDDRI
Panel Five - Climate Solutions: The Interconnected Role of Politics and the Private Sector
English, in presentia and online (registration required). Room: 34, 3rd floor
This panel is moderated by Jeteesha Foollee, Sciences Po student, Master in Economics

Climate change demands the collective effort of all the stakeholders in the economy to make an impactful difference. What is the government doing at its level to combat climate change? What about businesses? This panel explores the interconnected role of government, non governmental agencies and businesses in addressing the issue of climate change.
Speakers
Thuy-Tien Gluck,

Head of Corporate Sustainability of HSBC Continental Europe

Clara Latini,

European Focal Point, UN Sustainable Development Solutions Network Youth, Climate Reality Leader.

Paul Watkinson,

French Ministry of Ecological Transition, lead negotiator for climate change

Gabriel Petrus, Deputy Director, Global Partnerships & Development, International Chamber of Commerce

Panel Six - Cities: At the Frontline of Climate Action
English, in presentia. Room: Eugène d'Eichtal, 3rd floor
This panel is moderated by Tania Thomas, PSIA student, Master in Environmental Policy
Focusing on the fact that cities concentrate populations and economic activity, and are often responsible for larger shares of emissions, this session will look at how cities can also play a role in leading climate action and building resilience, and adapting to the impacts of Climate Change.
Speakers
Vivian Dépoues,

Project Manager - Adaptation to Climate Change at I4CE-Institute for Climate Economics

Antoine Gillod

, Coordinator, the Climate Chance Observatory

Charlotte Halpern

, Centre for European studies and comparative politics (CEE Sciences Po/CNRS) and co-director of the Environmental group at LIEPP (Sciences Po/Université de Paris).

Eric Verdeil

, Professor, Center for International Studies (CERI Sciences Po/CNRS)
19:25-20:30 Concluding Panel
Conclusion
In presentia. Room: Chapsal, 2nd Floor
The concluding panel focuses on what Sciences Po is doing about climate change. It brings together the insights and points raised in the different panels, and asks, what we have learnt, and, importantly, where do we go from here? What can each of us do to fight climate change and transition to a greener, cleaner future?
Speakers
Charlotte Halpern

,

Centre for European studies and comparative politics (CEE Sciences Po/CNRS) and co-director of the Environmental group at LIEPP (Sciences Po/Université de Paris).

Héloïse Lammens

, Head of Environmental sustainability,

Sciences Po
30 March 2022 - 17:00-20:30
The full event will take place at Sciences Po, 27 rue Saint Guillaume, 75007 Paris.