Postdoctorants / Postdoctoral Fellows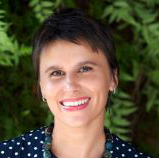 Maricia Fischer-Souan
Marie Skłodowska-Curie Post-doctoral Fellow (2021 - 2024).
Maricia Fischer-Souan (PhD Universidad Carlos III de Madrid, 2020) is a Marie Skłodowska-Curie Fellow at the OSC (2021-2024). She is currently based at the Centre for International Studies and Research - CÉRIUM, Université de Montréal until October 2023. Her post-doctoral project, Im.magine - Mapping Immigrant Imaginations: Comparing North Africans in Montréal and Marseille - focuses on the spatial dynamics of immigrant identity formation and is supervised by Ettore Recchi. She was previously a researcher in the GEMM Horizon 2020 project - Growth, Equal Opportunities, Migration and Markets.
Article updated on 16-06-2022