Presentation
A broad-based, comparative research center in sociology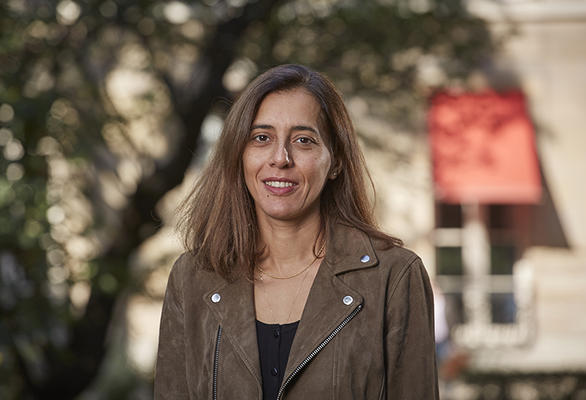 The Observatoire sociologique du changement (OSC) is a research center affiliated with Sciences Po and the Institut des sciences humaines et sociales (InSHS) of CNRS (UMR 7049).
Head of the OSC is Mirna Safi, Associate Professor at Sciences Po, since January 1, 2019. She has been a member of the OSC since 2007. She is the first woman leading the laboratory since its start in 1988. Her research topics focuses on migration, urban segregation, discriminations and ethno-racial inequalities.
Research at the OSC focuses on four main pillars:
OSC is a broad-based, comparative research center in sociology.

Founded in 1988 by Henri Mendras and led by Marco Oberti since January 1, 2014, the OSC investigates social dynamics in contemporary societies.
Combining qualitative and quantitative methods, the center gives primacy to cross-national comparative perspectives and multiple scales of analysis. The research produced at the center is solidly grounded in empirical inquiry.
A well-established team in social research communities in France and worldwide
Researchers at the OSC collaborate on interdisciplinary projects with other research teams at Sciences Po and with the French and international scientific communities at large. 

As active members of sociological associations and editorial board members of sociological journals, the OSC researchers are regularly invited to share their expertise on scientific boards and in national or international conferences. They have established worldwide partnerships.
The research produced at the OSC resonates far beyond the academic world, as the center's researchers and doctoral students are regularly invited to make media appearances and to participate on expert committees addressing social issue in contemporary societies.
A Strong investment in doctoral training and supervision

With over 30 PhD students fully integrated into the life of the center, the OSC plays an important role in doctoral training as one of the host research centers for the Sciences Po Doctoral Program in Sociology.
The center's members teach a number of courses within the are actively involved in teaching in Sciences Po Sociology department.
Evalutation
The OSC was rated A+ by AERES (French Evaluation Agency for Research and Higher Education) in January 2013 for each of its 6 evaluation criteria:
Production and quality of scientific research
Academic renown and attractiveness
Interaction with the social, economic and cultural environment
Organization and life of the center
Involvement in research training
5-year strategy and project
Read the AERES evaluation in French (.pdf).

Honors
Alice Olivier, 2019, PhD Prize, Observatoire de la vie étudiante (OVE)
Marine Haddad, 2018, Young Author's Prize

2018, Population journal
Juliette Galonnier, 2018, ASA's Dissertation Award (American Sociological Association) for the dissertation "Choosing Faith and Facing Race: Converting to Islam in France and the United States"
Yoann Demoli, Panhard Prize 2018 (Automobile Club de France et Comité des Constructeurs Français d'Automobiles) for PhD work
Pauline Proboeuf, 2017, 27st Master Prize, Observatoire national de la vie étudiante (M2)
Marie Duru-Bellat, Doctor honoris causa, University of Liège
Agnès van Zanten, Doctor honoris causa, ULB (Bruxelles)
Gaëlle Larrieu, 2017, Second Prize by CNAF for her Master 2 thesis
Hugues Lagrange, 2017, Medal of Honor, CNRS
Agnès van Zanten, 2017, Corresponding Fellow, British Academy
Margot Delon, 2017, Caritas Research Prize (Institut de France / Fondation de recherche Caritas)
Agnès van Zanten, 2017, Gold Medal, CNRS
Agnès van Zanten, 2016, Doctor honoris causa, University of Geneve
Mathieu Ichou, 2015, ECSR Prize for the best PhD thesis
Lorraine Bozouls, 2015, Vinci Grant (French and Italy University Frame for promoting mobility)
Aden Gaide, 2015, Louis Gruel 1st Prize, Observatoire national de la vie étudiante for Master 2 thesis. Subject: Les temporalités de la maternité étudiante. Cycle de vie, temps du quotidien.
Edmond Préteceille, 2015, laureate of the Programme de chaire française with the University of the State of Rio de Janeiro (project: La dynamique des classes moyennes dans l'évolution des structures spatiales des métropoles de Rio de Janeiro et São Paulo)
Juliette Galonnier, 2015, Presidential Fellowship, Northwestern University
Juliette Galonnier, 2014, Winch prize, best 2nd year Paper, Northwestern University
Yoann Demoli, 2014, Best Young Author GERPISA (in Kyoto colloquium)
Hugues Lagrange, 2013, Prix Seligmann against racism, injustice and intolerance
Olivier Godechot, 2013, CNRS Bronze Medal (French Webpage)
Agathe Voisin, 2013, Albert Memmi Prize
Anne-Sophie Cousteaux, 2012, Prize from Ville de Paris for gender studies
Laurent Lesnard, 2011, CNRS Bronze Medal (see PDF profile)
Ugo Palheta, 2011, Prize Louis Cros
Marie Plessz, 2009, 3st Young Author Prize by Sociologie du travail
Thibaut de Saint Pol, 2009, Prix de la Ville de Paris, Trémolières Prize
Mathieu Ichou, 2009, 2nd CNAF Prize
Article updated on 28-11-2019