An Intergenerational Perspective on (Re)migration
Return and Onward Mobility Intentions across Immigrant Generations
Louise Caron - International Migration Review - December 2019
Illustration Victor Metelskiy via Shutterstock

An Intergenerational Perspective on (Re)migration: Return and Onward Mobility Intentions across Immigrant Generations

Louise Caron, PhD in sociology, Sciences Po
International Migration Review
First Published December 13, 2019 - https://doi.org/10.1177/0197918319885646
This article compares the prevalence and determinants of international mobility intentions across immigrant generations (G1, G1.5, G2, and G2.5), using French survey data (TeO).
Two types of migration intentions are analyzed: (a) return to the (parents') origin country an (b) onward migration to a third country.
Results highlight migration intentions' intergenerational variation and underlying logics.
The probability to state return intentions is larger for G1 yet surprisingly similar to the stated return intentions for G2. By contrast, G2.5 (one immigrant and one French native parent) stand out as they are primarily characterized by onward migration intentions and are significantly less likely to consider "returning" to their sole immigrant parents' origin country. Echoing the conceptual framework of "reactive transnationalism" or "reactive ethnicity," the specific determinant of G2 return intentions appears to be their perception of discrimination. These findings show the value of (a) disaggregating the traditional first versus second generation dichotomy to understand the complexity of migration intentions and (b) including countries other than the parental homeland when studying second-generation transnational practices.
More broadly, the article contributes to a better understanding of integration mechanisms by using migration intentions not only as proxies for population movements but also as a valuable framework providing empirical insights into immigrants' personal relationship to both the country of residence and expected destination.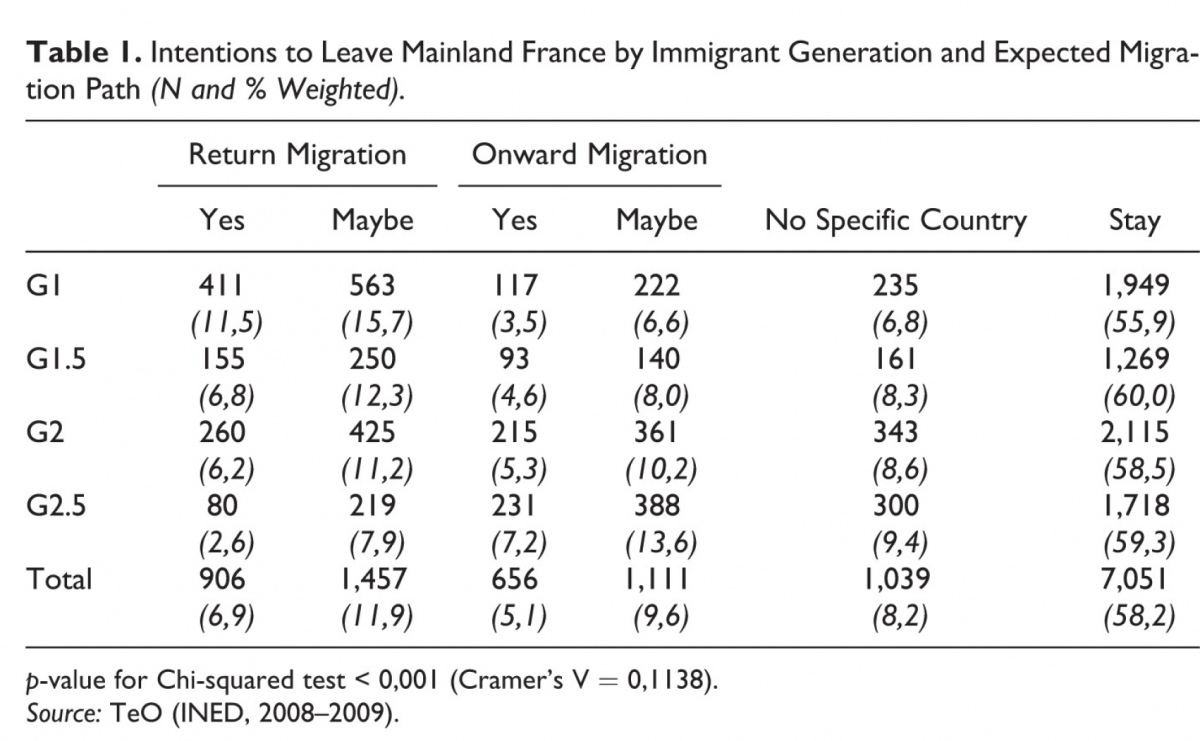 Table 1 summarizes the selected sample by immigrant generation and potential migration trajectory. While only a minority of respondents stated a clear intention to ever leave mainland France (around 12% of "yes" overall), this proportion appears relatively stable across generations, ranging from 9.9 percent for G2.5 to 15.0 percent for G1. Larger differences emerge when taking into consideration the expected destination. G1 are more likely to express return intentions, while G2.5 more frequently declare a third-country destination. The proportion of respondents who declared that they would "maybe" live elsewhere some day is on average larger than the proportion of clear migration intentions, especially regarding return for G1 and onward mobility for G2.5.