Insurgency and Counter-Insurgency in North-East Nigeria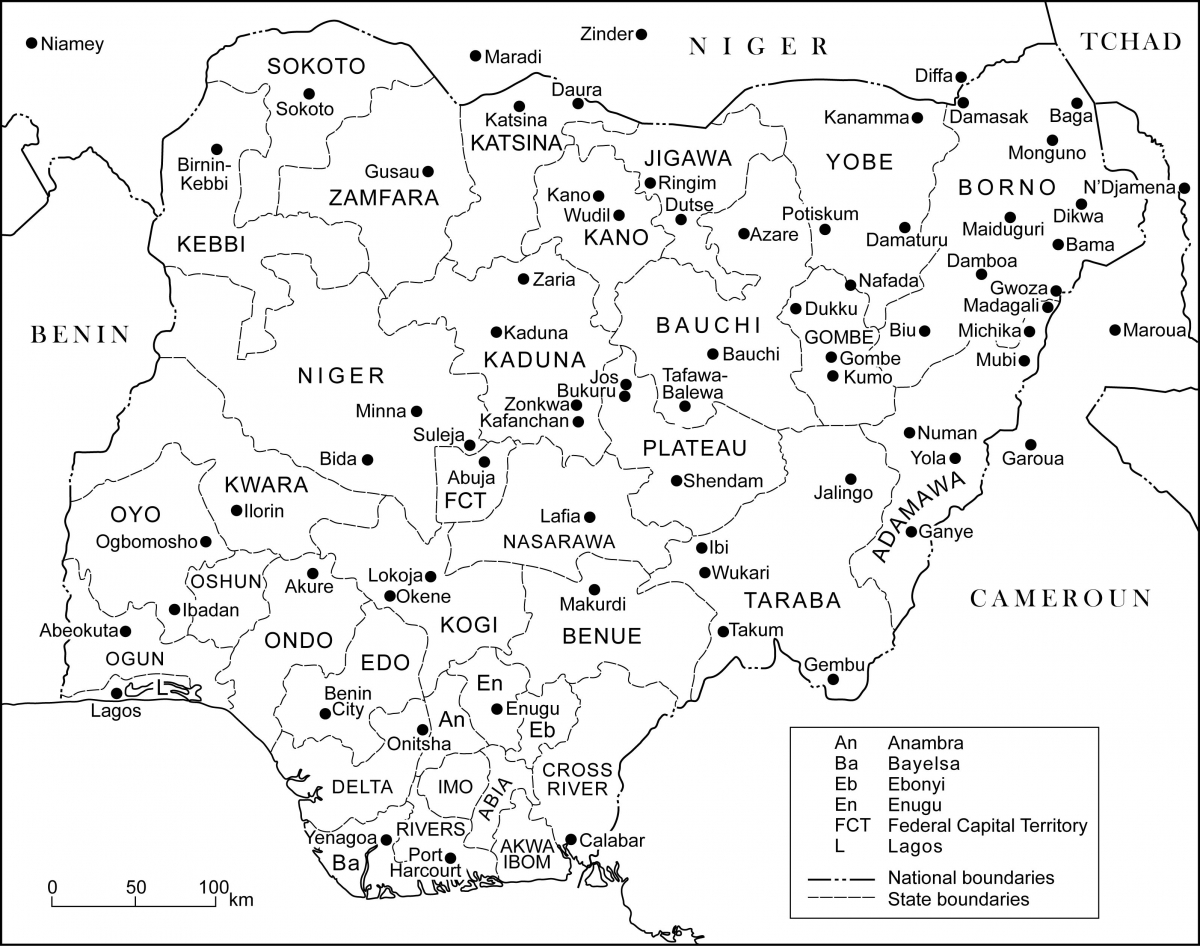 Nigeria's 36 states and some of the main towns and cities

On 14 May 2013 the Nigerian government declared a state of emergency in three north-eastern states of the federation: Borno, Yobe, and Adamawa. This was in response to growing violence by the militants operating under the rubric of Jamā'at ahl al-sunnah li'l-da'wah wa'l-jihād (JASDJ) – 'The Association of the People of the Sunna for Proselytisation and Armed Struggle.' The group is popularly known by the nickname 'Boko Haram', due to its opposition to secular and westernising influences. 1 Boko Haram emerged after breaking away from the reformist Salafi/Wahhabi groups in northern Nigeria that since the late 1970s have been challenging the established sufi orders, the Tijaniyya and Qadiriyya. The ideology of Boko Haram draws selectively on Salafi ideas – which are diverse but hold that Muslims should live according to the rules and modes of conduct established by the Prophet Muhammad and the first three generations of his followers, the 'pious predecessors' (al-salaf al-ṣāliḥ). Salafis emphasise the 'restoration of Islamic doctrines to a pure form', but the founding ideas of the Salafiyya movement in the early twentieth century also had a strong modernist streak encouraging educational reform and the acquisition of scientific and technological knowledge.2 The Boko Haram ideology, condemning secular education and any government or civil service work, deviates from Salafi doctrine. But Boko Haram do use technology, including the internet and mobile phones, and members of the group have acquired technical expertise to make explosives, including car bombs. It seems that as long as the knowledge helps their religious/political struggle they are willing to utilise it.

Some of the reformist ulama, including those belonging to the Izala movement, preached against the Boko Haram doctrine and gave warnings to the government about a potential security threat posed by Boko Haram in the years before the state's crackdown on the group in July 2009. The Nigerian government, having arrested Muhammad Yusuf, the then leader of Boko Haram, multiple times – he was bailed each time – was well aware of Boko Haram and their activities. But the Nigerian state did not effectively curb the preaching or stop the movement from spreading. Instead of resolving the challenge posed by Boko Haram early on through legal means, the state attempted to eliminate it through overwhelming force in July 2009, with some serious breaches of Nigerian law. In July 2009 well over 1,000 people were killed in north-east Nigeria, most of them in Maiduguri, the Borno State capital, but there were also heavy casualties in the city of Bauchi and some in Damaturu, Potiskum, and elsewhere. This generated a degree of sympathy for Boko Haram in the north and compounded the complexity and severity of the insurgency when the group re-emerged in late 2010 with a new leader, Abubakar Shekau.

By May 2013 Boko Haram controlled large areas of territory in Borno State, including much of northern and central Borno and Damboa in southern Borno. The Nigerian military were already in Borno and Yobe States fighting a counter-insurgency campaign, as part of a Joint Task Force (JTF) that also includes the mobile police (MOPOL or riot police) and the department of state services (the domestic intelligence agency or state security service). However, Borno and Yobe are big states and the JTF were not able to patrol the whole region – they were more focused on the larger towns, including Maiduguri, and around their barracks. Boko Haram therefore entrenched themselves in areas where there was a lighter military presence and also established 'camps' in the extensive savanna forest that extends across much of southern Borno and into parts of Yobe. From mid-May military reinforcements arrived in Borno and dislodged Boko Haram from some of these areas, even bombing them from the air. The military operation in north-east Nigeria is ongoing but although some information on the situation in Borno is filtering out, we still lack a detailed general picture because all of the mobile phone networks have been switched off in the three states under emergency rule. Information is mainly coming from press reports in Maiduguri, the state capital; from people in areas bordering Cameroun who can cross the border and make calls from there; and from people leaving Borno State – including those who are relocating to other parts of the country.

What is clear is that as Boko Haram fighters have been dislodged from some of the areas they were controlling or camped in, they have moved into more peripheral parts of Borno and over the borders into neighbouring countries. Villages in the Gwoza Hills - the north-east extension of the Mandara Mountains that straddle north-east Nigeria and the far north of Cameroun – have been particularly badly affected as a result of militants relocating from the forested bush, including the Sambisa Forest Reserve and surrounding areas, into the mountains. Christians have been attacked by suspected Boko Haram militants in several villages in the Gwoza Hills and in Gwoza town, where some prominent local pastors and church members have been assassinated. There are also reports of opposing Muslim clerics and at least one traditional leader in the Gwoza area being killed – as has also been common practice by Boko Haram in other areas of the north. Most of the Christians have now left Gwoza town, mainly relocating to the vicinity of northern Adamawa but some have moved further, such as to Jos. Meanwhile soldiers have been deployed into the Gwoza Hills and have been searching for guerrilla fighters in the caves. The military has carried out some aerial bombing and there has been a movement of refugees across the Mandara Mountains over the border from Nigeria into the far north of Cameroun. The northern and central areas of Borno have also seen military activity, with refugees and Boko Haram fighters moving across the border into southern Niger, especially to Diffa.

One of the more significant developments is that youth vigilante groups in Maiduguri have reportedly formed to identify and hand over suspected Boko Haram members to the JTF. They are referred to as the 'Civilian JTF', working with the soldiers and capturing Boko Haram members in their neighbourhoods, some of whom have been returning home after being forced out of their camps by the military. These reports are certainly plausible and seem to be coming from different sources. It is also not unprecedented, as there are recorded cases of vigilante activity against Boko Haram elsewhere – as in Damboa, where local hunting groups have opposed them since 2009. This may also explain why in January 2013 as many as 18 hunters were killed in Damboa: it was reported that they were targeted for selling bush meat, alleging that Boko Haram believe this is contrary to Islam3, but the fact the vigilantes in Damboa were against Boko Haram, even handing over one of their sponsors, former Religious Affairs Commissioner in Borno State, Buji Foi, to the security forces – who extra-judicially executed him in Maiduguri – in 2009, may be the real reason.

The problem is that it is difficult to ascertain the scale of local vigilance against Boko Haram. The press often rely on military spokesmen for information, especially in parts of Borno outside of Maiduguri, so information on the wider conflict, especially in northern and central Borno and Yobe, is lacking and probably biased. What does seem evident is that in the places where Boko Haram established control they either destroyed or closed all government buildings and administration, all government schools – makarantun boko – and took over the markets. This situation appears to have changed as a result of the military intervention from mid-May 2013. Nonetheless, it is important to recognise that Boko Haram are a guerrilla force with cross-border mobility, so even where the military have moved in and displaced them, they can move elsewhere. They can also melt into local population centres – towns and cities – even if there are signs this is now being challenged by local populations (who are also their ethnic kin). Military force alone will not be sufficient to defeat the insurgency.

At issue are also the state's legitimacy and the willingness of local people to co-operate with the Nigerian security forces in the counter-insurgency campaign. Over the past four years the Nigerian military lost much local support due to the bluntness of its tactics. Many non-combatants have – allegedly – also been killed by the military in the counter-insurgency campaign and others have been wrongly detained. In some quarters the soldiers were reportedly more feared in Maiduguri than Boko Haram. Among the Christian minority, the demand has always been to maintain and further strengthen the military presence in Borno and Yobe, as they depend more on the soldiers for protection from Boko Haram. As for the majority Muslim population, Boko Haram directly targets those who preach against them or inform on them, and has also targeted – as at road blocks - anyone working for the government or local administration. Among Muslims, attitudes towards the JTF appear to be more ambiguous or even resentful than among Christians, mainly due to the abuses the JTF is alleged to have committed against civilians. At the same time, Boko Haram have repeatedly pronounced that anyone they hear of co-operating with the security forces will be killed. Much of the population in the north-east has thus been caught between Boko Haram and the security forces.

The Boko Haram label has also become a convenient cover for a wider range of criminal activity and political thuggery and intrigue in northern Nigeria. There have been many bank robberies and prison breaks by Boko Haram, but some of these may have been orchestrated by other groups. This is even more likely to be true of several political assassinations in Borno around the election period in 2011 that were blamed on Boko Haram. There is then the question of whether Boko Haram is a coherent group or something more nebulous? Viewed as an armed movement, it is certainly decentralised and perhaps fragmented, but it is unclear if it is divided into factions or has retained a degree of co-ordination. The exigencies of the insurgency mean that the support base of Boko Haram may now extend beyond the ideological core that began the struggle; recruitment is reported to be forced on people in some areas of Borno, and in other instances young men or boys have been paid to carry out attacks or burn schools. It is conceivable too that the counter-insurgency campaign could have pushed some youths into Boko Haram. An unconfirmed allegation made in Borno is that former Ecomog members – the political thugs (not the West African military force) of former Borno State governor Ali Modo Sheriff – have been recruited into Boko Haram, after Ecomog was dismantled by the present governor, Kashim Shettima.

In general Boko Haram opposes the northern political establishment and traditional elites such as emirs and has attempted to assassinate the two main Muslim traditional rulers in Borno and Yobe – the Shehu of Borno and the Emir of Fika. In January 2013 gunmen also attempted to assassinate the Emir of Kano, Alhaji Ado Bayero, but his bodyguards saved him, three of whom reportedly died in the attack. The politics of the Boko Haram phenomenon have played out in the public discourse and among Nigerian political elites themselves. In the south and among some northern Christians, northern Muslim elites are accused of sponsoring Boko Haram, even though all of the violence has been in the north, with no recorded attacks in southern Nigeria. In Borno State, Senator Mohammed Ali Ndume, of Borno South Senatorial District, has been detained by the security services, accused of sponsoring Boko Haram. But in southern Borno, even among Christians in Gwoza and Chibok, he is widely said to be innocent – framed by former governor Ali Modo Sheriff.4 Sheriff sponsored a rival candidate for the senatorial seat, Asabe Villita of the All Nigeria People's Party (the ruling party in Borno) in 2011. Ndume defied Sheriff and decamped to the national ruling party, the People's Democratic Party, and defeated Villita in the election.5 In the same election, Sheriff himself contested for the senate in Borno Central, but was defeated by another PDP candidate, Ahmed Zanna, who is now also accused of supporting Boko Haram. Such allegations may be more about attempting to discredit political opponents than a reflection of actual political support for Boko Haram.

The extent of Boko Haram's following is only partly reflected in the pattern of violence, not least because there is much violence in Nigeria, including in parts of the north where Boko Haram operates, that has nothing to do with Boko Haram. But even violence that can be attributed to the sect does not always mean they have a presence in that area, as Boko Haram fighters are mobile and attack strategic targets, often travelling in from outside. That appears to be the case with some of the attacks on prisons: if they locate a prison where they think their members are being held they may attack it and try and free them. Indeed, one of the main demands of the group to the government is that their prisoners be released. There are numerous examples of prison raids by Boko Haram that could be cited. One such attack occurred in Gombe city on the evening of Friday 24 February 2012. It is one of the smaller attacks in the wider scheme of prison breaks, but to date it is still the largest attack Boko Haram have carried out in Gombe metropolitan, which has been less affected than other parts of north-east Nigeria by the insurgency. The attack lasted from 19.15 to 23.30. The insurgents attacked the prison and the Divisional Police office, with automatic weapons that they drew out from their kaftans and improvised explosives constructed in soft drink cans. A mobile police detachment was able to repel them from the prison, but the police station was overrun and burned down and the armoury was emptied of weapons and ammunition. Fourteen people were killed - four policemen and ten civilians. A police corporal who witnessed the attack said (on condition of anonymity) that the target of the insurgents appeared to be two Boko Haram members who they thought were being detained in Gombe prison. In fact, Gombe prison was only used as a transit point and the suspects had already been transferred, probably to Abuja.6

In conclusion, the scaling up of the counter-insurgency operation by the Nigerian military in north-east Nigeria since May 2013 - especially in Borno and parts of Yobe – appears to have dislodged Boko Haram fighters from areas they had 'captured'. The Boko Haram muj?hid?n had by that stage acquired sophisticated weapons – including heavy machine guns and, according to the Nigerian army, anti-aircraft guns - from attacks on police and military installations and through the regional arms trade. Nonetheless, substantive information on what is currently happening on the ground in Borno and Yobe is far from comprehensive. Attacks by Boko Haram and the Nigerian military's deployment against the group are presently more concentrated in Borno and Yobe than anywhere else. But the insurgents are mobile and the border areas remain porous, so even when they are put under pressure by the military they may still be able to regroup. Boko Haram have regional links with militant groups in the Sahara and there have been incidents of violence attributed to them in southern Niger and border areas of the far north of Cameroun. At present, the threat posed by Boko Haram to neighbouring states does not seem to be acute, but more research is needed in the Francophone countries to assess this and the extent of regional state co-operation that currently exists. The larger difficulty for the populations of north-east Nigeria and the border areas of Cameroun, Niger and Chad in the short-term may not be violence per se, but rather disruptions to farming, pastoralism, trade, markets, and legitimate travel caused by the insecurity and by the security measures taken by governments and militaries in the region. It will be necessary for the Nigerian state and neighbouring countries to obtain more local popular support and co-operation than Boko Haram if the insurgency is to be brought under control. This important question cannot yet be adequately answered, but it will largely hinge on the relative conduct of the warring sides in the conflict towards local people.

*Adam Higazi, is a Research Fellow in African Studies at King's College, University of Cambridge. He has been working in or on Nigeria since 2004 – mainly in Plateau State but also in other parts of central and northern Nigeria. He obtained his doctorate from St Antony's College, Oxford in 2011. He has just published « Les origines et la transformation de l'insurrection de Boko Haram dans le Nord du Nigeria », Politique Africaine, no. 130, 2013.
1. For a more detailed analysis of the emergence of Boko Haram and of the dynamics of the insurgency, see: A. Higazi « Les origines et la transformation de l'insurrection de Boko Haram dans le Nord du Nigeria », Politique africaine, no. 130, 2013.
2. 'Salafi', defined on http://www.oxfordislamicstudies.com and 'Salafiyya' in C. Glassé, The Concise Encyclopaedia of Islam, London: Stacey International, 2008.
3. « Boko Haram militants suspected of deadly attacks in Nigeria », BBC news, 22 January 2013, http://www.bbc.co.uk/news/world-africa-21152122
4. Interviews by the author in Chibok and Gwoza, Borno State, September 2012.
5. Interview by the author in Biu, Borno State, 7 September 2012
6. Fieldwork in Gombe, February 2012. I was in Dukku, 70 km away in northern Gombe State, when the attack occurred. I thank my colleague Jimam Lar of Bayreuth University / University of Jos, who was in the city at the time, for sharing the notes he made from his interview with the police corporal.