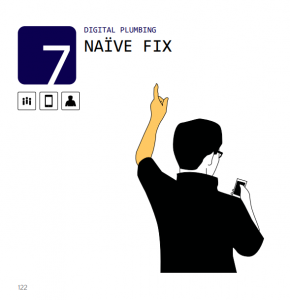 Anaïs Linares is studying digital practices influenced by the methods of operation that are foreseen by the suppliers of devices, but that, in part, escape their control. An entire body of ethnographic research has taken an interest in gestures pertaining to technical objects that come under the headings "Personal Tactics" and "Digital Plumbing": users and artists invent new procedures along the lines of what had been noted earlier by Michel de Certeau: consumers are not as passive as they had been foreseen to be.
                                                                                                       Laurence Bertrand Dorléac
Gestures and Digital Technologies
Anaïs Linares
Since the early 2000s and the advent of Web 2.0—which is characterized by a democratization of digital practices—artists, choreographers, directors, and designers have been turning themselves into observers of a new sort of choreography associated with smartphones, tablets, and other online interfaces. Relying on data readouts, archival practices, and field investigations, these people are part of the anthropological turn art made during the second half of the twentieth century. The present article proposes to compare the work What Shall We Do Next? (Sequence #2), by the artist Julien Prévieux, with the design research project entitled "Curious Rituals," which was conducted in 2012 at Pasadena's Art Center College of Design by Nicolas Nova, Katherine Miyake, Nancy Known, and Walton Chiu.
Inventorying: From Programmed Body Movements to Reappropriated Body Movements
Users of digital technologies deploy an entire palette of body movements, from the operative methods companies have designed in conformity with the graphic design of devices to quite personal and sometimes improvised tactics for the use of such devices.
The "Curious Rituals" project is aligned with an approach that borders on the kind of research involved in design ethnography.[1] For several weeks, researchers in both the United States and Europe inventoried people's gestures as they interacted with digital technologies. This cataloging of gestures led to the publication of a book entitled Curious Rituals: Gestural Interaction in the Digital Everyday.[2] In his introduction to this work, Nicolas Nova stresses how the work of Georges Perec influenced the ways in which such inventorying was carried out[3] as he emphasizes, more specifically, that author's predilection for "the banal, [the] everyday, . . . the obvious, the common, the ordinary, the infra-ordinary, background noise, the habitual."[4] Likened to new rituals, such body movement is defined as "a series of actions regularly and invariably followed by someone."[5] The gestures gathered by the research team were classified into seven categories and then illustrated, labeled, and accompanied by texts that accent the role designers play in the creation of technologies.  The researchers note a certain number of behaviors that were not foreseen, not programmed into the design of the devices, such as those brought together under the headings "Personal Tactics" and "Digital Plumbing": "Users generally re-appro[p]riate and domesticate technological objects in their own peculiar ways."[6] Gestures called "Naïve Fixes," for example, highlight the ways in which users go to great lengths to try to fix a malfunctioning device, as when one raises a finger to obtain a better connection[7] (Fig.1).
This reading of the data contrasts with the gestures gleaned by Julien Prévieux. Since 2006, the artist has been performing a deep dive into the archives of the United States Patent and Trademark Office (USPTO). The inventorying of gestures trademarked by digital companies to make their technologies operate has served the artist as a medium for the development of a project, laid out in sequential form, that is entitled What Shall We Do Next?  Sequence #2 is a video staging six dancers who execute a selection of gestures gleaned by the artist. Human beings are thus seen as executants of procedures designed to make devices operate (Fig. 2).
Whereas, with "Curious Rituals," observation of the usages of such technologies reveals a form whereby users take control of digital objects, in Prévieux's case such reappropriation occurs through an act that is itself creative as well as through a gesture on the performer's part. While, at first sight, the dancers' bodies are seemingly automated, mechanized, they are also transposing, into the field of dance, diagrams of movement codified in patents.  Reified gestures become a "choreographic abstraction,"[8] the dance being here a means to give gestures bodily form but also to reduce them to their purely physical aspect and to deactivate their industrial function.  In their own distinctive ways, the "Curious Rituals" researchers and Julien Prévieux are thus taking stock of forms of appropriation.  Their approach proceeds along the lines of Michel de Certeau's earlier reflections in his work The Practice of Everyday Life,[9] where he affirmed that the users of consumer products are not to be "assumed to be passive and guided by established rules":[10] they are not content with just responding to specific instructions in manuals but appropriate objects for themselves and divert them for their own use.  That author spoke of "arts of making" and took stock of tactics that allow one to outsmart [déjouer] consumer society.
What Are Some Possible Body Movements of the Future?
Among artists and designers, what the observation of body movements proper to digital technologies may engender is a series of questions about how such technologies are invading everyday life. These people are interested in the economic and societal issues unveiled behind such gestures, and they go so far as to imagine possible future forms of human behavior.
With What Shall We Do Next? (Sequence #2), Julien Prévieux circulates among past, present, and future gestures. For today's viewer, certain staged gestures are recognizable whereas other ones are already obsolete. Such ambiguity is heightened all the more so as the artist deliberately samples gestures associated with commercial failures; the "smart wig," for example, has, at the moment of our writing, far from achieved success. This work represents not so much a genuine present or future everyday body movement but, instead, an ambition on the part of industry to implant itself within bodies that has experienced successes but has also undergone flops.
With the same ambition to inquire into the repercussions technological developments have on people's bodies, the members of the "Curious Rituals" project include with their publication a video entitled A Digital Tomorrow that stages a young woman in a near future. This film belongs to the practice of design fiction, as it was defined in 2009 by Julian Bleecker,[11] and which is characterized by the staging of an imminent, plausible future. The goal of design fiction is to bring to the surface debates about up-and-coming lifestyles and, in particular, to allow people to call into question the notion of technological determinism and to challenge a future as it might be in the process of being defined by companies. Smart glasses replacing screens (Fig. 3), a car with a facial- and body-recognition system, or "thought syncing" with a smartphone via a headset are so many new smart objects in A Digital Tomorrow.
At once potentially achievable, close to contemporary technologies, and pertaining to the field of fiction, such devices serve as the basis for new choreographic works involving ritualized and sometime absurd body movements that unfold with an everydayness that is punctuated by interactions with machines.
In the abovementioned works, observations of gestures tied to the operation and reception of digital technologies constitute a basis for depicting contemporary society and its possible future outcomes. The body is represented here through its shaping via the use of digital technologies. And yet, flaws, possibilities for outsmarting the instructions presented in user manuals, and, especially, an ambition to actively partake in reflections on the everyday future in which human beings might live emerge as salient points in our analysis of these projects.
---
[1] For a definition of design ethnography, see: Nicolas Nova, Lysianne Lechot Hirt, and Fabienne Kilchor, "De l'ethnographie au design, du terrain à la création: tactiques de traduction," Sciences du Design, 1 (2015): http://www.cairn.info/revue-sciences-du-design-2015-1-page-86.htm (accessed October 1, 2019).
[2] Nicolas Nova, Katherine Miyake, Nancy Known, and Walton Chiu, Curious Rituals: Gestural Interaction in the Digital Everyday (Los Angeles: Near Future Laboratory, 2012: http://curiousrituals.files.wordpress.com/2012/09/curiousritualsbook.pdf (accessed June 2, 2019).
[3] Ibid., p. 9
[4] Georges Perec, L'infra-ordinaire (Paris: Seuil, 1989), p. 11.
[5] Curious Rituals, p. 8, note 2.
[6] Ibid., p. 81.
[7] Ibid., p. 123.
[8] Note on the work, available on Julien Prévieux's website: http://previeux.net/fr/videos_WSWDNSeq2.html
[9] Trans. Steven Rendall (Berkeley: University of California Press, 1984).
[10] Ibid., p. xi ("voués à la passivité et à la discipline").
[11] Julian Bleecker, Design Fiction: A Short Essay on Design, Science, Fact and Fiction (Los Angeles: Near Future Laboratory, 2009).
---
Selected Bibliography
Bleecker, Julian. Design Fiction: A Short Essay on Design, Science, Fact and Fiction. Los Angeles, Near Future Laboratory, 2009.
Dautrey, Jehanne and Emanuele Quinz. Eds. Strange Design. Du design des objets au design des comportements. Villeurbanne: It Éditions, 2014.
De Certeau, Michel. The Practice of Everyday Life. 1980. Trans. Steven Rendall. Berkeley: University of California Press, 1984.
Dunne, Anthony. Hertzian Tales: Electronic Products, Aesthetic Experience, and Critical Design. Cambridge, MA: MIT Press, 2006.
_____ and Fiona Raby. Speculative Everything: Design, Fiction, and Social Dreaming. Cambridge, MA: MIT Press, 2013.
Foster, Hal. The Return of the Real: The Avant-garde at the End of the Century. Cambridge, MA: MIT Press, 1996.
Kosuth, Joseph. "The Artist as Anthropologist."  Art after Philosophy and After: Collected Writings, 1966-1990. Gabriele  Guercio. Ed. Cambridge, MA: MIT Press, 1991. Pp. 107-28.
---
Anaïs Linares has been a doctoral student in Art History at the University of Paris-1 Panthéon-Sorbonne since the beginning of the 2019 school year. She is writing a dissertation entitled "The Body Movement of Digital Technologies in Twenty-First Century Art," with Pascal Rousseau as her dissertation supervisor and Antonio Somaini (New Sorbonne University-Paris III) as coadvisor.