Eric Fischer
Research to understand the world
At Sciences Po, more than 200 faculty members in the fields of humanities and social sciences study transformations at work in the modern world and the challenges they represent.
Our fields of study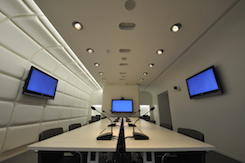 Crédits
Research Centres and programs
Faculty members conduct their work in ten research centres (six of which are affiliated with the French National Centre for Scientific Research - CNRS): Centre for Socio-Political Data (CDSP), Centre d'études européennes (CEE), Centre for International Studies and Research CERI), Centre de Recherches Politiques (CEVIPOF), Centre for History, Centre for the Sociology of Organisations (CSO), Economics Department, Law School, médialab, and the Centre for Studies in Social Change (OSC). The Observatoire Français des Conjonctures Economiques (OFCE) rounds out this network. Learn more about these research centres.
In addition to these units, three major cross-cutting programmes – the LIEPP, DIME-SHS and MaxPo – were recently created.
Our researchers study major issues such as public health, education, urban development, security, the environment and democracy all over the world.
Research at Sciences Po contributes to knowledge and debate in five overarching disciplines :
law, particularly private and international law;
economics, focusing on issues such as international trade, monetary policies, labour markets and innovation;
history, particularly political history and the study of conflicts, world history and the history of knowledge and cultures;
political science in all its forms: study of voter behaviour, international relations, compared political and cultural areas, political theory, administration and public policy;
sociology, and particularly organisational sociology, economic sociology and sociology of social stratification.
With a firm focus on the major challenges facing society, research conducted at Sciences Po fuels and enhances public debate on issues such as public health, education, urban development, security, the environment and democracy all over the world.
At the same time, it addresses fundamental questions, as illustrated by the support our teams receive from major funding agencies such as the European Research Council and the French National Research Agency.
Research at Sciences Po stands out for its extensive range of approaches, from ethnography to the most sophisticated econometric methods. Thanks to the methodological input of the médialab and the research tools developed by the DIME-SHS Programme (Infrastructure Data and Survey Methodology in Humanities and Social Sciences), our researchers take full advantage of the new possibilities offered by digital technology in their humanities and social science work.
5 disciplines
230 researchers
350 PhD candidates
11 research units
35% of Sciences Po's budget
700 publications per year
FOR MORE INFORMATION