Page d'accueil
The second report of the New Pact for Europe project identifies two interlinked strategic challenges faced by the EU: those posed by economic, social and political divisions within and between countries, leading to increased fragmentation; and the growing perception in many EU countries that European integration is no longer a 'win-win' for everyone. Proposing a New Pact between Member States and between the EU and its citizens, the report suggests a Pact should be based on three main pillars – an Enabling Union, a Supportive Union and a Participatory Union – and a new grand project as part of a package deal balancing the interests of different Member States and different groups within them.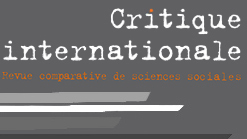 A selection of articles from the journal Critique Internationale has been translated into English and is now available on this website.
The selection includes five papers on the topic of Islamic Feminism Today (n° 46, January-March 2010) and five papers on Ethnicity in Latin America (n°57, October-December 2012).
Emerging Capitalism in Central Europe and Southeast Asia. A Comparison of Political Economies, by François Bafoil
The book examines the emergence of different forms of capitalism in Central-Eastern states in Europe and Mekong states within the Association of Southeast Asian Nations (ASEAN). All of them (but Thailand) have historically disappeared from the regional maps for long periods of time due to colonial or imperial rule.
Karachi. Ordered Disorder and the Struggle for the City, by Laurent Gayer
Since the mid-1980s, Karachi has endured endemic political conflict and criminal violence, which revolve around control of the city and its resources (votes, land and bhatta — 'protection' money). These struggles for the city have become ethnicised. In the process, Karachi, often referred to as a 'Pakistan in miniature', has become increasingly fragmented, socially as well as territorially.
The Transformational Effects of the Oil and Gas Strategy of the Kurdistan Regional Government of Iraq, by Gareth Stansfield
An entity — or entities — existing within and across the boundaries of sovereign states established in the aftermath of World War I, Kurdistan, or the 'Kurdistans' of Turkey, Syria, Iraq, and Iran, have rarely engaged in actions and activities that may be considered to be 'transformational' in terms of how they would impact upon the broader milieu of Middle Eastern political and economics lives.
newsletter
press review
last issues
archives
newsletter
press review
Cycle de séminaires organisé en partenariat avec EDF R&D
Séminaire 4 : Russie, Ukraine, Europe : quels enjeux pour la sécurité énergétique ?
Présidence : François Bafoil, CNRS-SciencesPo/CERI et Ferenc Fodor, EDF R&D
Les politiques énergetiques de la Russie. Evaluation à partir de "Russia In-Depth Energy Policy Review"
Marc-Antoine Eyl-Mazzega, Russia Programme Manager, IEA
Quelles 'solidarités' européennes en matière énergétique ?
Céline Bayou, Membre du CREE (Centre de recherches Europes-Eurasie) de l'Inalco, Co-rédactrice en chef du site Regard sur l'Est
Cette séance se déroulera au CERI-Sciences Po: 56, rue Jacob 75006 Paris (Salle Jean Monnet)
Responsables scientifiques: François Bafoil, CNRS-Sciences Po/CERI et Ferenc Fodor, EDF R&D
Contact : rachel.guyet@sciencespo.fr
Géopolitique de l'énergie
16/12
For more information
Séminaire organisé dans le cadre du Groupe de recherche "Transferts normatifs, politiques et institutionnels en RI et politique étrangère" du CERI
Présentation de Thierry Delpeuch, PACTE et Centre Marc Bloch (Berlin) et de Margarita Vassileva, Centre Marc Bloch (Berlin):
Repenser les relations entre transferts et apprentissages dans la nouvelle Europe.
Les théories de l'européanisation à l'épreuve du changement dans les domaines de la justice et du développement local en Bulgarie (1990-2013)

Responsable sicentifique : Elsa Tulmets, Chargée de recherche CERI-Sciences Po
Ce séminaire aura lieu au CERI : 56, rue Jacob 75006 Paris (salle du conseil).
Transferts normatifs, politiques et institutionnels en RI et politique étrangère
15/12
For more information
CERI Research Groupe :  "Transferts normatifs, politiques et institutionnels en RI et politique étrangère" 
 With :
Mats Braun, Institute of International Relations (Prague)

Europeanization of Environmental Policy in the New Europe. Beyond conditionality
CERI-Sciences Po: 56 rue Jacob 75006 Paris (salle du conseil)

Transferts normatifs, politiques et institutionnels en RI et politique étrangère
16/01
For more information
Critique Internationale, n°65

Terence Gomez, François Bafoil, Kee-Cheok Cheong (dir.)

Frédéric Charillon et Alain Dieckhoff (dir.)

Denis Lacorne, Justin Vaïsse, Jean-Paul Willaime (dir.)

Antoine Garapon, David Schimmel, Stéphanie Balme, Li Bin et Jean-Louis Langlois