Page d'accueil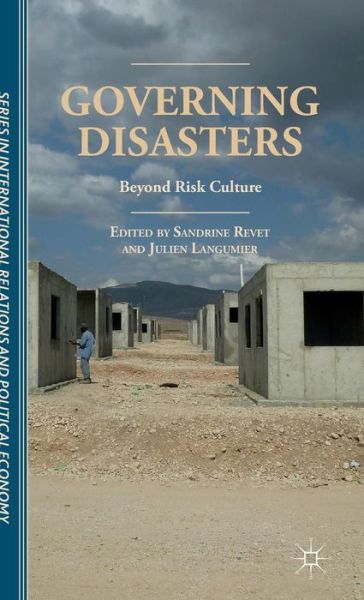 Palgrave Macmillan, Sciences Po Series in International Relations and Political Economy, 2015, 260 p.
Irreversible and exceptional events, disasters are nevertheless governed, usually in the context of specific, dedicated interventions by state authorities or NGOs, who aim to lead the affected population from a place of emergency to a new, post-disaster - but still undefined - position. How do the victims of disaster interact with the dispositifs of government and disaster? Based on extensive research - both ethnographic and historical - conducted over a long period of time in field locations as various as Hong-Kong, Kazakhstan, Sri Lanka, France, Argentina, and Italy...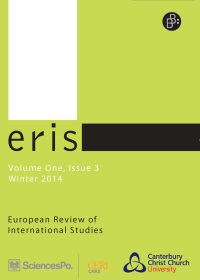 European Review of International Studies (ERIS), 3-2014
Special issue edited by Élise Féron and Valérie Rosoux.
Contributors: Richard Banégas, Laetita Bucaille, Teresa Almeida Cravo and Maria Raquel Freire, Élise Féron, Laetitia Spetschinsky, Irina V. Bolgova, et Stephen Chan.
The Enigma of Islamist Violence, by Luis Martinez, Amélie Blom and Laetitia Bucaille (eds)
The debate surrounding Islamist violence remains locked in oppositional sterility. Are such attacks perpetrated by Islamists as a matter of belief or do they reflect socio-economic realities? Is the suicide bomber a pathological case, as the psychologist maintains, or a clever strategist, as those steeped in the geopolitical approach claim? This book aims to transcend both the culturalist or underdevelopment explanations by focusing on the highly variegated nature of the phenomenon.
Democracies at War Against Terrorism. A Comparative Perspective, by Samy Cohen (ed.)
On numerous occasions, democratic nations have been singled out by human rights NGOs for the brutality of their modus operandi, for their inadequate attention to the protection of civilian populations, or for acts of abuse or torture on prisoners. Why do they perpetrate these violations? Do they do so intentionally or unintentionally? Can democracies combat irregular armed groups without violating international law? When their population is under threat, do they behave as non-democracies would? Does this type of war inevitably produce war crimes on a more or less massive scale?
The Gamble of War Is it Possible to Justify Preventive War?, by Ariel Colonomos
With the new millennium, prevention has become a popular doctrine in international politics. One of its most noticeable features is that democracies become inclined to strike first. In the US, it has served as the banner of the neo–conservative movement but it also gathered support from some liberals. It has also inspired several Israeli interventions. Does the preventive use of force meet the normative criteria that prevail or should prevail in a democratic system? Or does it endanger the legal and ethical traditions that characterize the history of Western military ethics?
newsletter
press review
last issues
archives
newsletter
press review
Dans le cadre du cycle de rencontres "Ultimos Jueves" de l'OPALC, en hommage à la revue cubaine Temas qui, depuis 2002, organise des débats publics tous les derniers jeudis de chaque mois à La Havane.
Avec :
Tim Power, professeur à l'Université d'Oxford, OXPO Fellow
Responsable scientifique : Olivier Dabène (Sciences Po-CERI, OPALC)

La séance se déroulera en espagnol.
CERI-56 rue Jacob, 75006 Paris / Salle Jean Monnet

Entrée libre dans la limite des places disponibles.
Brazilian democracy at 30: the reelection of Dilma Rousseff and the challenges for Brazil in 2015
30/04
For more information
Groupe de Recherche sur l'Analyse du Vigilantisme du CERI
avec :
Atreyee Sen, Univ. of Manchester
Responsables scientifiques : laurent.gayer@sciencespo.fr; gilles.favarelgarrigues@sciencespo.fr
Sciences Po-CERI: 56, rue Jacob 75006 Paris (salle Jean Monnet)
Entrée libre dans la limite des places disponibles
Illustration: Philip Dawe (attribué à), « The Bostonians Paying the Excise-man, or Tarring and Feathering » (1774).
Silent and violent vigilantism: Inter-religious love affairs and community surveillance in two radicalised Indian slums
24/04
For more information
Séminaire du groupe de recherche Migrations et mobilités du CERI
avec:
Sophie Body-Gendrot, Université Sorbonne Paris IV

Discutante : Catherine Wihtol de Wenden, Sciences Po-CERI/CNRS
Responsables scientifiques : Anne de Tinguy (INALCO/Sciences Po-CERI), Catherine Wihtol de Wenden (Sciences Po-CERI/CNRS), Hélène Thiollet (Sciences Po-CERI/CNRS) et Thibaut Jaulin (Sciences Po-CERI)
Sciences Po-CERI, 56 rue Jacob, 75006 Paris / Salle Jean Monnet
Entrée libre dans la limite des places disponibles
Les discriminations par les institutions d'autorité : France, Royaume Uni, Etats-Unis
29/04
For more information
Marc Aymes, Benjamin Gourisse, Élise Massicard (eds)

Didier Bigo et Laurent Bonelli (dir.)

edited by Élise Féron and Valérie Rosoux.

dirigé par Sandrine Revet, Julien Langumier

Critique Internationale, n°66

Catherine Wihtol de Wenden, Sophie Body-Gendrot

Françoise Daucé, Marlène Laruelle, Anne Le Huérou, Kathy Rousselet (ed.)