Invisible Boundaries in Cyberspace
A Relational Approach to Understand Racial Hierarchy in the United States
Ken-Hou Lin. MaxPo SCOOPS & OSC Lunch seminar - Friday, April13th
Image oatawa - Internet dating, copyspace, Valentines day concept



SCOOPS SEMINAR MaxPo jointly with OSC
Friday, April 13th 2018 at 12:30 pm - room Goguel (27 rue St Guillaume)
Invisible Boundaries in Cyberspace:
A Relational Approach to Understand Racial Hierarchy in the United States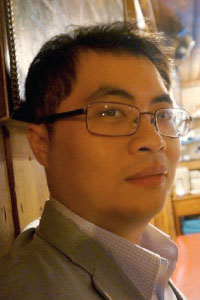 Ken-Hou Lin
Assistant Professor of Sociology, University of Texas, Austin
The internet promises a more connected world. Ken-Hou Lin is studying how social boundaries are produced and reproduced in cyberspace.
Main papers published:
''Mate Selection in Cyberspace: The Intersection of Race, Gender, and Education'' (with Jennifer Lundquist), American Journal of Sociology, vol. 119, n° 1, p. 183-215, 2013.
''Is Love (Color) Blind? The Economy of Race among White Gay & Straight Daters'' (with Jennifer Lundquist), Social Forces, vol. 93, n° 4, p. 1423-1449, 2015.
''Positioning Multiraciality in Cyberspace: Treatment of Multiracial Daters in an Online Dating Website'' (with Celeste Curington and Jennifer Lundquist), American Sociological Review, vol. 80, n° 4, p. 764-78, 2015.
Discussant Marie Bergström, INED.
Please register here.