When Empire Meets Nationalism : Power Politics in the US and Russia
Auteur:
Benoît Pelopidas, Didier Chaudet, Florent Parmentier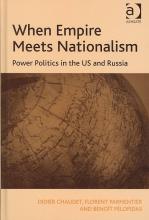 This innovative study presents an in-depth political and sociological analysis of the internal power politics and imperial forms developed by the Russian neo-eurasianists and the neo-conservatives in the United States. It traces the growth of nationalism and the concept of 'Empire' in relation to the ideologies and foreign policy of both Russia and the USA. Beginning with a genealogy of the two movements, the authors present the intricacy of imperial rhetoric and nationalist ideologies in modern states compared with the distinctive definition of Empire as a politico-historical form. The extent to which these ideas have shaped the foreign policy of Russia and the USA is then related to events in Central Asia, Afghanistan, Iran, Iraq, Saudi Arabia and Turkey. The analysis of each case provides a better understanding of the imperial character of these foreign policies in relation to their nationalist foundations. The combination of political theory and geopolitics makes this cutting-edge research a must read to all interested in the evolving discourse surrounding Empire.