KFAS-SCIENCES PO PARTNERSHIP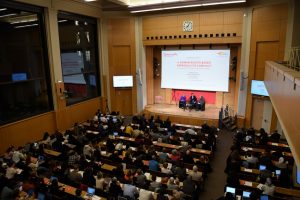 The Kuwait Program at Sciences Po is the fruit of a longstanding partnership between the Kuwait Foundation for the Advancement of Sciences (KFAS) and Sciences Po. KFAS is a private non-profit organization dedicated to supporting progress and advancing science and technology.
Working together, the two institutions have supported a range of initiatives in the fields of research, teaching and academic events, with special emphasis on studying the Middle East and Gulf region.
The Kuwait Program at Sciences Po has been structured around 4 key pillars:
Student Activities: Scholarships for Master's level students from the Arab world and Kuwait for any two-year program under Sciences Po's 7 graduate schools, in addition to student paper awards for leading graduate student research.
Academic Opportunities: Visiting faculty programs from 6 months to 2 years at Sciences Po's School of International Affairs (PSIA).
Series of Events: Conferences and lectures hosted in Kuwait and at Sciences Po.
Collaborative Research: Joint-projects between Sciences Po and Kuwait-based researchers.
9th June 2022
The Kuwait Chair at Sciences Po is hosting an all-day roundtable event on Lebanon on 30 June 2022 at Rue
[…]