Open-minded education
Intellectually curious and broad-minded, Sciences Po graduates from all backgrounds share the ability to "learn how to learn", a foremost priority in our educational model.
Our ambition
Sciences Po aims to offer education firmly rooted in five social science disciplines: economics, law, history, sociology and political science. It stands out for a multidisciplinary approach and a focus on students' ability to understand and analyse complexity. This is an indispensable quality to move forward in constantly changing environments.
Solid professional bases
At Sciences Po, academic knowledge goes hand in hand with professional development, and general knowledge complements a sense of action. Students are encouraged to assume responsibility thanks to the teaching of more than 4,000 academics including 2,400 practitioners, (corporate executives, senior French and international civil servants, etc.) and internships, which are an integral part of the students' course of study.
An international culture
At Sciences Po, an international spirit pervades every dimension of academic and student life: learning to work as early as possible with classmates from different cultural backgrounds and in different languages; developing a broader worldview thanks to compulsory year-long study-abroad programmes; studying every subject essential to understanding Europe and the world.
Openness to all disciplines
Breaking down borders between disciplines also means introducing new perspectives: the arts and natural sciences are an integral part of the intellectual experience at Sciences Po.
A work method
To prepare students for a continually changing world, education at Sciences Po aims to develop specific qualities: intellectual curiosity and agility, an aptitude for oral and written expression, as well as adaptability.
Learning to learn
At Sciences Po, academic and personal development are intimately linked. Intellectual curiosity, critical thinking skills and self-examination: these are the aptitudes and attitudes developed throughout the course of study. These qualities are continuously cultivated through teamwork, student presentations, small classes, debates and participation in student associations.
Kris Snibbe
Famous alumni…
Heads of State or Government: Chandrika Kumaratunga (former President of Sri Lanka), Sir Austen Chamberlain (former British Foreign Secretary), François Hollande (French President), Jacques Chirac (French President), François Mitterrand (French President), etc.
Heads of International Organisations: Simone Veil (former President of the European Parliament), Boutros Boutros-Ghali (former UN Secretary General), Pascal Lamy (former Director-General of the World Trade Organization), etc.
Business & Finance: Jean-Claude Trichet (former President of the European Central Bank), Michel Camdessus (former President of the International Monetary Fund), Bertrand Puech (President of Groupe Hermès), etc.
Academia, Journalism, Literature & Arts: Stanley Hoffmann (Professor at Harvard University), Jean-Marie Colombani (former editor of Le Monde), Marcel Proust (novelist), Christian Dior (fashion designer)
CLOSE UP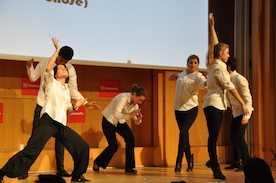 Crédits
Artistic workshops
The arts are an integral part of the core curriculum at Sciences Po: every year, between 60 and 155 artistic workshops are offered on each of our campuses in fields as diverse as writing, music, drama, dance, cinema and documentaries, photography, visual arts and new media, among others. These workshops aim to stimulate students' creativity and help them use art to reflect on issues in society.
LEARN MORE
The Grand Syllabus
All courses, all professors, all programmes, from undergraduate to graduate and including Executive education: the Complete Syllabus lets you read Sciences Po like an open book.
For more information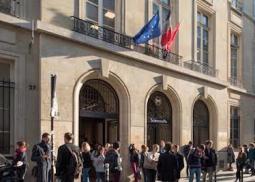 What is Sciences Po?
What do students learn at Sciences Po? Where do they come from? What do they do after graduation? Learn all about Sciences Po with the following video.
Watch the video

Sciences Po presentation
All you need to know about Sciences Po: studies, career prospects, student life and applications.
Download the brochure (pdf)